ROVANIEMI
Winter & Spring
WINTER ACTIVITY HIGHLIGHTS
Find here our guided experiences organised from Rovaniemi in Winter. For Summer & Autumn tours, please click here.
MULTI-DAY PACKAGES & TRIPS
RENT YOUR EQUIPMENT IN ROVANIEMI
We rent equipment and warm clothing for independent travelers visiting Rovaniemi. Renting is a good option if you want to experience Lapland on your own and at a lower cost!
Our equipment is of very good quality and easy-to-use. We can bring it to your accommodation or you can collect it from our storage in Rovaniemi.
Contact us and arrange rental in a simple way:
Tel. or Whatsapp: +358 (0) 40 258 2081
Email: info@nordicodyssey.net
Rovaniemi is the capital of Finnish Lapland and the official hometown of Santa Claus. Located in the southern part of Lapland, it is easily accessible by train, bus or plane from Helsinki. Every year, millions of tourists visit Rovaniemi to enjoy its beautiful Winter landscape, experience its Christmas atmosphere and meet its most famous resident, Santa Claus!
Because Rovaniemi is a popular destination, you may need to book long in advance your accommodations and activities (especially in December).  Also, you will easily find many tour operators to organise a guided safari but we recommend to carefully select the tour operator as you may easily end up in big coaches with hundreds of tourists…
Overall, Rovaniemi is a great location to start a long trip around Lapland (this is why most of our trips depart from there). If your time is limited, this is also a good destination where you will find a lot of activity options to experience Lapland.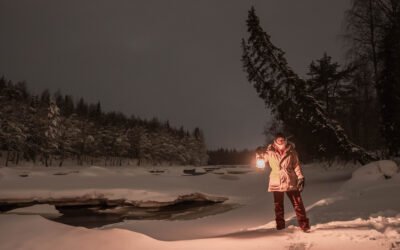 No aurora tonight? Read our recommendations for alternative tours or things to do in case there is no chance for northern lights observation in Rovaniemi.