Northern Lights Photography Tour for Family & children
Join our special Northern Lights tour designed for families with young kids. With your aurora guide, you will chase auroras from Rovaniemi in conditions adapted to children.
Quick Info
Location: Rovaniemi

Duration : 3h00

Price: 85€/50€
Included: photos, snacks, guiding, transportation, etc.
Included
Photos, aurora guiding & stories, snacks & hot drinks, transportation in small group, weather analysis, passion of the guide.
TiME
Duration: 3h00
Start time: 19:00 (may be adapted)
SEASON
Available: From September to April, during school holidays
PRICING

ADULT
85€/adult
(105€)
CHILD (4 – 12)*
50€/child
(60€)
*Please contact us for kids under 4 years old.
Option Extra: Cancellation Insurance
Adult: + 20€
Child: +15€
All prices include VAT
THE ONLY FAMILY-FRIENDLY AURORA TOUR IN ROVANIEMI!
Going for a Northern Lights hunting tour in Winter often means driving long distances or spending hours outside in the cold. Temperatures in Lapland may drop to -30C at night, and the best observation spots are often open viewpoints such as lakes or hilltops – not always easily accessible and very exposed to the cold winds. It is not rare either that we only come back to Rovaniemi late in the middle of the night…
Not the best for families with young children…
However, we understand that observing Northern lights is a must-do experience for everyone visiting the Finnish Lapland, including parents with children!
Based on our long experience, we have designed this family-friendly Northern Lights experience to offer all families an opportunity to chase the precious aurora borealis in a special tour adapted to their kids!
We will depart from Rovaniemi and drive in the most promising directions (based on a long analysis of the weather by your dedicated guide before the tour starts!). We will stop as many times as needed to regularly check the sky and discover more of Lapland landscapes.
At some point, we may decide to stop at one promising place and wait a bit longer. In this case, your guide will make a fire to warm you up and you will enjoy some Finnish snacks (veggie option possible). It is a good time for your guide to share all his passion and knowledge about the Northern Lights with you!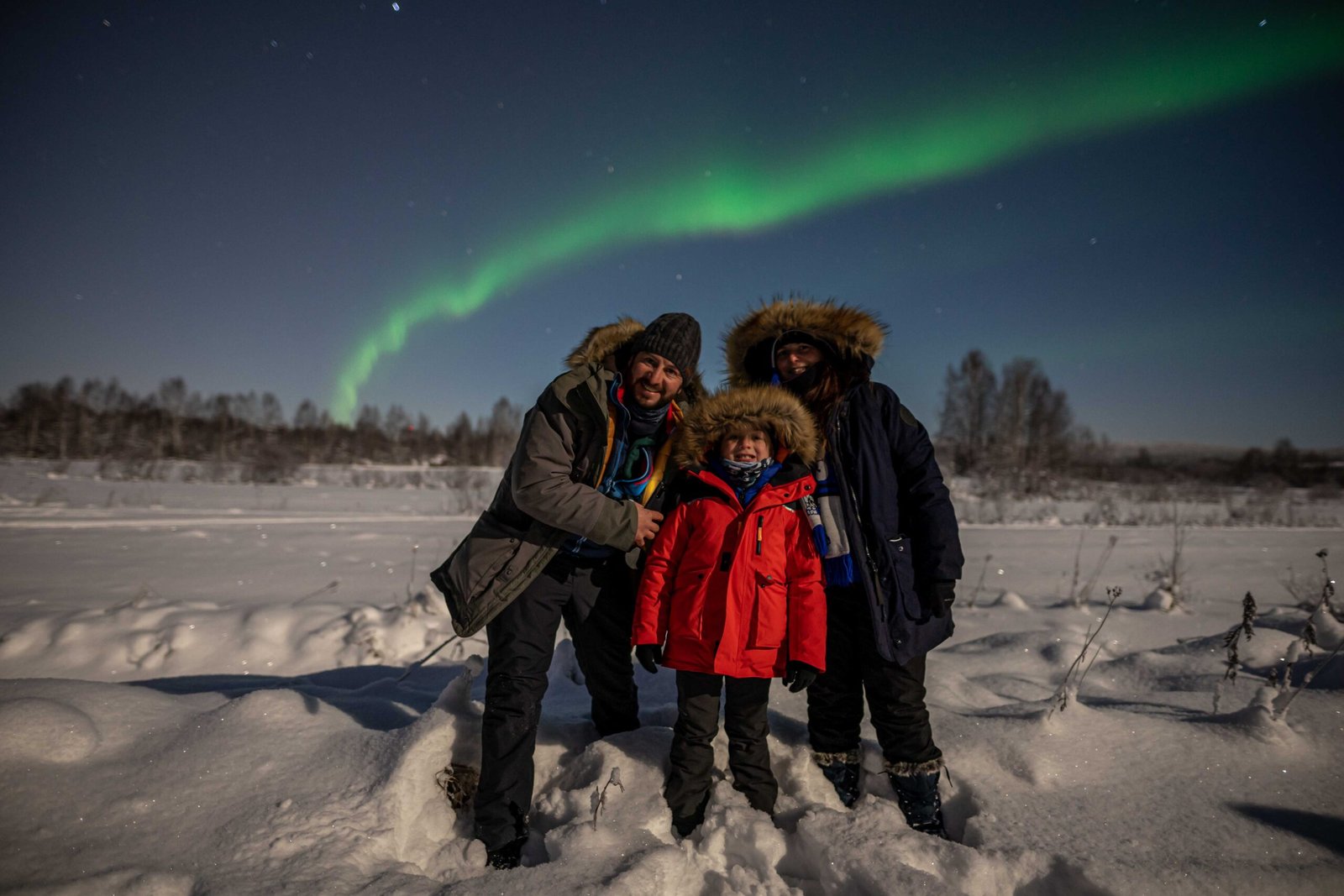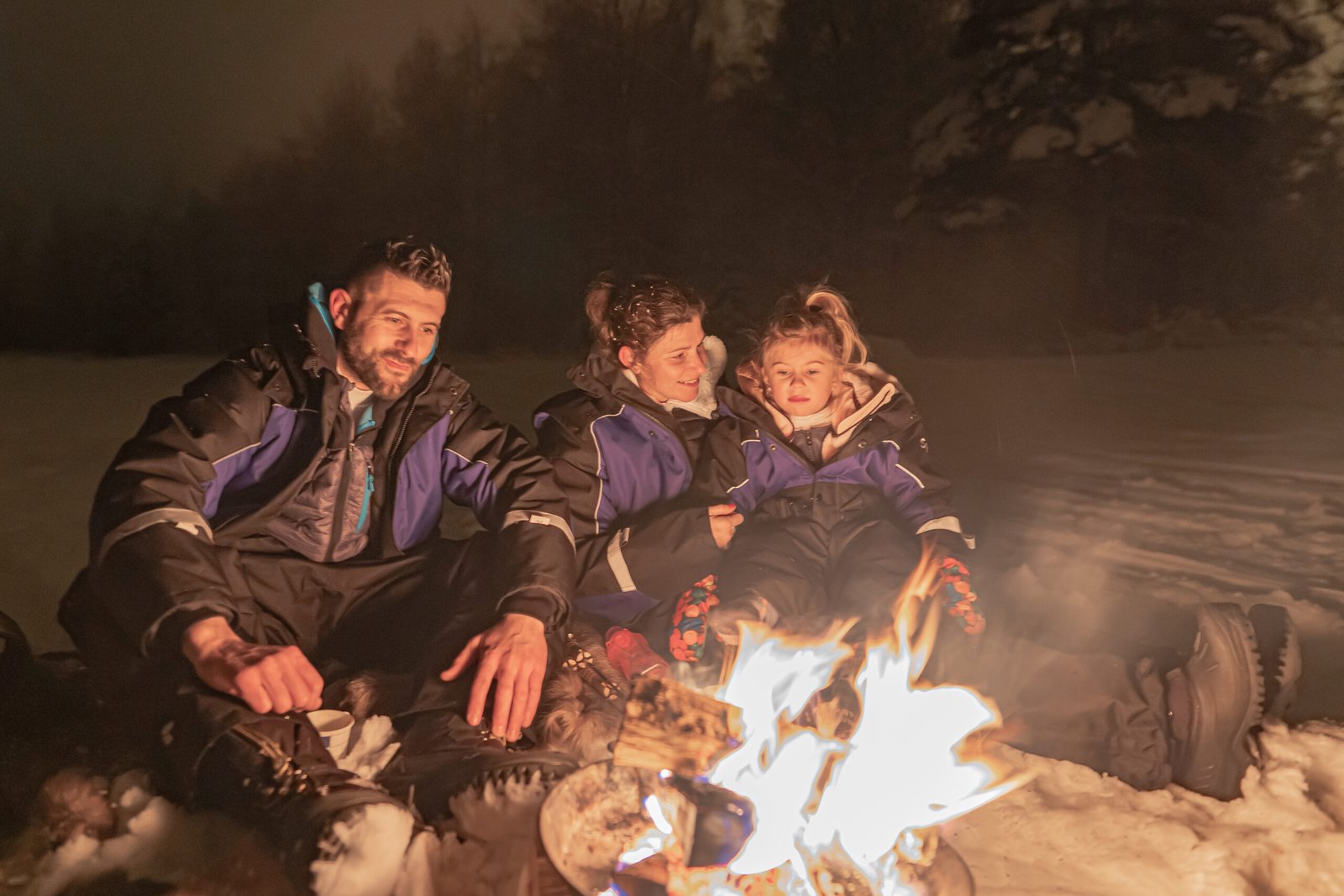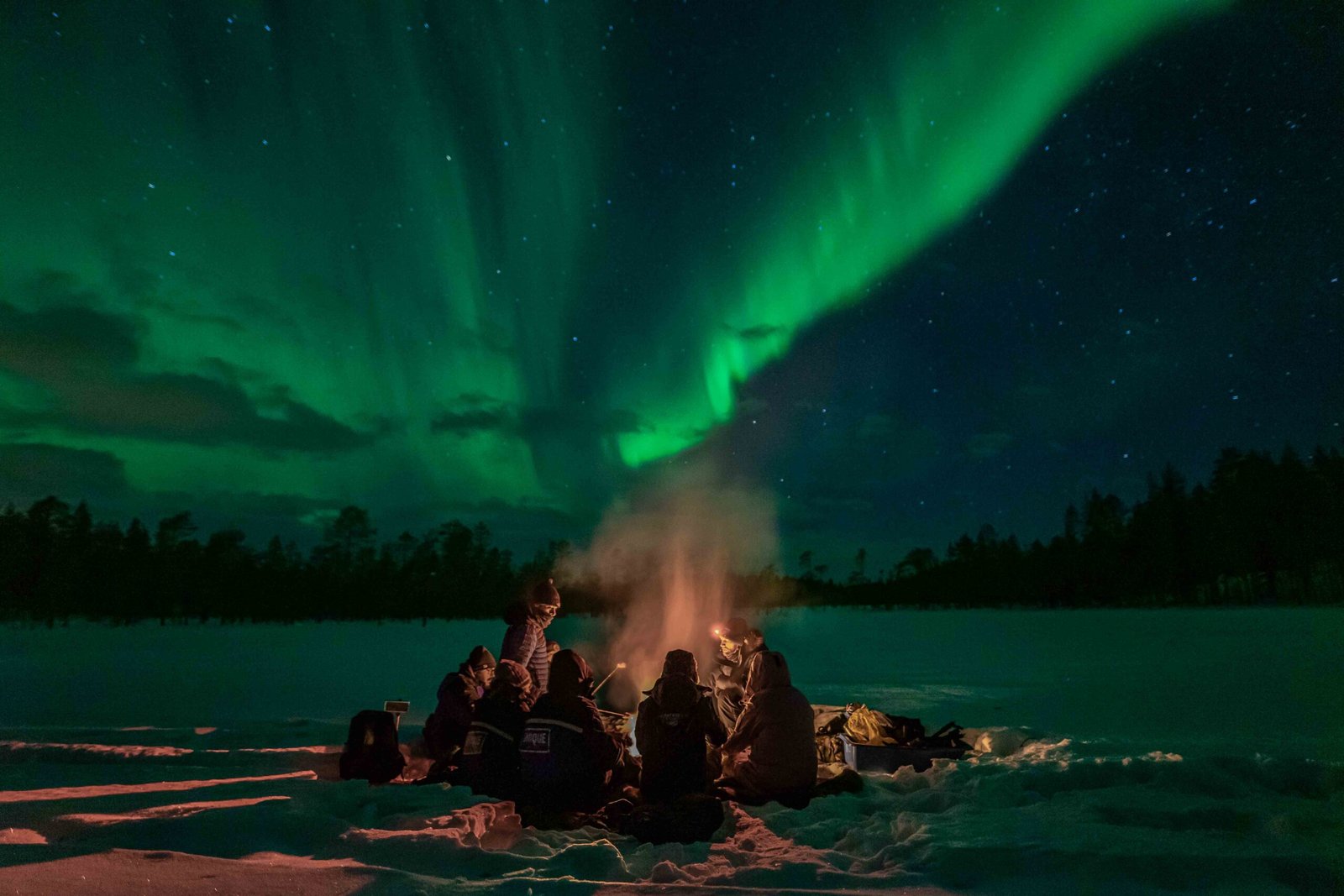 BASED ON WEATHER & FORECASTS
The main factor to observe the Northern Lights (from Rovaniemi or anywhere else) is the weather. You need a clear sky or at least a partly clear sky to be able to see auroras.
Before the tour, we analyse the latest weather maps, forecasts and charts to find the most promising spots and plan our Northern Lights trip. Even with a cloudy sky in Rovaniemi, there is still good chance to see some Northern lights if you know where to go.
We will find the best places where we can observe the Arctic sky in the most promising directions. When making our plans, we will consider short driving distances, easy access, and a warm spot nearby to provide a safety place for your kids (warm minivan, a teepee, a good fireplace, etc.)
PHOTOS INCLUDED
Your guide will always be equipped with a professional camera, specifically designed for low-light photography. In our opinion, this is a must-have tool and we would never imagine chasing Northern Lights without a proper camera!
Why? Because the camera captures more light than your naked eye, so it will help anticipate the "invisible" evolution of the sky and therefore allow us to make the best decisions!
And of course, family pictures are always nice to keep as a souvenir! All pictures that your guide takes during the tour will be sent to you by email in high quality!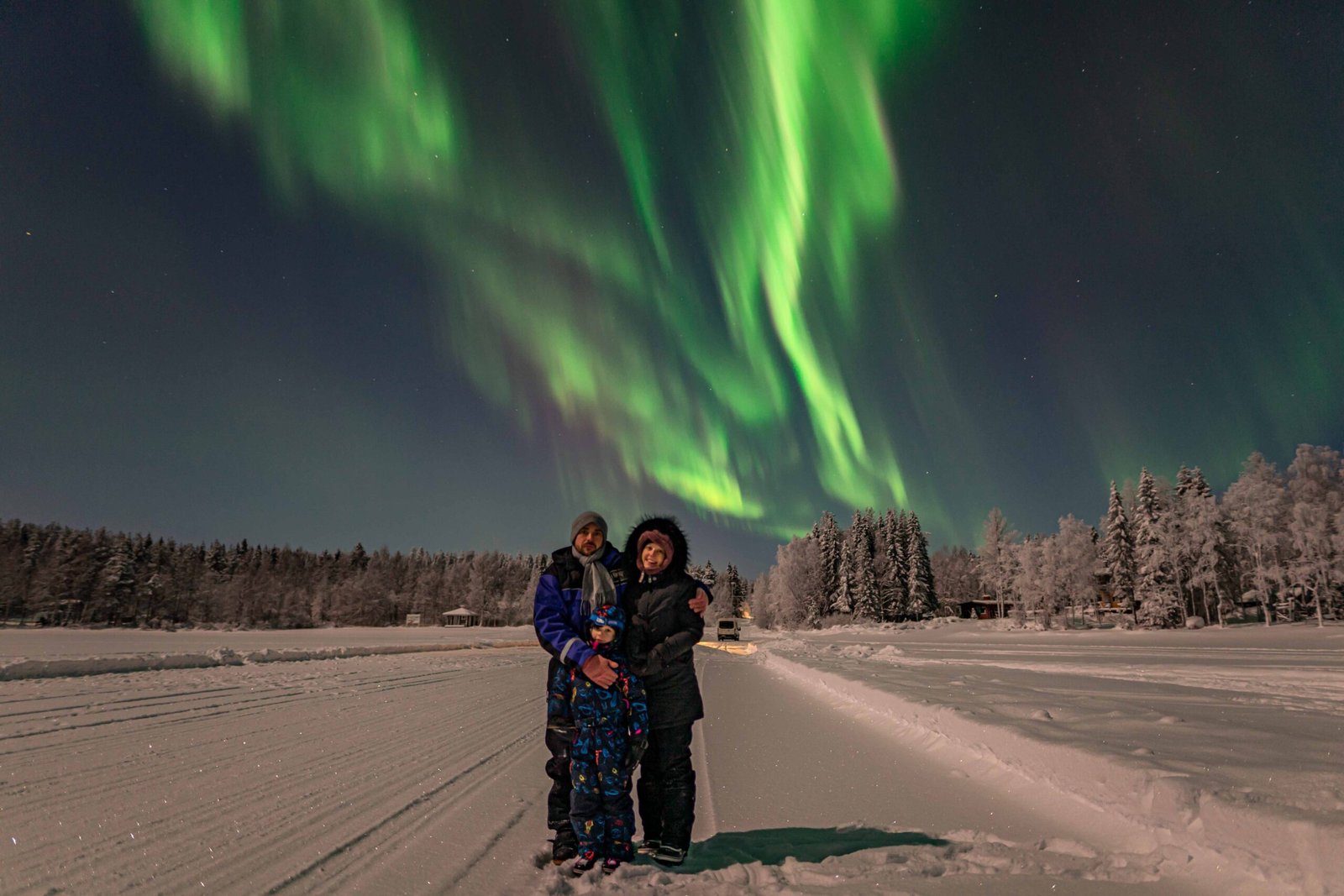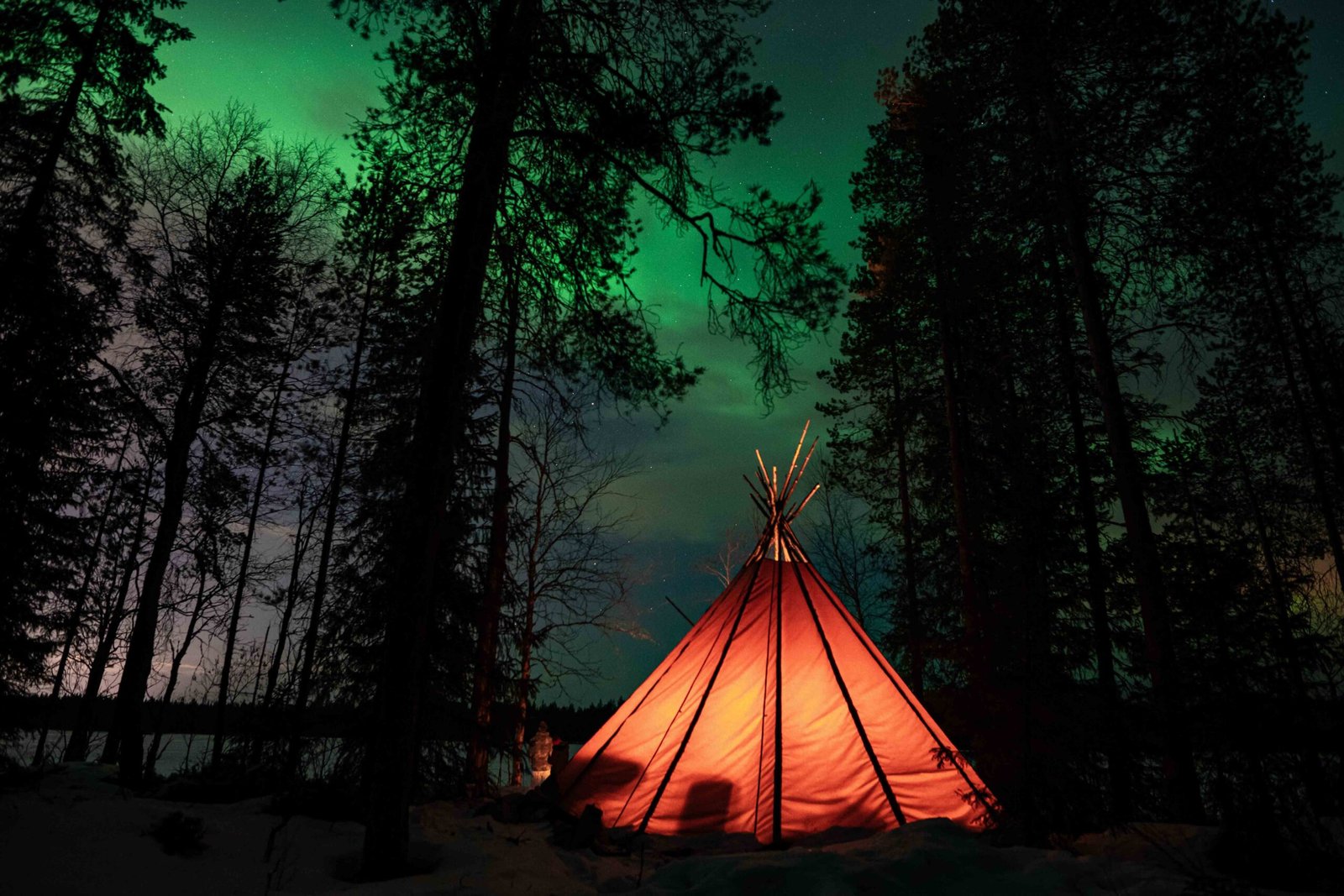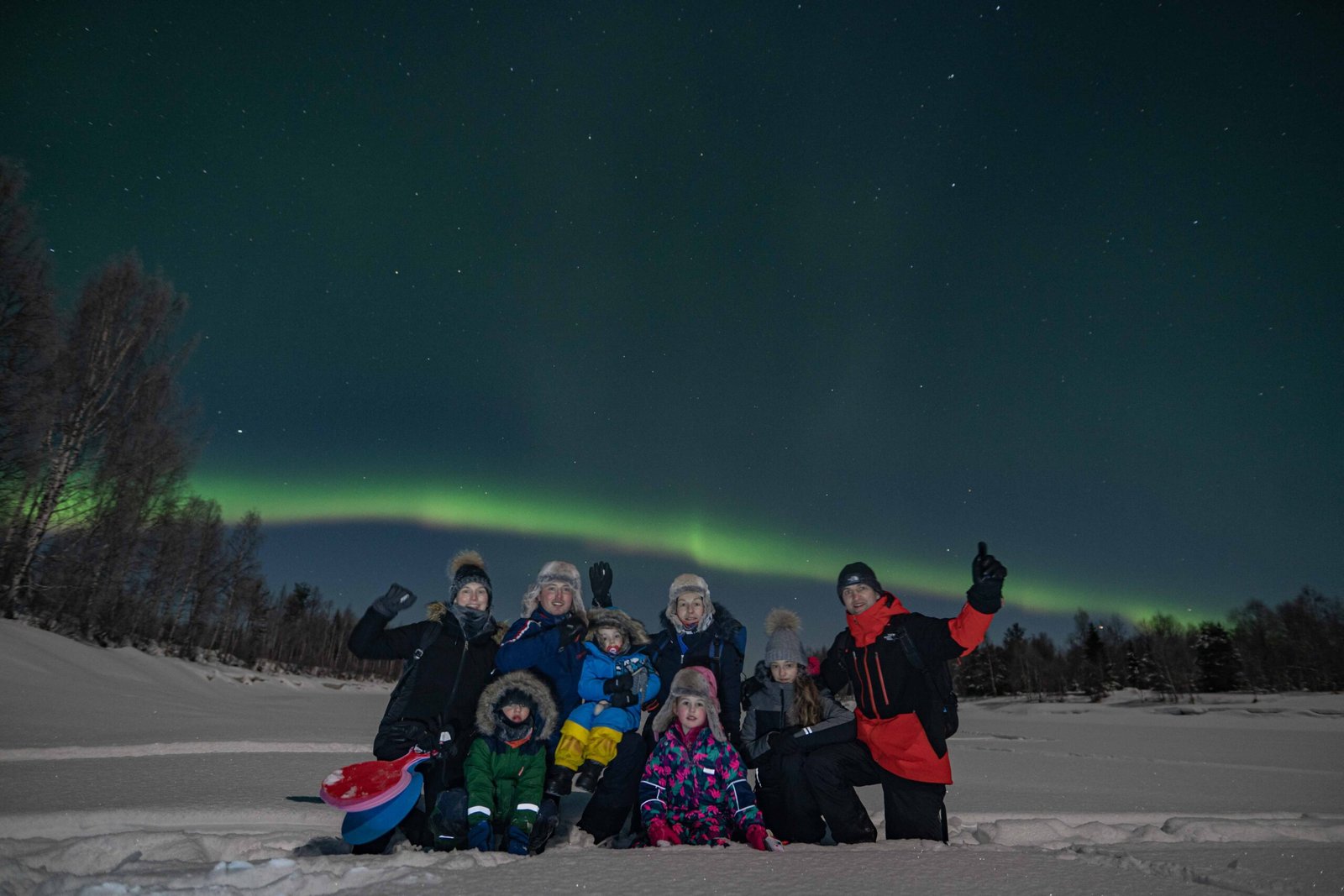 A NIGHT TOUR ADAPTED TO KIDS!
What makes that Northern Lights photography tour so special compared to our standard aurora tour?
The tour lasts for 3 hours and departs around 19:00, so that it does not end too late. Departure may be adapted to weather conditions to increase your chance, but it will always be as early as possible.
Like for all our tours, you are in a small group of maximum 8 participants (usually 2 families max). This makes it easy to adapt the tour to the specific needs of your children at any moment.
Your guides will stop to as many places as needed to observe auroras. They will consider optimal driving distances and always make sure that stopping places are easily accessible (not long walking distances, etc.).
A particular attention is paid to the safety of the  participants, especially children, in relation to the cold and other aspects. Extra blankets are available for kids, and there will always be a warm safety spot nearby (minivan, teepee, lean-to with fireplace, etc.).
Stories and explanation are provided by your guide with an effort to make it understandable for everyone, including the smallest ones!
This tour is organised during Christmas holidays and other school holidays. We may also organise it upon request outside those periods (please contact us!). 
ABOUT YOUR AURORA GUIDES
All our guides are experienced and have spent a lot of time exploring the immensity of Lapland, discovering new areas and chasing Northern Lights. They have a big passion for the Aurora Borealis and they are always excited to go chase them. And of course, they will always be very happy to share with you their knowledge and passion about nature here!
When chasing Northern Lights, we work as a team. We analyse the weather predictions together and discuss about the best directions to explore. We collaborate to cover large areas, and always stay in communication to inform each other. This way, we increase our chance of observing the Northern lights with you!
Please note that unfortunately we cannot guarantee to see auroras. No matter how hard we try, Northern Lights remain a natural phenomenon. To be successful, we then need a little bit of luck and help from Mother Nature. That's what also makes the beauty of Northern Lights : they are unpredictable! 
But even if we are unlucky, this night adventure will be memorable!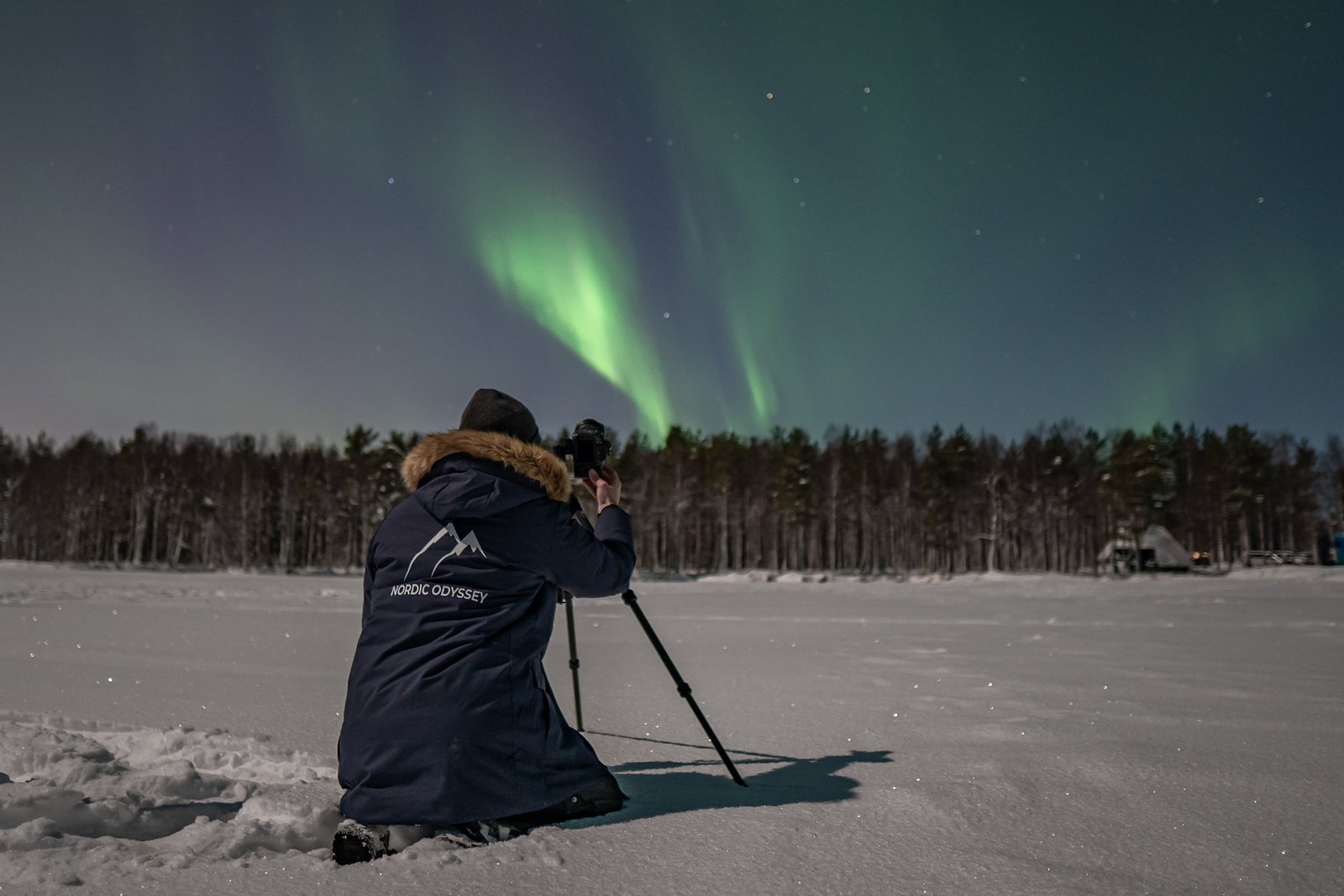 BAD WEATHER?
CANCEL THE TOUR!
When booking this Northern Lights tour, you will be given the possibility to buy an extra Cancellation Insurance. We strongly recommend considering this option.
The Cancellation Insurance allows you to cancel free-of-charge your Northern Lights tour a few hours before (until 15.00, local time). You will then get a full refund!
This is a good option if the weather turns bad or if you cannot reschedule to another night.
We usually do not take the decision to cancel the tour unless the weather is really bad and unsafe. Instead, we would happily reschedule if we still have availability. Why? Because most of our guests have travelled very far, and are usually willing to take their chance: even with a challenging weather, we may find Northern Lights… We also believe that the hunting experience in the beautiful dark cold nights of Lapland is anyway worth the try and efforts!
But we also understand that you might prefer to cancel at the last moment, and this is why we have created this Cancellation Insurance extra.
This way, everyone may book the option that best fits them. And we can keep our prices as low as possible for the benefits of all!
HOW IT WORKS:
one Cancellation Insurance per person and per tour. The option can be added when booking the tour online.
the Cancellation Insurance allows you to request a cancellation until 15:00, local time (GMT+2). Please request it to

 

info@nordicodyssey.net in due time. After that, full refund is not guaranteed.
you will get a full refund within 2-3 working days. The full refund does not include the cost of the insurance (25€/adult; 15€/child), which will be used to cover the administrative and banking fees. It does not cover other tours, other options or clothes rental.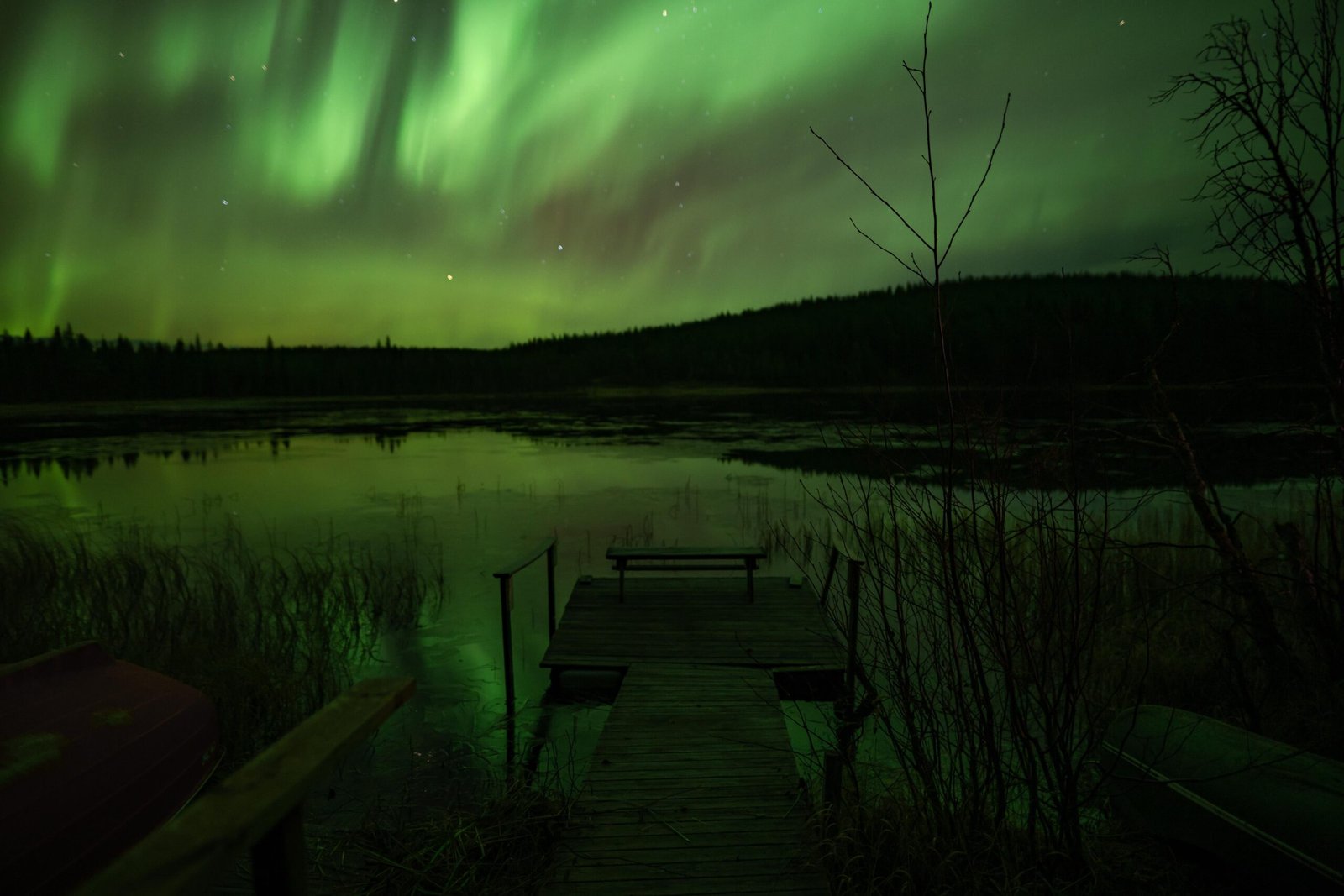 INCLUDED
Personal aurora expert guide
Weather analysis
Hotel pickup
Transportation
Booster seats (if needed)
Blankets for kids (if needed)
Photos with professional camera
Snacks & hot drinks 
Stories & explanation adapted to children
EXTRA OPTIONS
Clothes rental: Winter overalls + boots (5€/pers)
PLEASE NOTE
We recommend to book in advance, as availability may be very limited in peak seasons.
A minimum of 4 participants (adults or child) is required for the trip to operate. We reserve the right to cancel the trip if the group is too small or because of unsafe weather conditions.
The tour is preferably reserved to families with at least one child younger than 8 years old. If you are interested by an aurora photography tour, we recommend to book our longer Northern Lights Photography Hunting from Rovaniemi. If you do not meet the family requirement but are specifically interested by our family-friendly tour, please contact us.
Child prices apply only to children under 12 years old. Children must be accompanied by one adult. The child rate only apply if the conditions of two paying adult participant is met. Please note that children under 4 years old must be declared before booking and their participation is subject to our approval because of safety reasons. We usually refuse kids under 2 years old in Winter for safety reasons.
Please dress appropriately according to the weather, with warm clothes, good winter boots, gloves, hats and thick socks. You may rent professional winter overalls and winter boots for an extra cost of 5€/set.
The start time mentioned in the calendar or on your ticket is only indicative. You will receive more information before the tour regarding the weather and conditions. The start time will then be adapted to the conditions (usually +/- 1h) to increase your chance.
CANCELLATION POLICY
We will charge a cancellation fee of 10% if booking is cancelled 7 days or more before departure;
We will charge a cancellation fee of 50% if booking is cancelled between 7 days and 24h before departure.
We will charge a cancellation fee of 100% if booking is cancelled 24h or less before departure.
This cancellation policy does not apply when then Cancellation Insurance option is booked: participants may then cancel until 15:00 (GMT +2) free of charge.
COMMENT R
ÉSERVER
Sélectionnez le nombre de participants, la date et l'heure de l'excursion dans le calendrier ci-dessous. Suivez ensuite les instructions de réservation. Paiement par carte de crédit/débit.
CONTACTEZ-NOUS
Des questions? Contactez-nous! Nous serons ravis de répondre à toutes vos demandes. Vous pouvez aussi nous écrire par Whatsapp (+358(0) 40 258 20 81).

Visit a husky kennel during your autumn holidays in Rovaniemi and drive yourself on your own wheel cart into the autumn forests of Lapland!


Embark on a unique combo experience in Rovaniemi : a canoe trip on the peaceful Lapland rivers to reach an authentic reindeer farm!


Visit a husky kennel outside Rovaniemi, learn how to drive your own sled dog team and embark on a great adventure in the magical forests of Lapland.