DIY Pyhä-Luosto hiking adventure (3 days, 2 nights)
Discover the unique arctic nature of Pyhä-Luosto National Park. Admire the changing landscapes as you follow the path furher into the forest on this independent hike accessible from Rovaniemi.
Quick Info
Type: 3 Seasons Package
Location: Luosto, Finland
Duration: 3 days, 2 nights
The program is customizable.
Self-guided tour.
Nights
Tent (included) OR public wilderness hut OR private wilderness hut (not included)
DURATION
3 days & 2 nights (can be adapted / extended)
AVAILABLE
May – October
Recommended : June – September
PRICING
OPTION 1
INDEPENDENT ADVENTURER
1 Adult : 125€ / pers
(150€)
2 Adults: 95€ / pers
(115€)
OPTION 2
NEED A HAND?
1 Adult : 140€ / pers
(170€)
2 Adults: 110€ / pers
(135€)
OPTION 3
PROFESSIONAL HELP
1 Adult : 575€ / pers
(690€)
2 Adults: 545€ / pers
(655€)
The price can vary if you have chosen extra options. Please find below the breakdown of all our options. Contact us to get a quote based on your wishes!
Prices include VAT
Embark on your very own adventure in the Pyhä-Luosto national park with the help of our equipment! This trip will allow you to discover unique arctic nature at your own pace and in your own style, without having to conform to the needs of the group. The tour is accessible from Rovaniemi.
THE FELLS ARE CALLING
The National Park of Pyhä-Luosto is located one and a half hours north-east from Rovaniemi by car. It's home to fells and summits formed by the melting of a glacier. During 3 days of hike, you will see the landscapes changing as you follow the path to Isokuru – the biggest gorge in Finland. The view from the summit is definetly worth the journey!
The trail length is approximately 30 km. We recommend to divide the distance in 3 days, walking approximately 10km per day, but it is also possible to do it in 2 days if you prefer. There are water points along the trail, so you don't have to carry all the water from day 1. However, we recommend that you bring enough food and snacks to make sure you are not hungry during the entire trip.
We recommend Lampivaara, Porontahtoma or Karhunjuomalampi for lunch and snack breaks, as they are equiped with a public fireplace and a grill you can cook on. In your backpack you will find everything you need to start a fire and firewood will be waiting for you in each of the shelters. Chopping wood, lighting your own fire and cooking yourself a meal are all the part of the experience. It's one of the locals' favourite leisure activities!
HOW TO GET THERE
Bus: you can take one of the intercity buses to get near the starting point of the trail. Here you can check the bus schedules and prices, as well as book your ticket. The bus stop in Luosto is called Hotelli Luostotunturi. The one in Pyhä is Pyhätunturi liikekeskus. The rough price for the ride is 30€.
Taxi: booking a taxi gives you more flexibility with the hours of departure and arrival. However, this can be a bit pricey, as the starting point is located 112 km from Rovaniemi. We recommend taxi company Menevä. You can book your ride in advance with this online booking form. The aproximative price is 233€ per ride.
Your own car: this makes you more restricted in the journey itself, as you need to go back to the starting point, where you have parked your car. You will have to catch the bus back to the starting point. Here you can find a car rental company in Rovaniemi.
By bus and taxi: You also have the possibility to combine those options, if you want to be more flexible on the departure or the return times.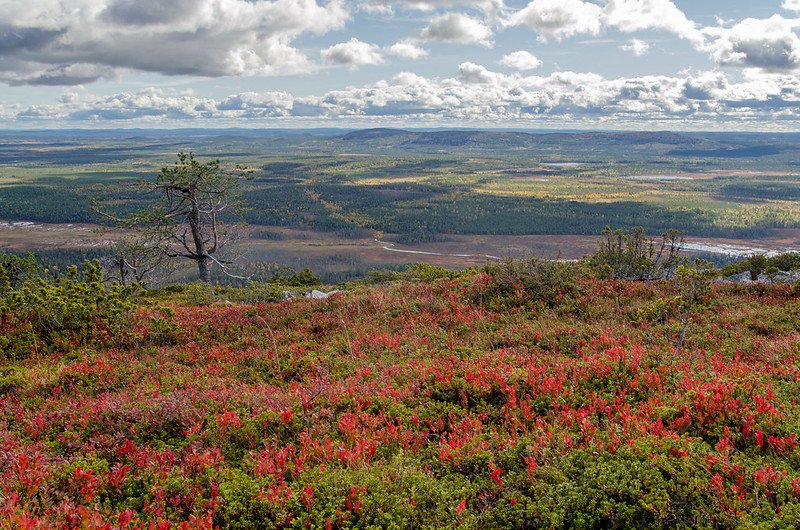 where to sleep
In the tent: see some of our recommendations of good places for setting up a tent (the tent is included in the package): next to Pyhälampi, next to Huttujärvi.
In the public wilderness hut: Pyhälampi, Huttuloma and Karhujuomalampi are all good options if you want to sleep in one of the free public huts. However, note that it's not possible to book the public huts in advance, so you have no guarantee there will be places left there.
In the private rental hut: if you want to make sure to have private nights in warm huts, this option is for you. You can book the huts here: Kuukkeli, Hattujärvi. The fee is 75€ per night. Both the huts are equipped with a sauna. The keys are to be picked up at Pyhä-Luosto Visitor and Culture Centre Naava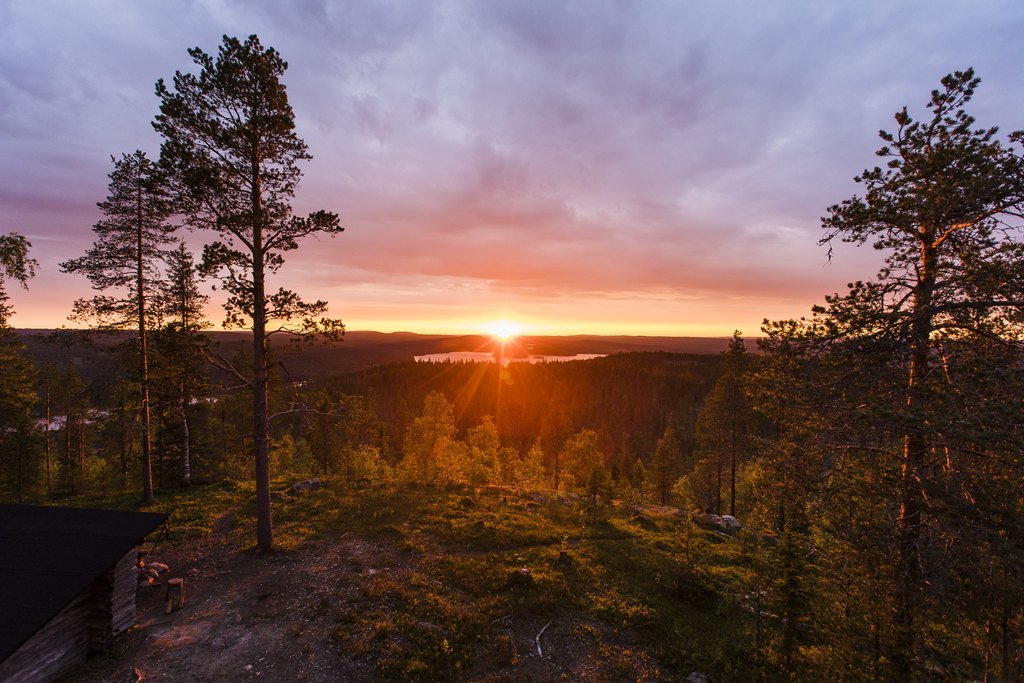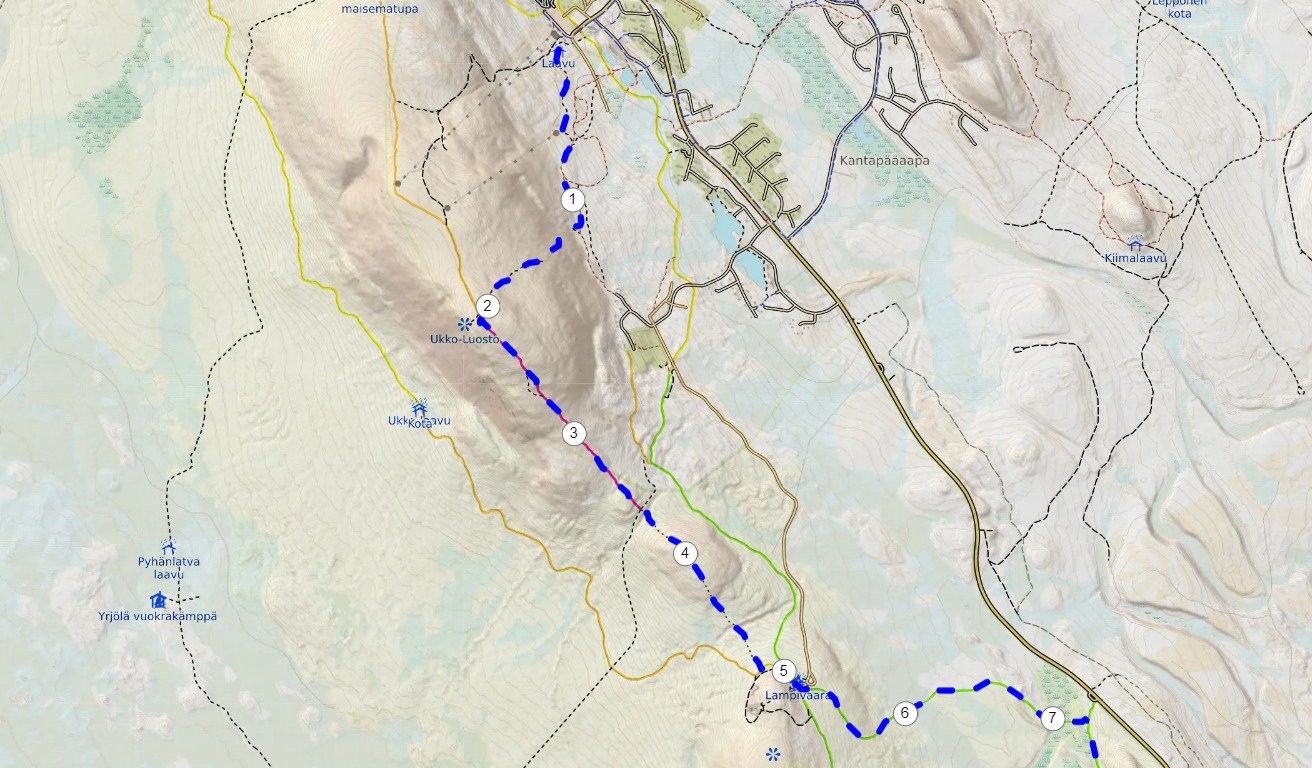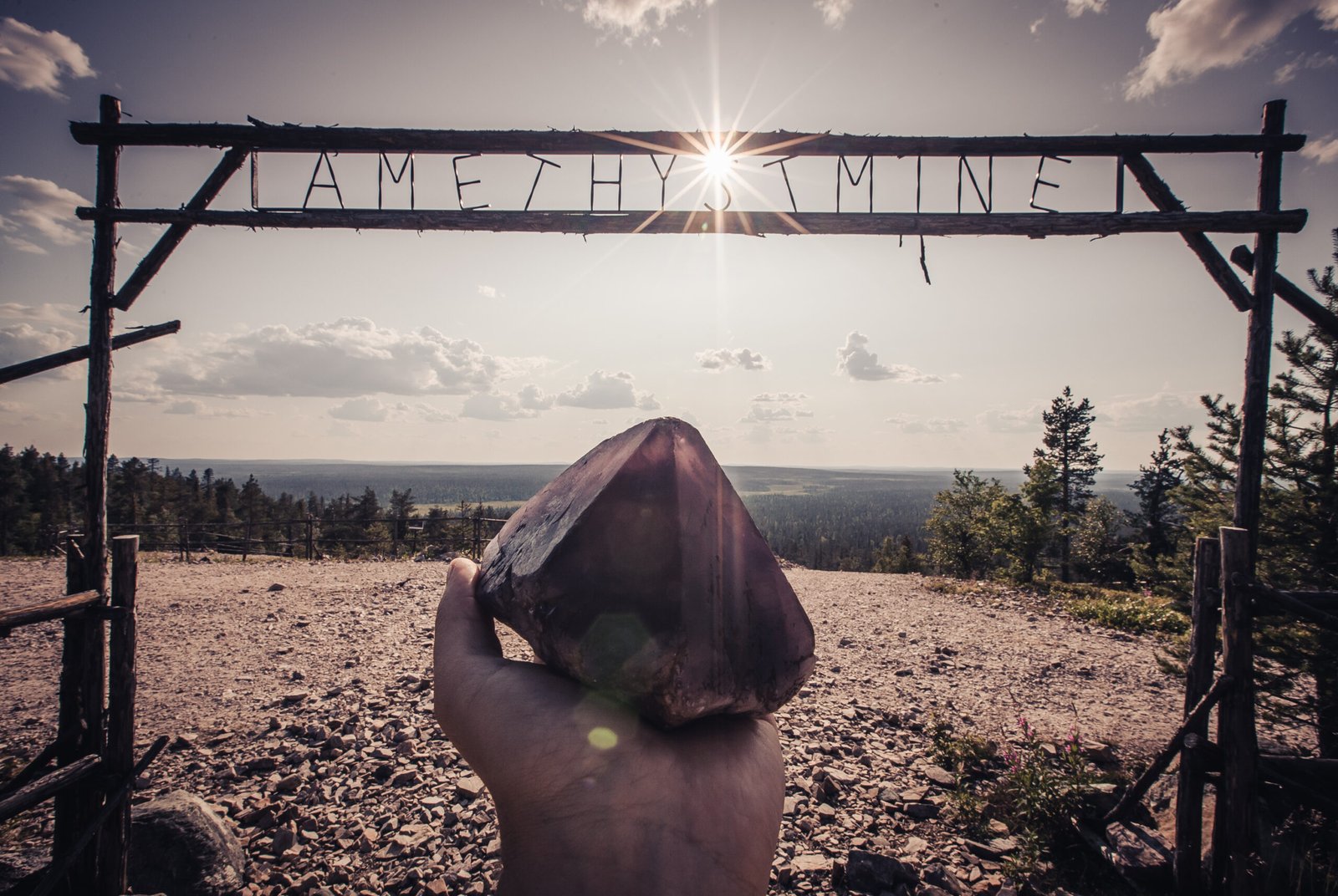 DAY 1
Climbing down from the Ukko-Luosto fell you will follow the path to Lampivaara hill. Apart from beautiful views, the hill will greet you with the first interest points: Lampivaara Café, famous for delicious pastries, and the Amethyst Mine. The mine is open for visitors every day in the summer season. There is also a lean-to shelter on the hill, where you can make a fire independently and cook yourself your very first meal of the journey.
From Lampivaara, the trail descends in two directions: follow the Kuukkeli path if you want to finish the day in the private rental cabin. Pyhälampi path will be more suitable if you prefer the public hut. Both trails will meet at Porontahtoma lean-to shelter, where you will get within an hour the next day.
No matter which trail you will choose, you will finish the day after approximately 10 km walk. On the way, you can stop as much as you want, enjoying the views, cooking or resting.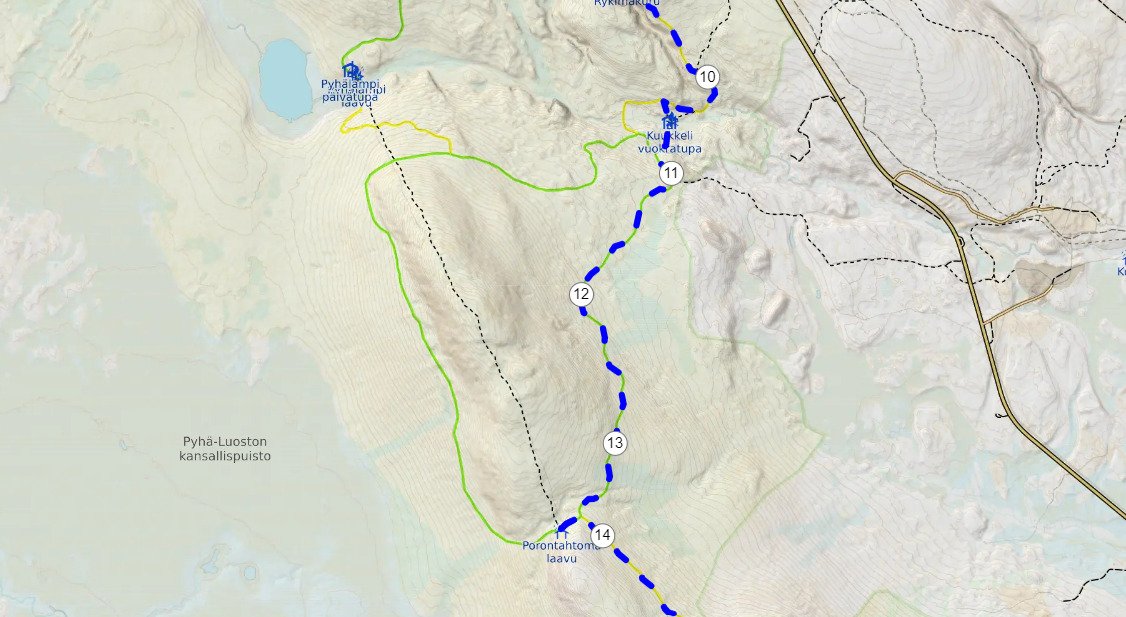 DAY 2
The first destination of the day is Kapusta day-use public hut.  While you are climbing the fell, you will get amazing views of the westernmost summit. There is a fireplace in the hut's yard, which makes it a perfect stop on the journey.
The names of the places make them a perfect lunch break spot. Huttu, in finnish means porridge and kapusta is a wooden ladle you use to scoop the porridge on your plate. After a break on the fell, you will continue the hike along the summit to reach Huttujärvi.
There is a private rental hut in Huttujärvi, where you can finish the day off. If you prefer to opt for the public place, follow the trail for 400 metres more to reach Huttuloma. In the summer time this hut gets very warm if you light the fire inside, so if possible, prepare your meals on the fireplace in front. The second part of the trail is approximately 8 km.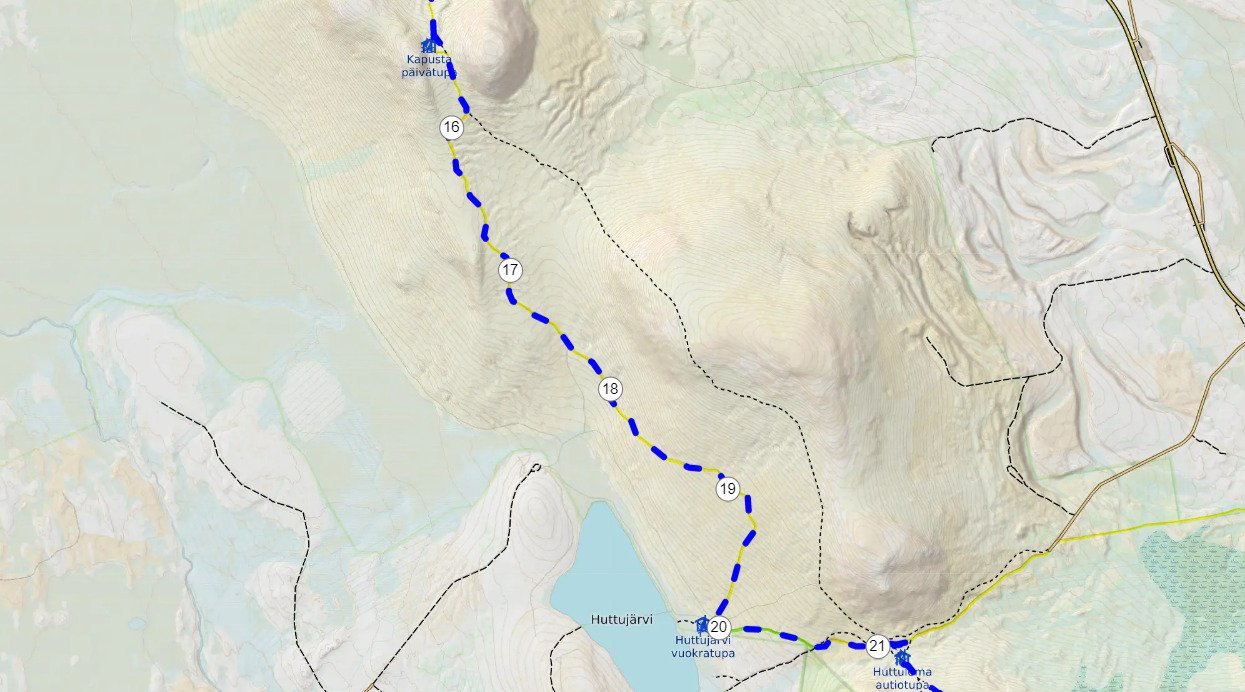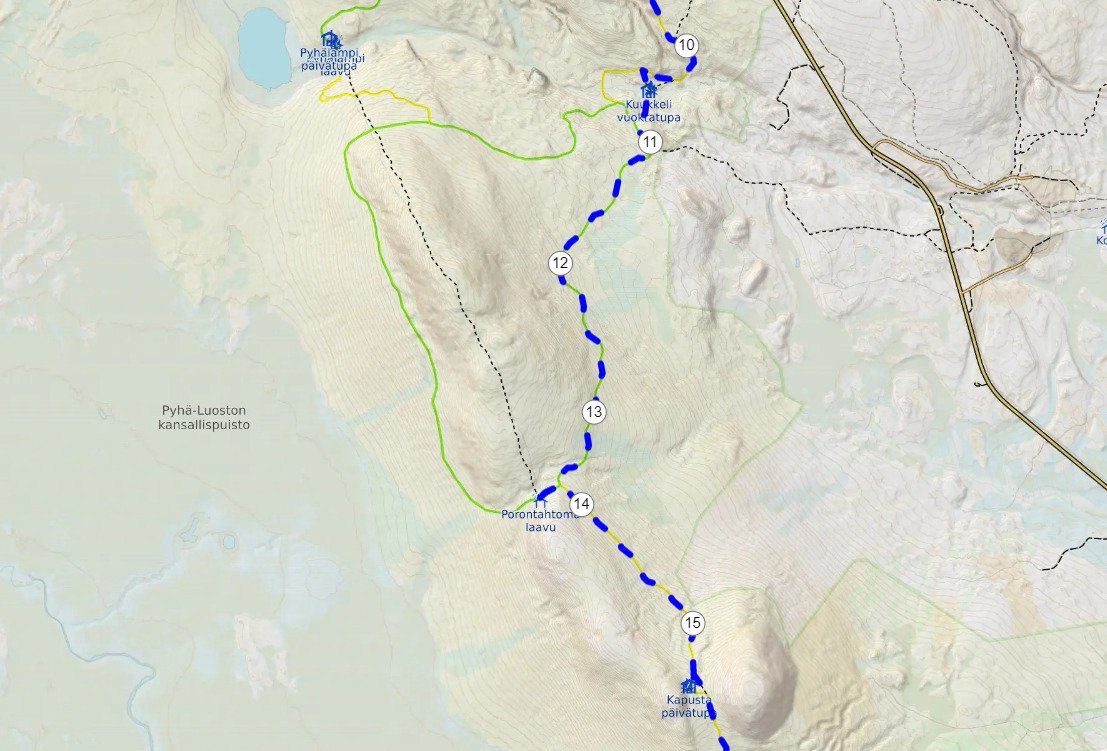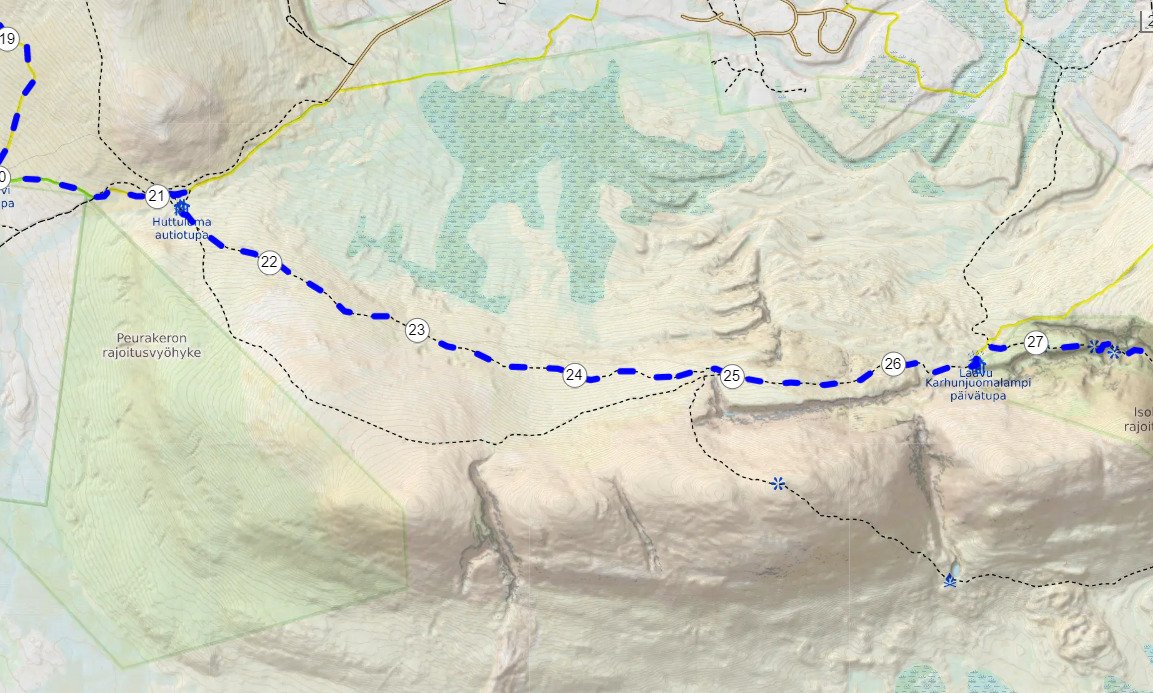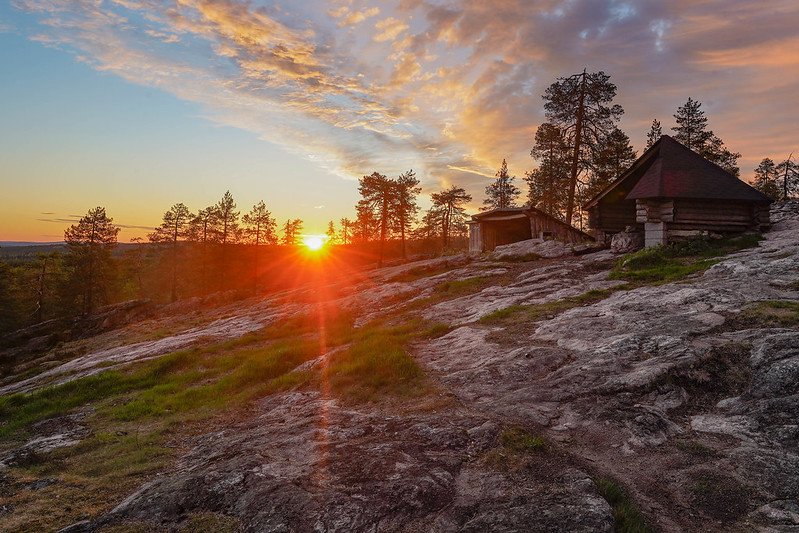 DAY 3
After a good night sleep it is time to continue the hike to discover the five fells of Pyhätunturi. At the beginning you will admire beautiful fell uplands, characteristic to the nature in the north. As you continue, however, the trees become taller and you will find yourself in the herb-rich forest.
Karhujuomalampi makes for a great next stop in the hike. A day-trip public hut with a lean-to shelter and a fireplace will provide you with everything you need for a rewarding lunch break. After having freshen-up, Isokuru gorge awaits you. It's the largest fell gorge in Finland and the view on it from Uhriharju ridge is breathtaking. Remember to make sure you have enough food and water before entering the gorge area, as it is strictly forbidden to go off path there.
The trail ends in Pyhä, where you can catch the bus back to Rovaniemi. The last part of the hike is approximately 12 km.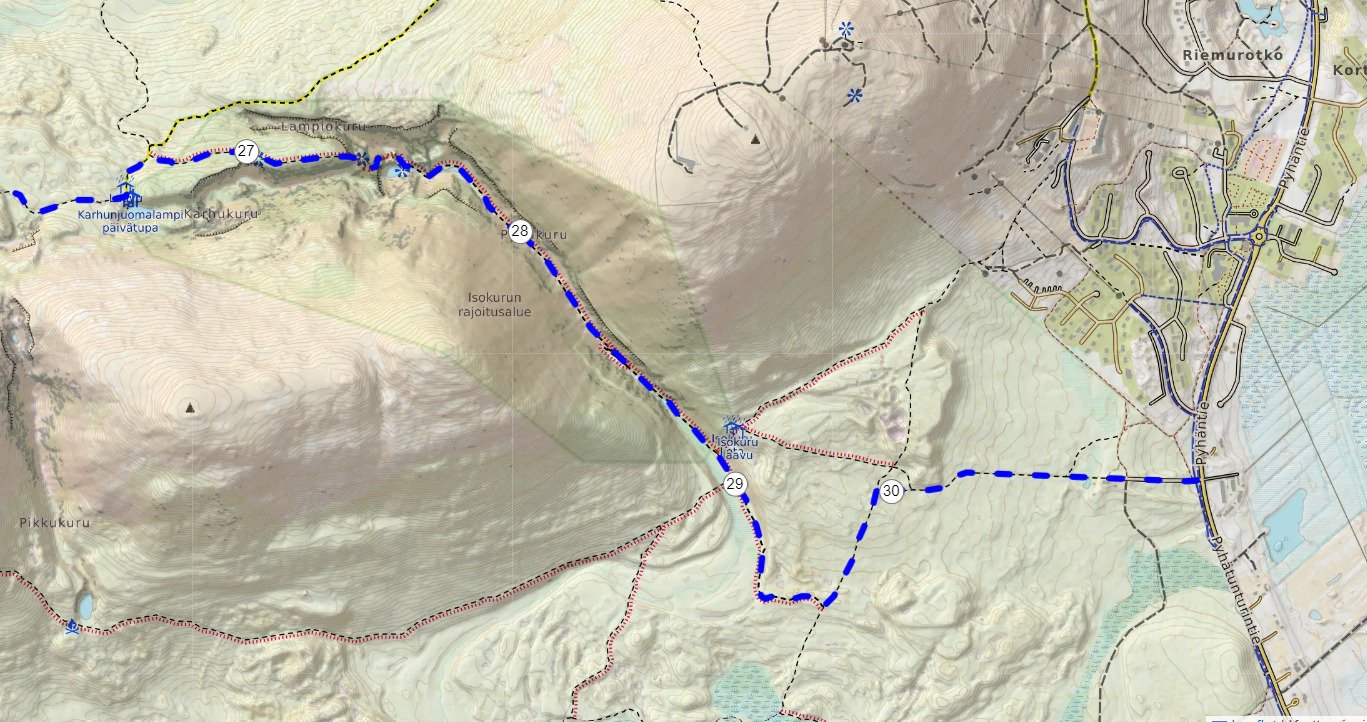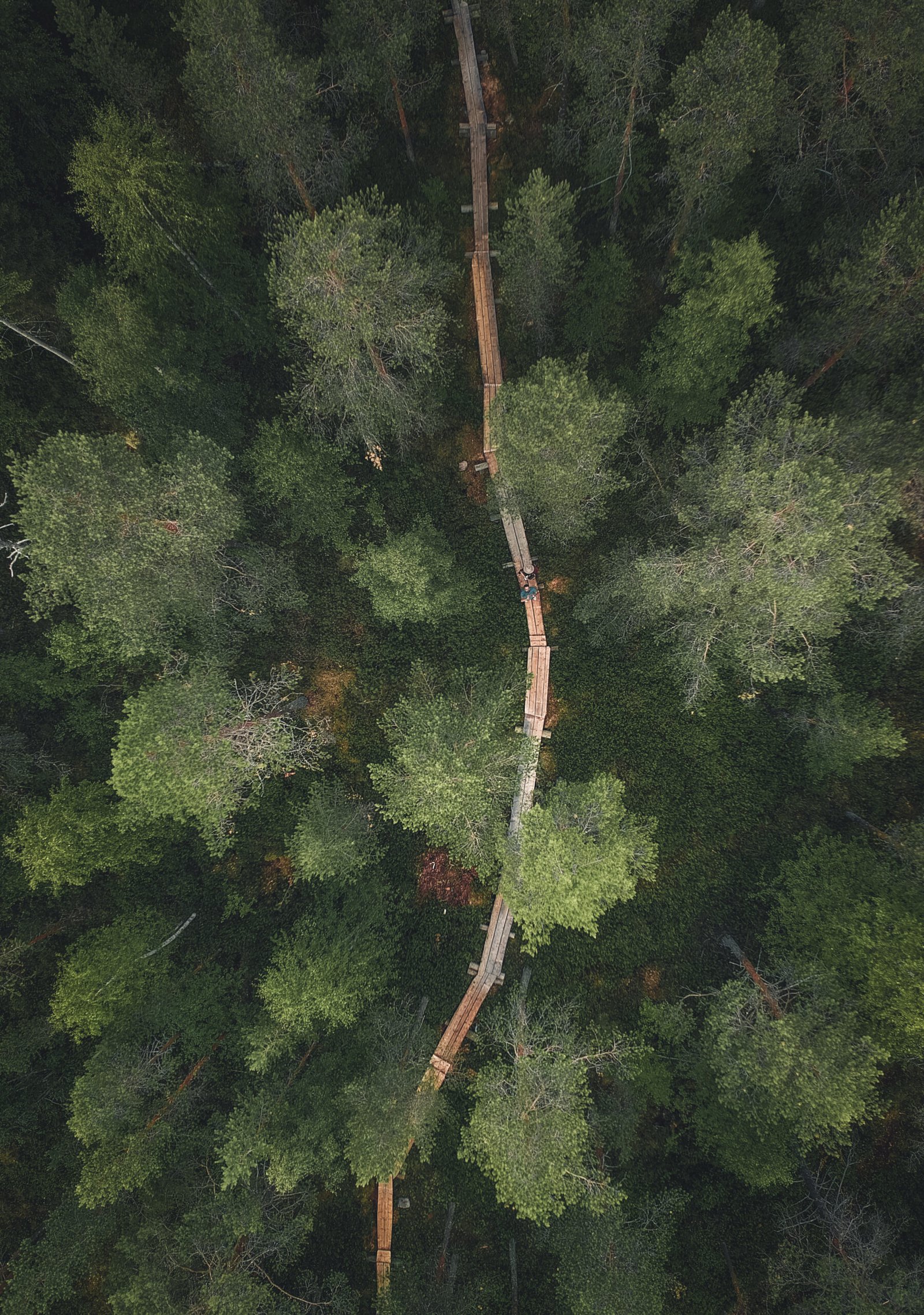 water points
Water points are avaiable throughout the trail, so you never run out of it. Most of them are natural water, meaning that you will need to boil it before using. However, you can still find spots providing houshold water – this one is ready to drink right away. The water points on are marked on the map with the sign of a drop falling in the waves.
forest fire safety
There are three different levels of forest fire warnings (yellow, orange and red) and one in grass fire warnings (yellow). They all refer in law to the same thing, that it is forbidden to start open fire. Probability for large and quickly progressive forest fires increase, when it is orange or red warning. Here you can see the 5-day forest fire warnings in Finland. Please check and respect the warning during your tour.
TIPS AND RECOMMENDATIONS
Public fireplaces with wood, grill, table and benches are available for everybody to use. This means you can use firewood and the tables free of charge. However, you should follow some common sense rules to respect other nature hiking enthusiasts, and nature itself. While you are using the shelter, always welcome new people. The rule 'I came here first so it's mine now' doesn't apply in Finland. You are expected to share public places with others and treat them with respect. On the other side, this means that if you arrive to an already occupied fireplace, you can feel free to join in!
When using the public hut to sleep, just like with public fireplaces, you should make sure you follow the general recommendations and common sense as well. The official rule is that if you arrive to a hut that is already occupied, people should leave and make place for you, as you are more tired and in need of rest. The same way if you see other people arriving, you should leave to let them rest as well. However, it might happen that the cottage is already very full, or you arrive at the same time with somebody else. For your own comfort and to assure your privacy, you are equipped with a tent.
which food to bring
The trail being rather long (30 km), you need to think about which, and how much food to bring to have an enjoyable experience. Here are our suggestions about which aliments are a good option for a long summer hike:
Fresh food: grilling sausages on the fire is a part of Finnish culture. It's one of the easiest meals to prepare on the flames. They pair very well with bread. You can also bring fresh fruits and vegetables to snack on during the hike.
Jars and cans: the biggest advantages of having a pasta sauce or a stew ready in the jar is that the preparation time is really short and the food will not go bad during the journey. However, prepare for some extra weight in your backpack, also after eating as there are little trash cans on the trail.
Dry and instant meals: lightweight and ready in minutes, they make great hiking food. The biggest disadvantage is that most of them are rather expensive. However, dehydrated meals tend to be rewarding and high in nutrients. For breakfast, we recommend instand porridge or rolled oats.
Snacks: Muesli bars, nuts, chocolate and dry fruits are high in sugars and will keep you energized between the warm meals. We definetly recommend taking some with you.
WHAT IS IN YOUR BACKPACK?
To make you ready for your independent hike adventure, we have prepared the right equipment for you. In the backpack you will find everything you will need for the hike. To make sure you have a great experience, we have also included a card game in the 2-persons package so you can spend a great time in the nature! The total weight of the backpack with all the equipment listed is around 5,5 kg, without water. Below you can find a list of all equipment included in the package.
For hiking:
Backpack (40L)
Headlamp
Map with map holder*
Compass*
For eating and cooking:
Gas stove (MSR Pocket Rocket)*
Cooking set including 2 pots and a spork*
Axe*
Knife*
Sausage stick
Matches*
Cup
1l thermos*
Water tank
For sleeping:
Tent (MSR® Hubba Hubba NX – Weight: 1,540 g)*
Sleeping bag (Marmot Hydrogen 30 – Weight: 0,811 g) with linen
Matress
Mosquito net*
Other useful equipment:
Rope*
First-aid kit*
Card game (Uno)*
*this equipment is shared if you book the tour for 2 people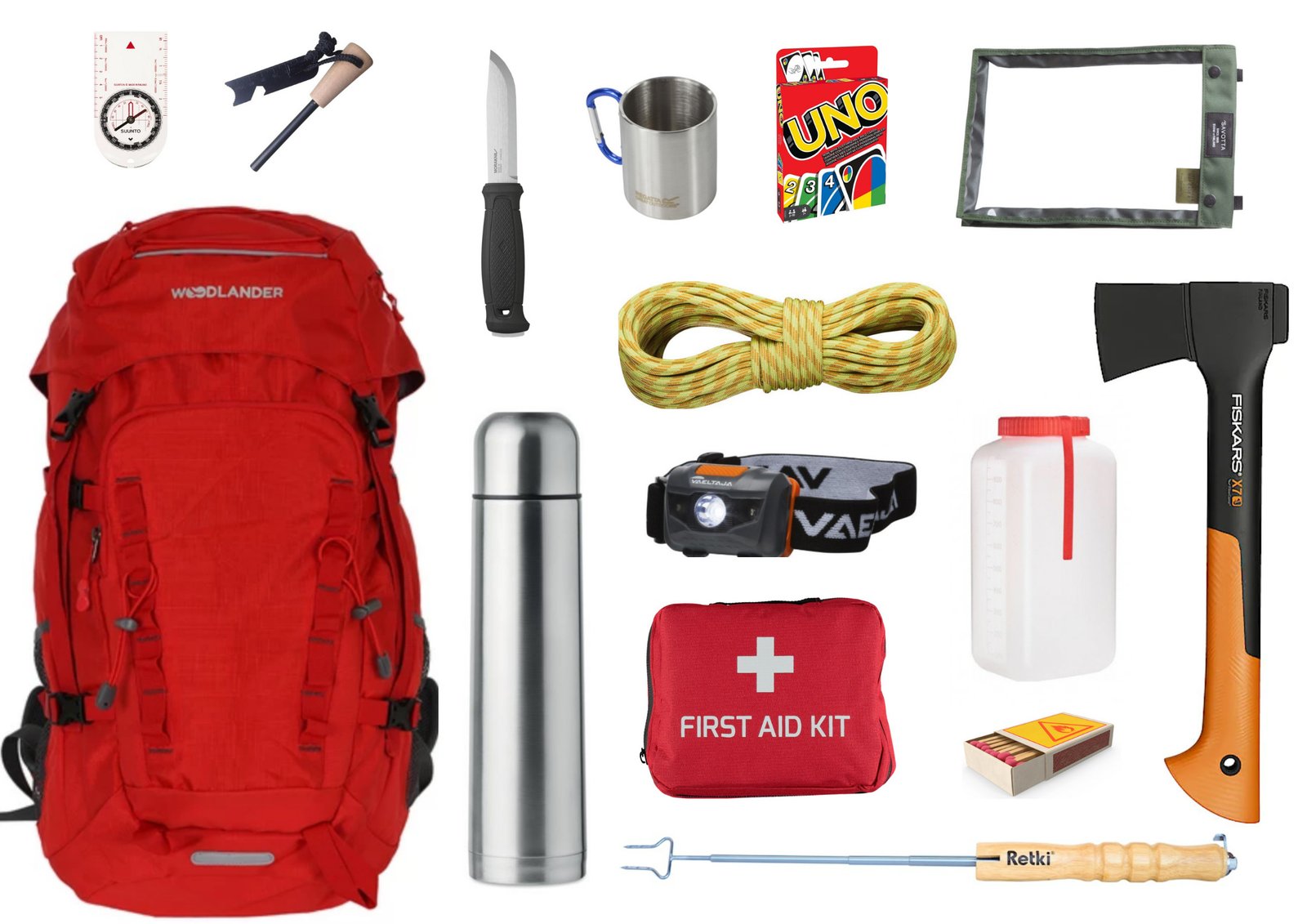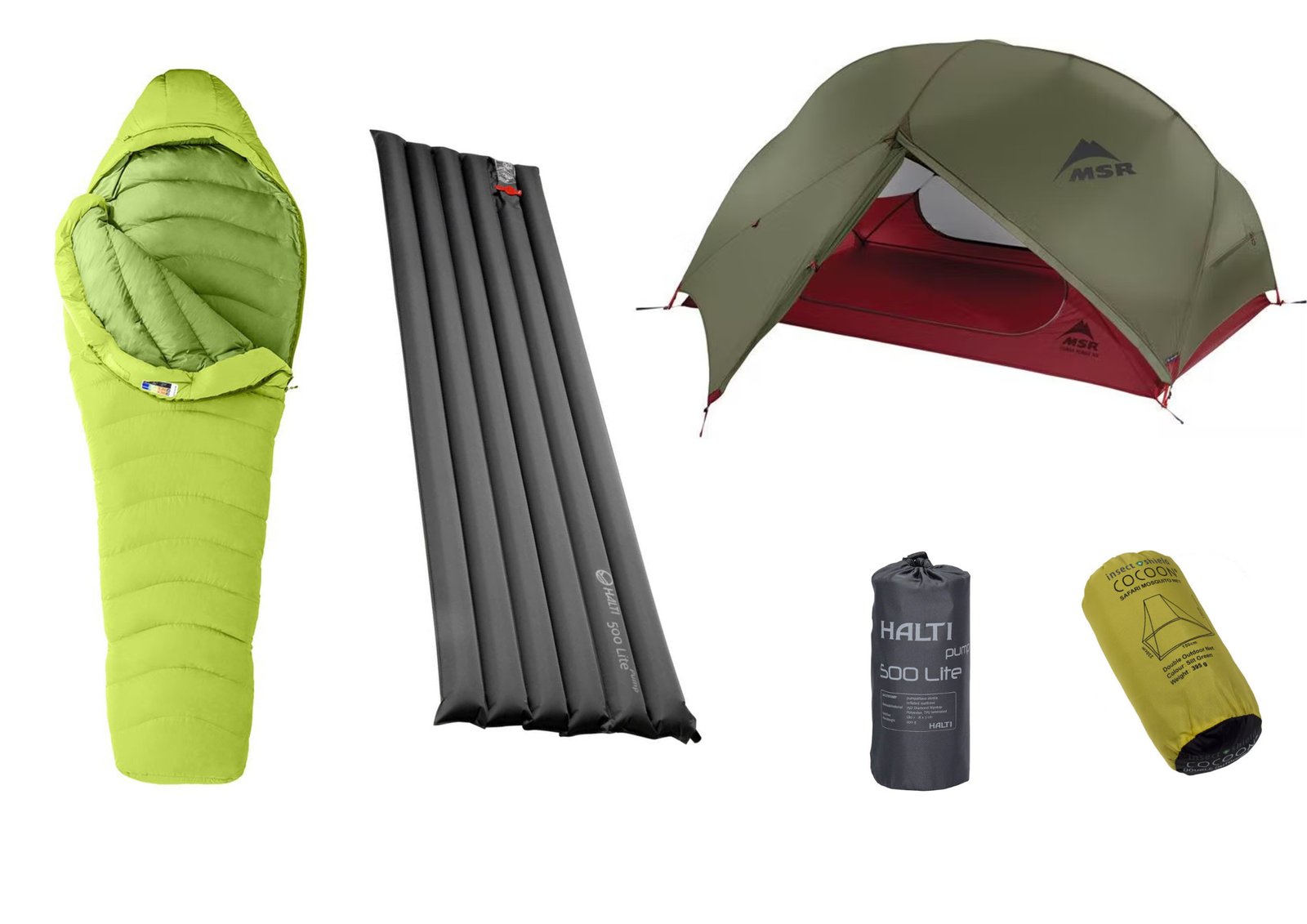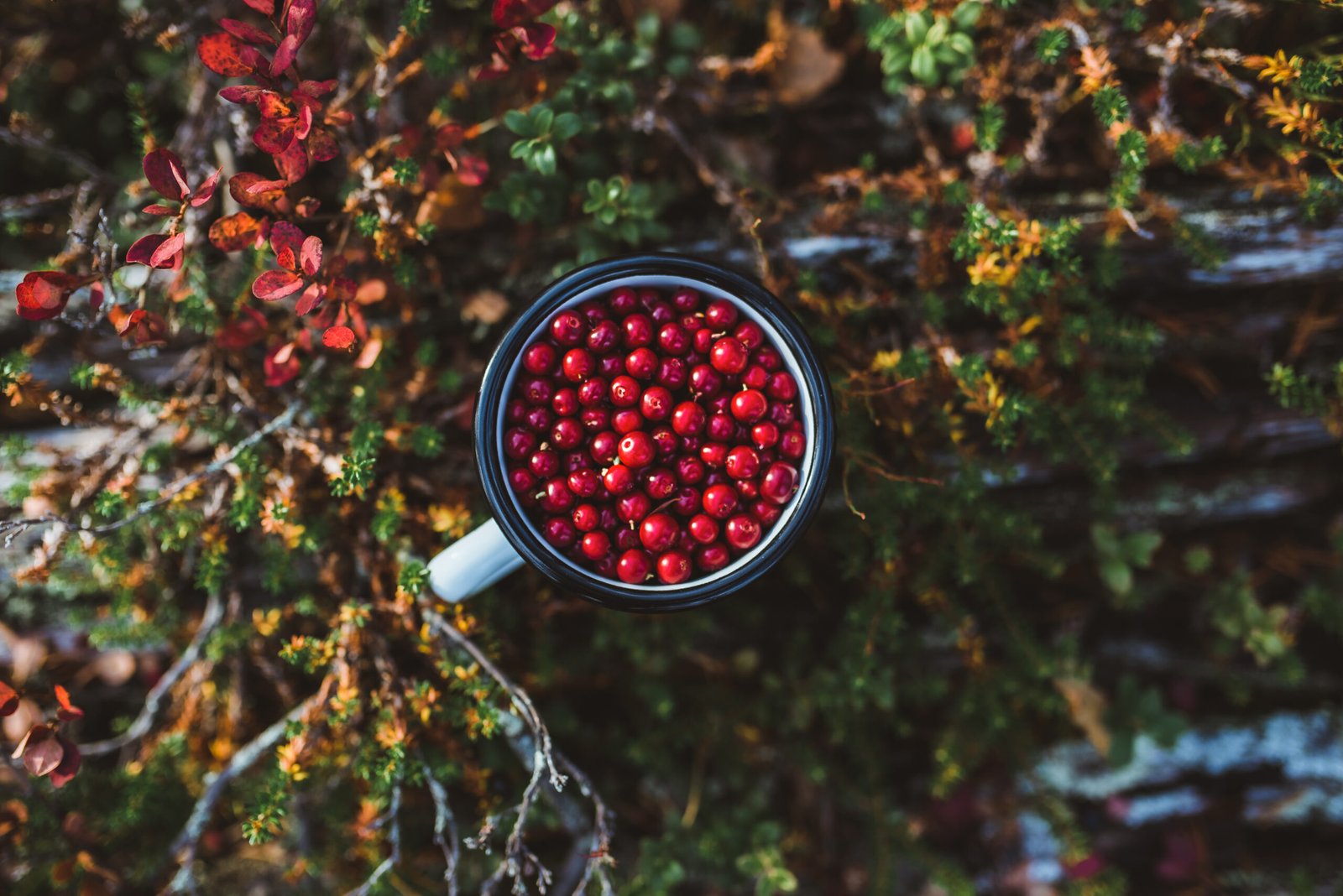 NEED SOME ASSISTANCE?
CHECK OUR EXTRA OPTIONS!
If you are unsure about seting the tent, using the gas burner or you have any other concerns, don't hesitate to ask for a short brief session with one of our professionals before the trip – they will gladly answer all your questions in a face-to-face meeting. We also offer a guidebook containing information about life in Finnish forests (all the information you would have gotten from a guide collected into one guidebook!).
If you are tempted by the adventure but prefer to always have help and guidance on hand, you can have a professional guide with you. He will lead you through the experience, sharing stories and explanations, all while cooking delicious meals on the fire. Transportation from and to Rovaniemi is included in this option.
Option 1
INDEPENDENT ADVENTURER
INCLUDED: all the equipment needed (you can find a list of the equipment above), safety instructions;
NOT INCLUDED: guide, transportation, food, introduction session to using the equipment, guidebook
PRICE: 125€ per person for 1 person
95€ per person for 2 persons
OPTION 2
NEED A HAND?
INCLUDED: all the equipment needed, safety instructions, introduction session for using the equipment with a guidebook, call our professional team for advice anytime you need*
NOT INCLUDED: guide, food
Please note that the phone services are available in the office opening hours: 8:00-20:00 from Monday to Saturday and 9:00-18:00 on Sundays
PRICE: 140€ per person for 1 person
110€ per person for 2 persons
OPTION 3
PROFESSIONAL HELP
INCLUDED: all the equipment needed, safety instructions, guide, transportation, food;
Please note that the guidebook is not included in this option as the guide will make the explanations in person
PRICE: 575€ per person for 1 person
            545€ per person for 2 persons
INCLUDED
Equipment
all the equipment mentioned
NOT INCLUDED
We recommend that you bring your own
Waterproof jacket
Waterproof or outdoor trousers
Toilet paper
Clothes to change
Hiking boots
Alcoholic desinfection gel

Snacks and food (included in OPTION 3)
Soap (preferably bio-degradable)
Gas bottle (available for 10€ extra)
Sunscreen
PLEASE NOTE
Options 1 and 2 are independent hikes. A guide will not accompany you if you choose one of them.
This tour is suitable for children 8 years old and older. Please contact us if you have younger children.
Equipment is to be collected and returned from/to our office located at Pekankatu 7 in the city centre of Rovaniemi.
By booking this package you agree to terms and conditions.
CANCELLATION POLICY
We will charge a cancellation fee of 20% if booking is cancelled 31 days or more before departure;
We will charge a cancellation fee of 100% if booking is cancelled 30 days or less before departure.
HOW TO BOOK
Please send us a booking request. Our team will discuss with you about the different options, check availability for your dates and send you a quote with payment instructions.
PAYMENT
Payment by bank transfer and credit card are accepted.
An immediate 30% deposit payment is required to confirm the booking. Payment of the remaining 70% is required at least one month before departure.

Explore most of Korouoma canyon, its deep nature and frozen waterfalls, with a 2-day snowshoe trek and overnight in a wilderness hut.


Enjoy a unique forest ski experience with this 1-day / 1-night trip to a traditional cottage lost in the middle of Lapland nature.


Ski accross the National Park of Pyhä-Luosto and its picturesque fells with a memorable 3-day trek. Overnights in wilderness cabin or camps.