Family trip in Lapland: what to do with children in Rovaniemi?
Rovaniemi is unquestionably the best destination in Lapland for a family tour with children. Official hometown of Santa Claus, situated near the Arctic Circle, surrounded by the white nature as far as the eyes can reach and equipped with developed touristic infrastructures, Rovaniemi ticks all the boxes for easy and memorable family holidays. However, Lapland stays a region with difficult climate conditions, for which you need to prepare. Large choice of services and offers of activities are not making the task of organising a quality programme adapted for children easier…
Don't panic, we are there to help you see this more clearly
PART 1: PREPARATION OF THE FAMILY TRIP
1. Preparation for the cold
Winter in Rovaniemi means from the end of November until the beginning of April. Temperatures revolt around -12C, but can drop until -30 on some days, especially in December and January, which are the coldest months. Going to Lapland in winter then requires you to be well-prepared for the cold, since for the beauty of the region resides mostly in the wild and difficult to access nature. You already know this, you've been already mentally preparing mentally for weeks: you will need to spend hours outside in the cold and snow!
Aspects of security, and comfort, connected to the cold are then a priority question – especially with young children!  Fragility connected to their young age, little experience facing extreme conditions (and therefore little knowledge about their own physical limits), and feeling the cold differently than adults are the reasons why children are more vulnerable to freezing temperatures. Depending on the age of your children, you will need to limit the time they are exposed to the cold. This includes, among others, to resign from certain activities which include staying outside for too long, without an easily accessible hot point.
When you are on an excursion, it is important that your children express their feelings when facing the cold. We recommend asking them regularly how they feel, to verify that their clothes are dry, and to test the warmth of their feet and hands, as this is where they will be cold first. Also, put aside your useless heaters, the best way for your children to warm up is… to make the blood circulate! Run, wave your hands, jump, dance macarena, it doesn't matter, but MOVE! Blood circulation will quickly bring warmth to the extremities of the body; small tingling in the fingers and toes are not very pleasant, but to be expected (and so are the cries that will follow), but they are a good sign – the warmth comes back!
2. PREPARE YOUR SUITCASE (AND THE ONES OF YOUR CHILDREN)
In our practical guide of Rovaniemi (to be downloaded for free here), we consecrated an entire page for the question of clothing. You will also find there our pieces of advice about what to bring in your suitcase and other recommendations.

Attention! Good preparation for the cold does not mean to bring too much! Wearing 18 layers of clothing, 2 hats and 5 pairs of socks will inevitably result in one part of you strongly sweating (and therefore being cold), and the other to compress blood circulation (and therefore being cold). More than multiplying the layers, above all make sure that your clothes are dry! Humidity (which freezes in contact with cold) is your enemy and even more so the one of your children!
If you don't wish to invest in expensive sports winter equipment or if you fear the fee for the luggage at the airport, then equipment rental might be the economical and wise choice.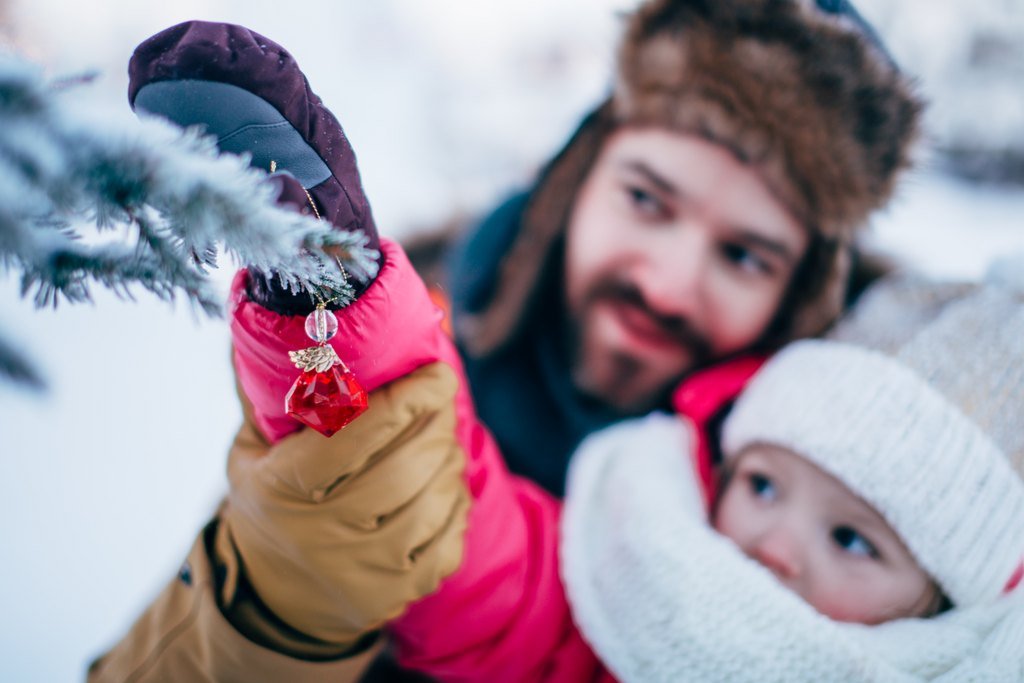 3. RENT YOUR EQUIPMENT
Renting your equipment on the spot will allow you to leave with a light suitcase and mind. We recommend however, to book well in advance, especially in the periods of school holidays (Christmas and February), so you can make sure to have your equipment book with the right sizes for your stay.
We rent winter clothing sets (adult and children sizes) that consist of a thermal overall made for arctic temperatures of up to -20C, and winter boots. The overalls are waterproof and are to be worn on top of your own clothes (they are the external layer). So opt for flexible and comfortable clothes (but still warm).Boots are equipped with a thick sole to isolate you from the cold from the ground, as well as with thermal protection that you can take out and dry easily. We are not renting socks, hats or gloves for sanitary reasons.
For children, we also rent specific equipment, such as strollers, car seats or snowshoes for children.
To book your equipment, it's enough to contact us by email (info@nordicodyssey.net), telephone or Whatsapp, while precising your sizes and the period for which you want to rent the equipment. You can find all the information about equipment rental and the price list here.
4. CHOOSING YOUR ACCOMMODATION
Rovaniemi has a big choice of accommodation of all kinds, and for all budgets. Hotels usually offer family rooms, communicating rooms or the possibility of adding an extra bed in one of them.
However, starting with 2 children, it will be without a doubt more interesting financially to look for a complete independent accommodation:
– chalets are an option to privilege if you want to be more remote with one foot already in nature. In this case, you will need to accept to depend on taxis / public transport for your moving, as these chalets are often situated more than 2km from the city centre.
– apartment in the city: a lot of independent vendors offer accommodation for an interesting price in the city centre or within a reasonable distance. Airbnb widens the choice, for all tastes! The offers are of quality, with apartments in nordic stury and very often equipped with a convertible sofa for your child. Some of them even have a small sauna in the bathroom!
For the hotel, chalets or other accommodation details, we invite you to click here.
Should you stay in the Santa Claus Holiday Village? We don't really recommend it… situated 8km from the city centre, Santa Claus village will give you a frustrating impression of being far away from everything and a lot depends on transportation… In the evenings, the stores there close at 18:00, leaving the village deserted (but illuminated). Take rather an accommodation in the city, and reserve yourself half a day / one day to go for a tour to the Santa Claus Village.
5. RENTING A CAR? 
Unless you stay far away from Rovaniemi (>8km), we don't recommend renting a car. With the general cost, the car will not bring a lot in terms of comfort, as Rovaniemi is a small town and all the principal services are situated in its centre, at a reasonable distance on foot, or with a stroller.

You would need to count the price for the rental, the insurance, fuel (2,30€ per hour as we are writing there words), and parking places in the centre that are paid (and the tickets are very expensive!) You would anyway need a guide for your excursions and, in this case, transfers from your accommodation in Rovaniemi are included. 
In the end, if you opt for a vehicle, don't forget that you would have to prepare your car a little in advance (unsnowing, plugging the engine in 2 hours before to warm up…) and to drive in difficult conditions (slippery road, reduced visibility, wild animals). The vehicles are however equipped (tires with spikes, warming system), the principal routes are well unsnowed, and in the case of problems (getting out of the road for example), the rental company will be able to help you efficiently.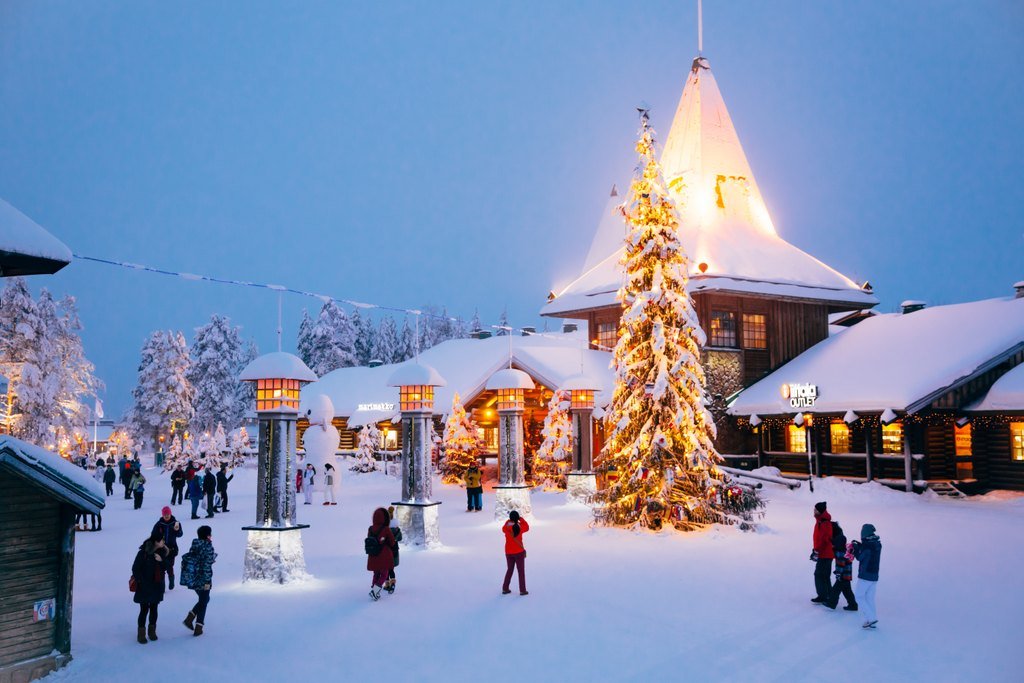 PART 2: ACTIVITIES RECOMMENDED FOR FAMILIES
Rovaniemi is full of a choice of excursions of all types for winter holidays. However, they are not all adapted for young children: sometimes too long or with too much exposure to cold, sometimes too demanding in terms of physical activity with long distances to cover by foot… For the comfort and the security of your children, you will need to make choices… and resign from the excursions that are not well-adapted.
To help you, here is a selection of activities to do with the whole family. We have mentioned in the parenthesis the minimum ages required for participation.
1. MEETING SANTA CLAUS (ALL AGES)
Admit that this is one of the reasons why you have decided to come to Lapland. It's also what made your choice go precisely to Rovaniemi: to perfect the magic of Santa Claus by offering your children meeting him directly at his place!
A visit to Santa Claus village is obviously an unavoidable trip once on a family holiday in Rovaniemi. Once you arrive on the spot, you will surely find the village a little small and the crowd a little too big. The place will be a bit too touristy for your adult taste, but your children will love the snowy scenery, houses with pointed roofs like in the books, big packages of (false) presents at the entrance of the office of Santa Claus. They will sing Christmas carols that resonate on the speakers with all force, while having the heart tight upon the discovery of the famous post office of Santa Claus, where their last letter came last year… And without a doubt the meeting with The Santa Claus will stay an impressive memory in the childrens' memory for a long time! Until you have something to maintain the myth next Christmas…
Half a day is enough to visit the Santa Claus Village, especially in the afternoon to benefit from the last lights of the day and the first illuminations (the morning/middle of the day can then be free for outdoor activities). The entrance is free of charge, regular city buses will take you there from the city centre (30min of road), and you will find refreshments on the spot. In all cases, you absolutly don't need a guide for this activity and look out for big unscrupulous agencies that offer guided visits at exorbitant prices!
And for those who wish to follow the Christmas spirit, we recommend the theme park Santa Park, situated 2km from Santa Claus Village. In the heart of the hill, the ''cave'' of Santa Claus (entrance is paid, about 35-45€ per ticket) is dedicated primarily for children, proposing workshops and elf plays in well-decorated sceneries. The only problem, you will need to explain why the same Santa Claus is in two different places… seems like he knows some secret tunnels…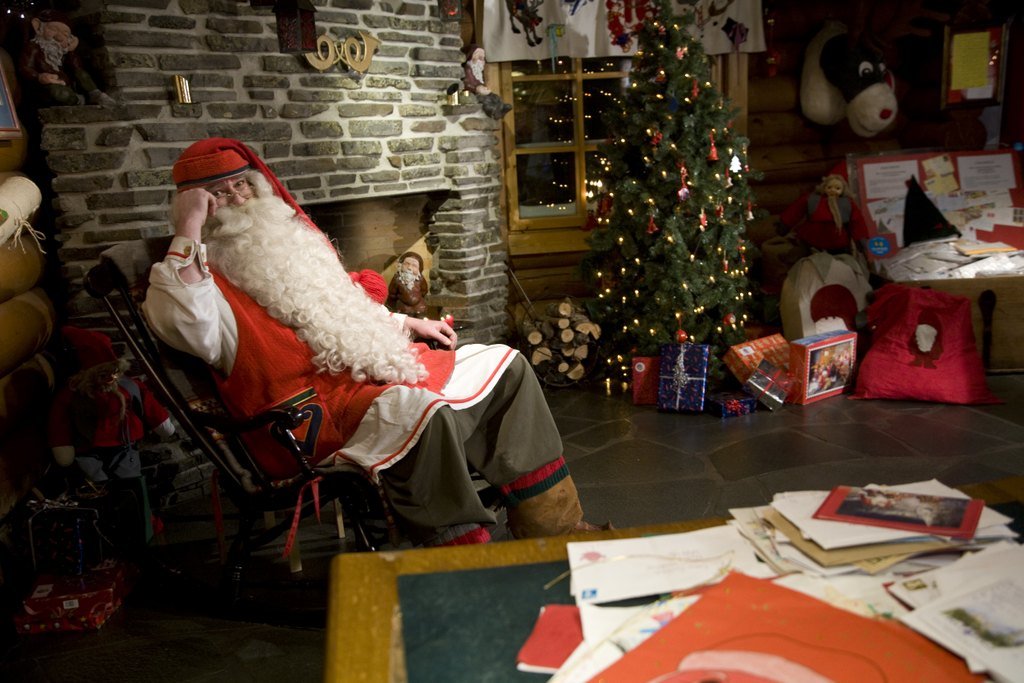 2. OBSERVING NORTHERN LIGHTS (4+ YEARS)
Observing northern lights is surely on your list, written at the very top and with capital letters. Because of its altitude up north, Rovaniemi is situated in the famous auroral zone, in which the phenomenon of the northern lights mostly, and is visible. In Rovaniemi, you can then observe northern lights from the end of August until middle April.
However, to go northern lights hunting in winter means most of the time to cover long distances and spend hours outside in the cold. In Lapland, temperatures can go down up to  -30 degrees at night, and the best places for observation are very often open places (frozen lakes, tops of the hills and so on), difficult to access and very exposed to the freezing wind. It's not rare to go back late, in the middle of the night…
All in all, it's neither practical nor comfortable for families with young children…
This is why, based on our long experience, we have imagined and designed a northern lights hunt especially dedicated to families, to offer all the parents the possibility to chase the precious dancing lights, thanks to the one adapted to their children!
During this excursion, your guide will take you out of Rovaniemi in the most promising direction, based on the weather maps and spatial forecasts. You will stop as many times as you need, under the advice and expertise of your guide. During the experience, everything is planned for the comfort of children: a campfire with a Finnish snack to warm you up, the blankets will be available if needed, the distance will be optimised and the explanations will be easy to understand.
And on top of that? Your guide will be equipped with a professional camera to immortalise these moments!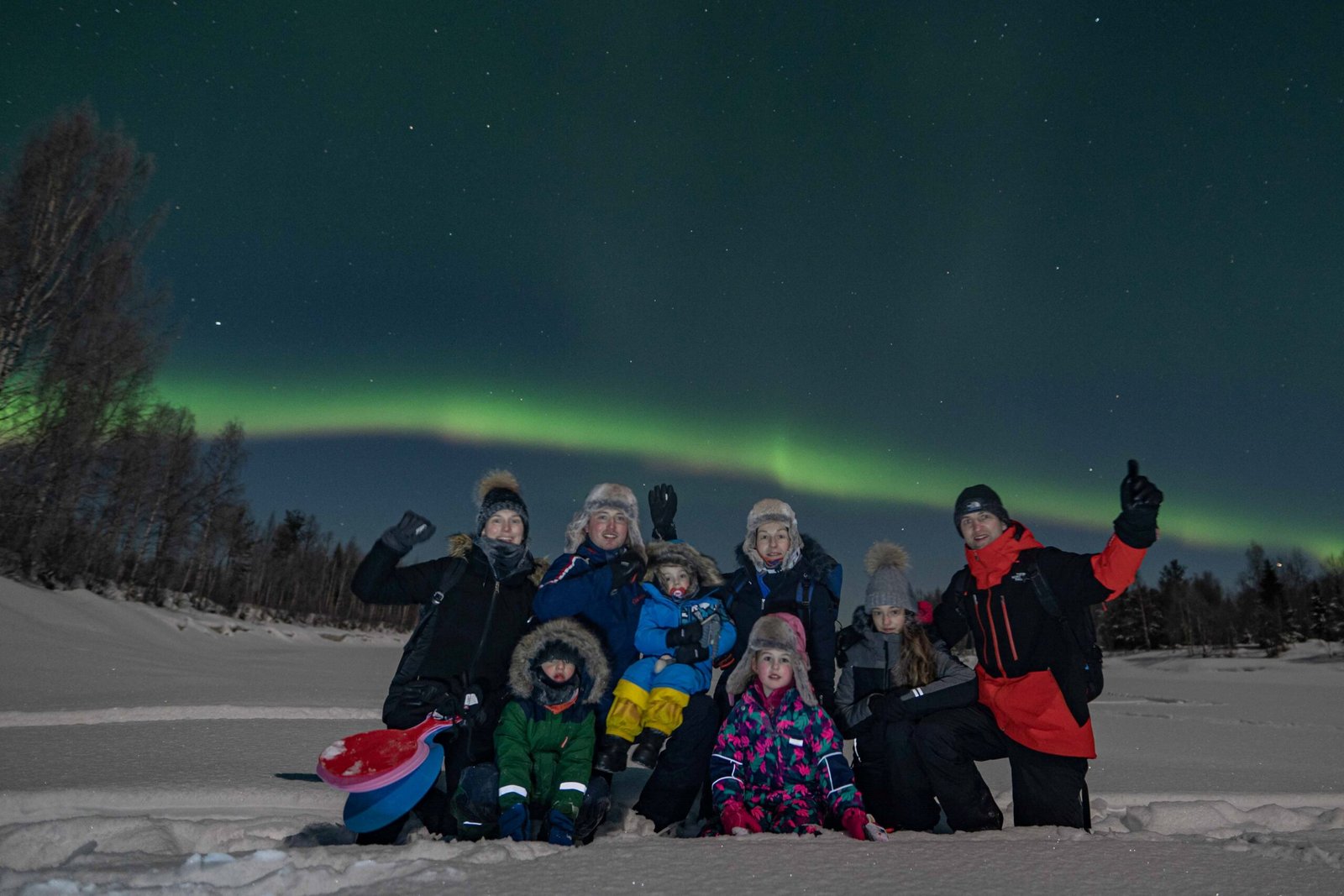 3. TRYING ICE FISHING (4+ YEARS)
Among local activities that you might want to discover with your children, ice fishing is without a doubt the most adapted. Traditionally, this was one of the few ways to get food in winter. Nowadays, a lot of Finns still like to spend hours on frozen lakes, either to catch a good dinner or simply to recharge their batteries in front of the immense landscapes.
Ice fishing is a relaxing family activity, ideal to balance the emotionally charged programme or to fill a free afternoon without breaking the bank. With your guide, you will find a good fishing sport and an easily accessible nature for the children. He will show you basic techniques to ice fish, and how to make your hole (by hand!). And after that? Your turn to play!
Remember to dress warmly for this excursion, as it can be cold at the lake, coming from the wind. In general, we are equipped with reindeer hides and offer the possibility of a campfire with a snack to keep you warm!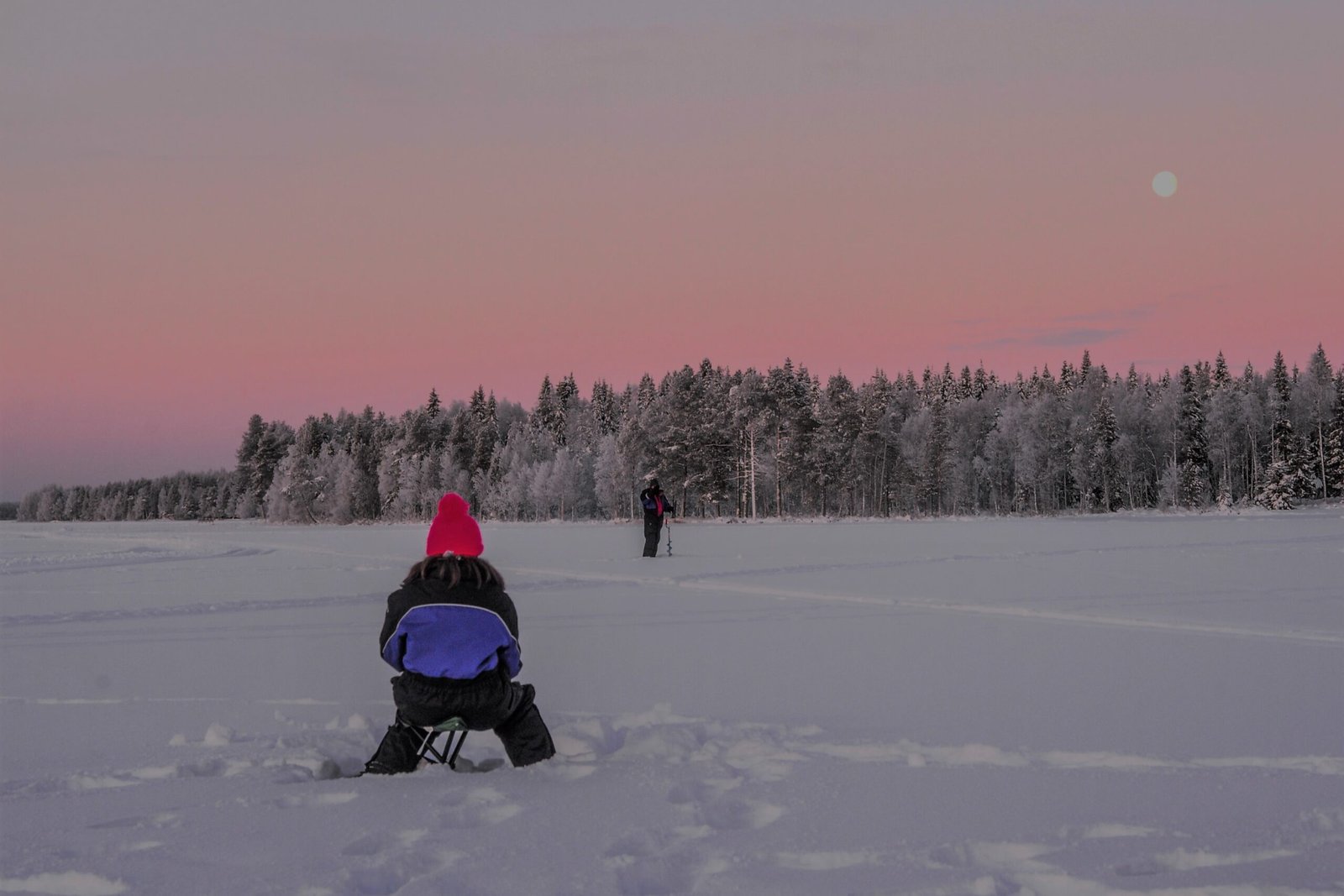 4. RANUA WILDLIFE PARK (3+ YEARS)
Situated an hour away from Rovaniemi, Ranua Park is the northernmost wildlife park in the world. It brings together around 50 species of wild animals and 200 individuals spread over a 2.5km course (sledges are available at the entrance to transport the youngest children). It is possible to see polar bears, wolfs, wolverines, elks, lynxes, eagles and other birds of prey, arctic foxes, boars, otters and so much more other animals…
The park makes for one of the principal attractions in Lapland. Here is a perfect family trip!
Ranua wildlife park (which is not a natural reserve, but not really a zoo either) is a part of different European programmes for protecting the endangered species. It's most of all, one of the rare opportunities that you have to discover arctic animals, which are almost impossible to meet in the vast Taiga.
4. REINDEER FARM (2+ YEARS)
WITH THE SLEIGH RIDE (4+ YEARS)
Reindeer is without a doubt a star animal in Lapland, that's how important was its role in the lifestyle of the locals over the centuries. Meeting these adorable semi-wild animals is bound to be a unique experience for the little ones, and the older ones!
Pay attention, however, to choose your experience well, as unfortunately some establishments, fed by big agencies and mass tourism, have nothing really authentic or ethical about them. From our side, we don't work but with traditional reindeer farms, established for generations in the Rovaniemi region; accompanied by your guide, the reindeer herders will be happy to  share their work, their world and their passion with you, while answering your questions around a fire.
The reindeer farm visit in winter includes a mini sleigh ride of a couple of minutes, ideal for very young children (from 2 years old). The time spent in the cold is reduced and during thé visit you stay near wooden stuctures, heated by the farm.
The longer rides (2,5km, so approximately 30.40 minutes) are dedicated to a slightly older public (ideally from 5 years old), as you will need to stay in the sleigh for an hour, without moving, and far away from the buildings as you wander in the forest. This excursion can be combined with a sled dog ride, adapted in the ethical kennel, situated just next to the reindeer farm (see below).
Finally, the longest sleigh ride (7km) is a complete experience that we don't recommend, but from 8 years old. The experience lasts 3 hours outside: training of throwing the lasso, harnessing the reindeers, driving on the 7km path (2x 40 minutes) and having lunch around the forest in the middle of the forest. In -20C, it is then a real question of comfort and safety of your youngest ones!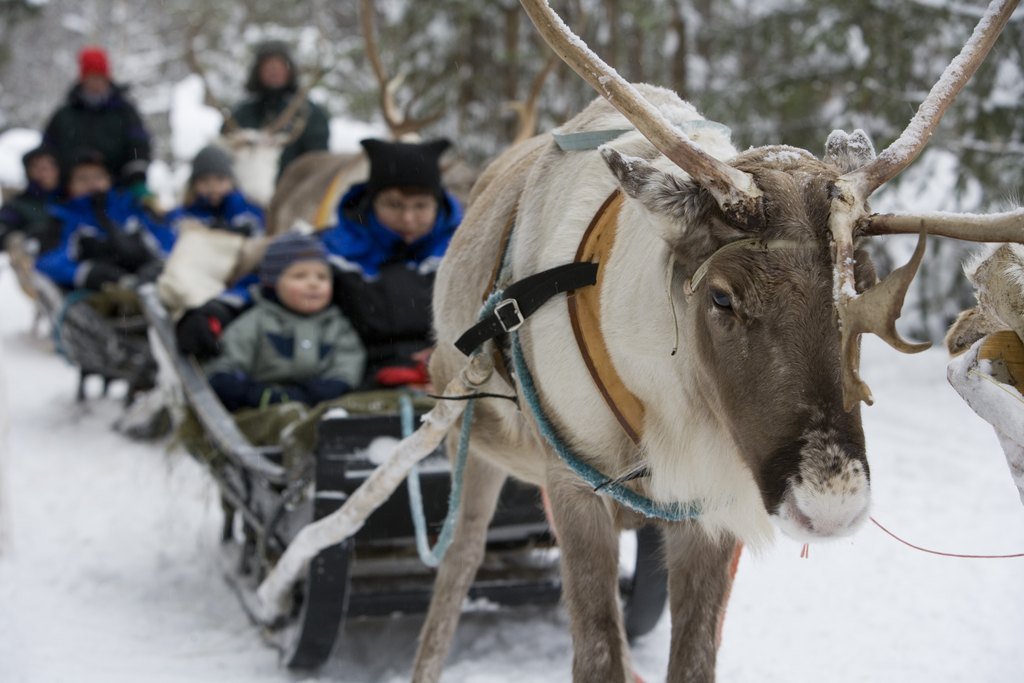 6. SLED DOG RIDE (4+ YEARS)
Here as well, you need to choose your sled dog trip. Firstly, you need to make the difference between the tours where you are driving yourself, and those where there is a musher that will drive the sled for you. The first ones naturally offer a more complete and memorable experience: you will manage your own sled, which can host up to 2 adults (so 1 driver and 1 passenger) and 2-3 children (always passengers).
Moreover, you will need to choose the trip depending on the age of your children. The husky adventure of 6-10km is dedicated to older children (8+ years old), as they require to stay up to one hour in the cold.
For children from 4 to 8 years old, we recommend a shorter trip, from 2 to 5 km (8 to 20 minutes), which will be interesting to combine with a reindeer farm excursion for a special 'family animal trip'.
Note that on both the excursions you are driving your sled dog team yourself.
Below 3 years old, go for a very short circuit (<2km) or simply just a visit to a husky kennel, without the ride, during which your child will meet the dogs.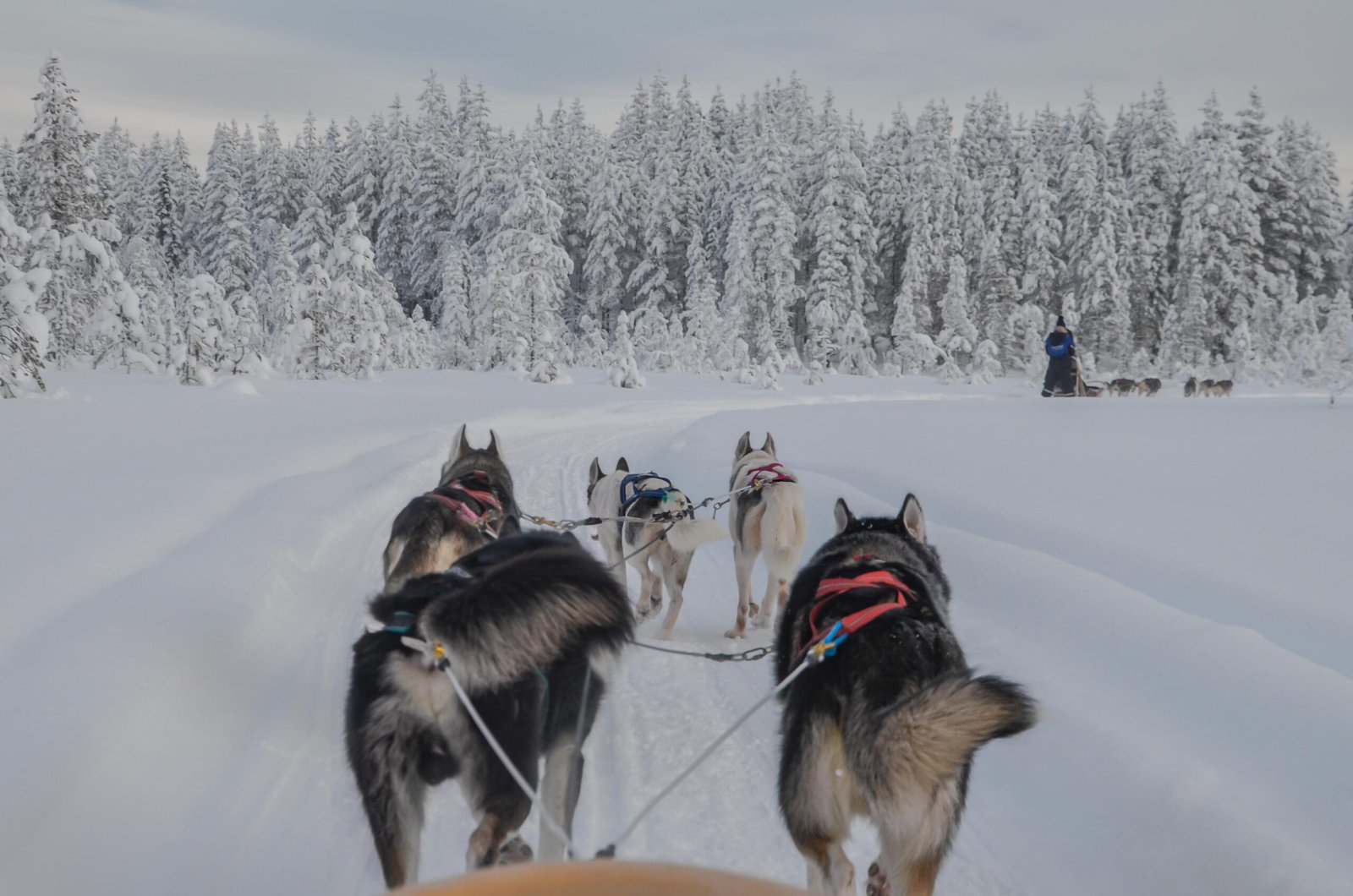 7. SKI-DOO MINI SLED (4+ YEARS)
Let's be honest, snowmobiles are for adults.
Even if they are officially accessible for everybody, snowmobile tours are not really adapted for children and respond more to the personal wants of the parents. While you are enjoying yourselves on the snowmobiles, your children will be stuck in the sleigh behind the guide, tossed around on bumpy trails, in extreme cold accentuated by speed, and caressed by the sweet smell of diesel (except electric snowmobiles, of course). 
NB: If the children are over 140 cm tall, they can be passengers of one of the adults and sit behind them because their feet will then touch the footrests.
If you still wish to try out snowmobiling, don't opt for too long circuits (2 hours maximum!) and privilege private tours, where the guide will be able to adapt to the news of your family. Don't forget that children will not have the opportunity to move to warm up, the reason for which we strongly recommend not go for snowmobile tours with children younger than 3 years old!
So how do you please your children? Why not offer them a mini-snowmobile circuit? In Santa Claus village, Arctic Snowmobile Park organises mini tours in snowmobiles for children accessible from 4 years old. Count 22€ for 10 minutes of the tour.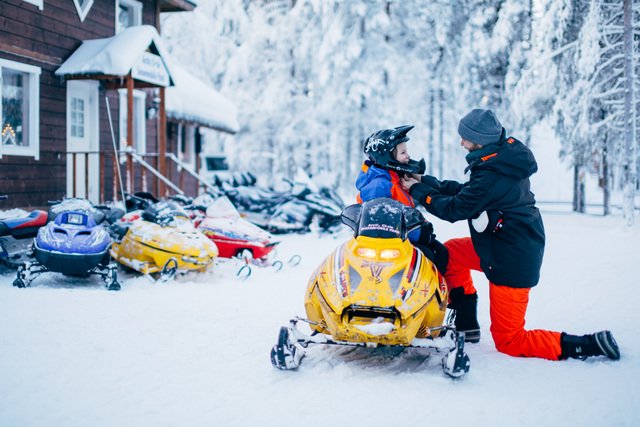 8. SNOWHOTEL (3+ YEARS)
Here is an experience difficult to live outside of arctic regions: visit to a hotel made entirely out of snow and ice! Beyond the remarkable technical prowess since the hotel is functional (that's right, you can rent a room for the night or get married in the chapel), the inside offers beautiful artistic expressions. Each room is decorated with ice sculptures made by independent artists while the common rooms (restaurant, chapel, ice bar, etc.) follow a theme that is renewed each year.
Visiting the hotel has a double advantage to not expose yourselves to extreme cold (the temperature inside is maintained at -5C) and to not being exposed to the cold for too long (1 hour is enough). It is then ideal for children from 3 years old. We recommend to schedule this excursion to the beginning of the afternoon to benefit from the illuminations (and to keep the day for a tour outdoors) before the crowd comes around 17:00.
9. HIKING IN THE ARCTIC ENVIRONMENT (8+ YEARS)
A unique natural setting in Finnish Lapland, the Korouoma Canyon offers impressive ice formations in winter, including three large frozen waterfalls over 50 metres high.
If this day's excursion is really worth it, it is not for everybody. Adding to the relatively long time on the road from Rovaniemi (count 1h30 of road), you will need to walk on a hiking path of 5km, sometimes slippery. The time spent in the protected natural reserve (so in the cold) is about 3 hours. For these reasons we don't recommend this trip for families with children younger than 8 years old  (ideally 10 years old).
The same high age limit applies to our famous arctic adventure, which combines a hike on snowshoes with an ice fishing session, discovery of the local nature and a workshop of fire making mastery. Although this guided excursion is one of the most requested by families, we can only accept children from 8-10 years old who are likely to be able to move easily on snowshoes on snow.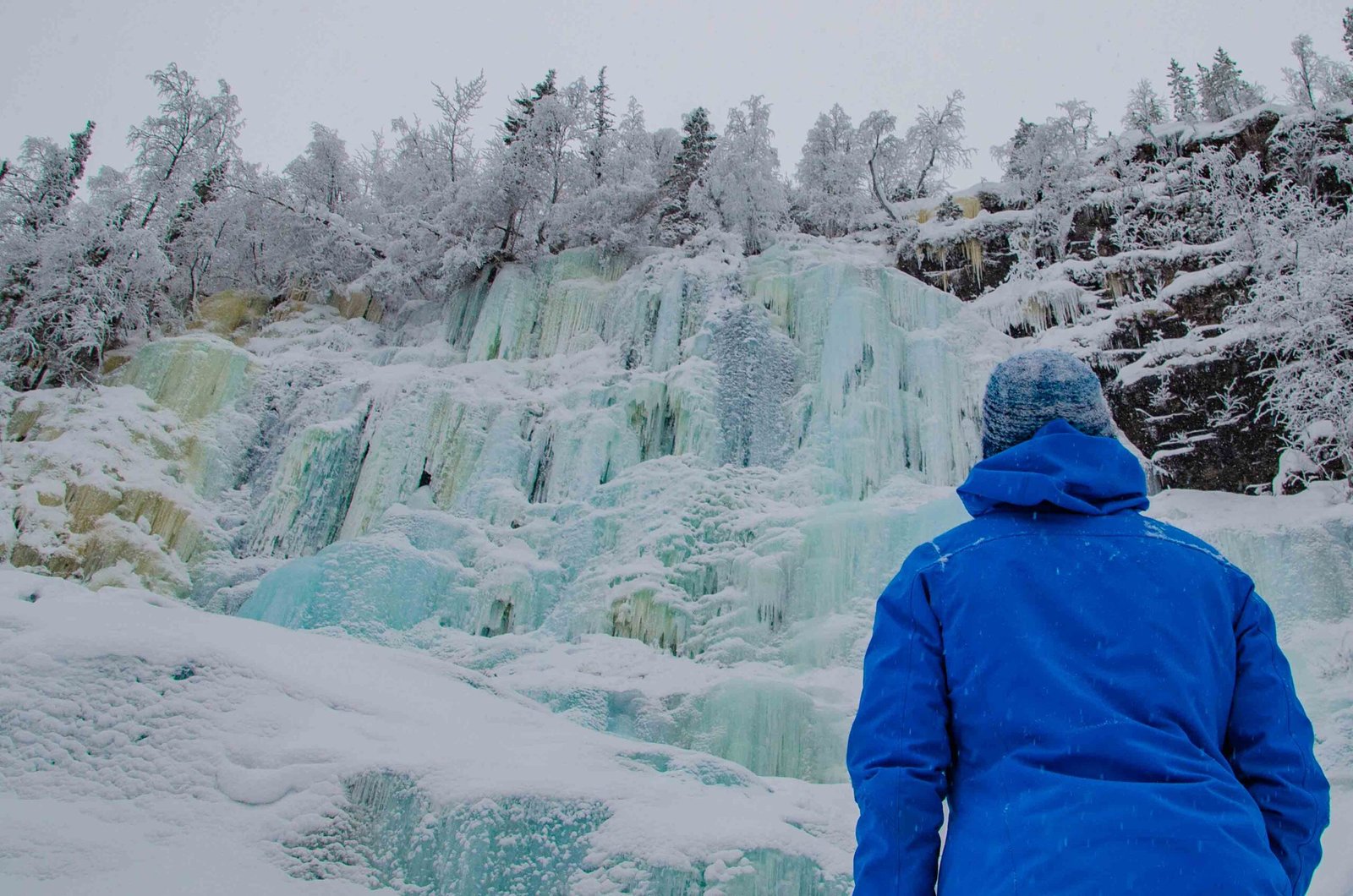 10. FINNISH LEGENDS & TALES NIGHT AROUND THE FIRE
(4+ YEARS)
Do you wish to make your children discover a bit more of the Finnish and Lappish cultures in a fun way? Do you have a lot of free time in your programme, especially after the sunset? Museums bore you or they have a tendency of not catching your childrens' attention? You think it's a shame to spend all the evenings in the hotel?
Don't look further! Our legends and stories of Finland night was designed to let us make you discover the aspects of local culture through nordic fables and folk stories. Lulled by the crackling flames of a campfire, you will be transported in the stories told by your passionate guide, while tasting delicious pancakes cooked in front of you!
Once booking, make sure you select the right language in which you wish to live this experience, as we offer this legends night in English and in French!
11. ACTIVITIES TO FULFIL FREE TIME
What?!? Do you still have free time left in your program? Here are some other recommendations that should easily fill the void and delight your children!
The Arktikum Museum is a must-do in Rovamiemi. This history and science museum in Rovaniemi will teach you more about arctic cultures, the history of the city, the local flora and fauna, the northern lights…
Link: https://www.arktikum.fi/
The Angry Birds park: in the city centre, you will find the Angry Bird children's park (free), with various swings and structures to climb. Something to keep the little ones busy! The slopes overlooking the river are also very popular for sledding!
NB: as you probably know (or not), Angry Bird is a game invented… in Finland!
Location: Valtakatu 4, Rovaniemi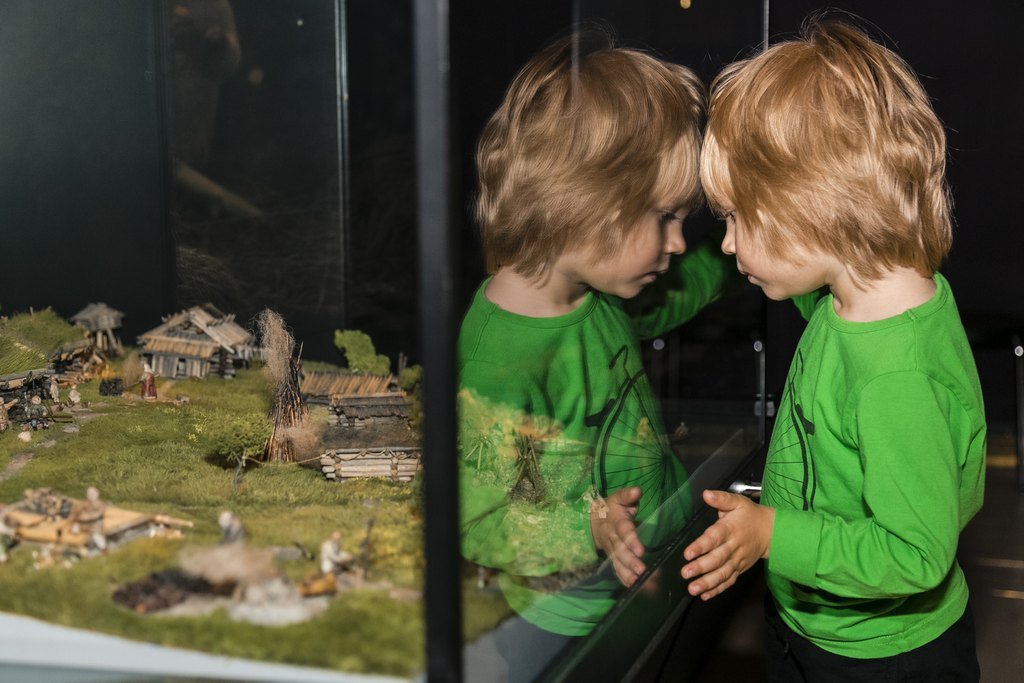 Snowman World: in Santa Claus Village, the paid Snowman World park offers ice facilities for children: slides, tubing, ice rink, and ice bar (ok, the bar is still more for children over 18 ). Ideal if you want to extend the day a little in Santa Claus Village, but still count the entrance to 28€/pers.
Link: https://snowmanworld.fi/
Ounasvaara ski resort: Ounasvaara hill overlooks the city, on the other side of the Kemijoki river. The northern slope is converted into a ski resort open from November to April. Dozens of trails and the forests offer a pleasant playground for ski enthusiasts. The length of the track will undoubtedly be frustrating for regular skiers, but it will delight your children! Ski lessons with instructors are available for reservation.
Link: https://ounasvaara.fi/
Hike in Ounasavaara: walking paths (the "Winter Trail", accessible by 20 minutes on foot from the city centre) allow you to enter the heart of the snowy forests up to an observation tower, then the top of the ski slopes. There, you will have great views of the city and the surrounding area. A walk of about 2-3km, ideal for observing the sunrise or sunset (or both at the same time, in December).
SantaSport: in the heart of the forests of the Ounasvaara hill (again), the SantaSport complex will allow you to take advantage of various sports facilities: climbing wall, swimming pool, ice rink, bowling alley…
Link: https://santasport.fi/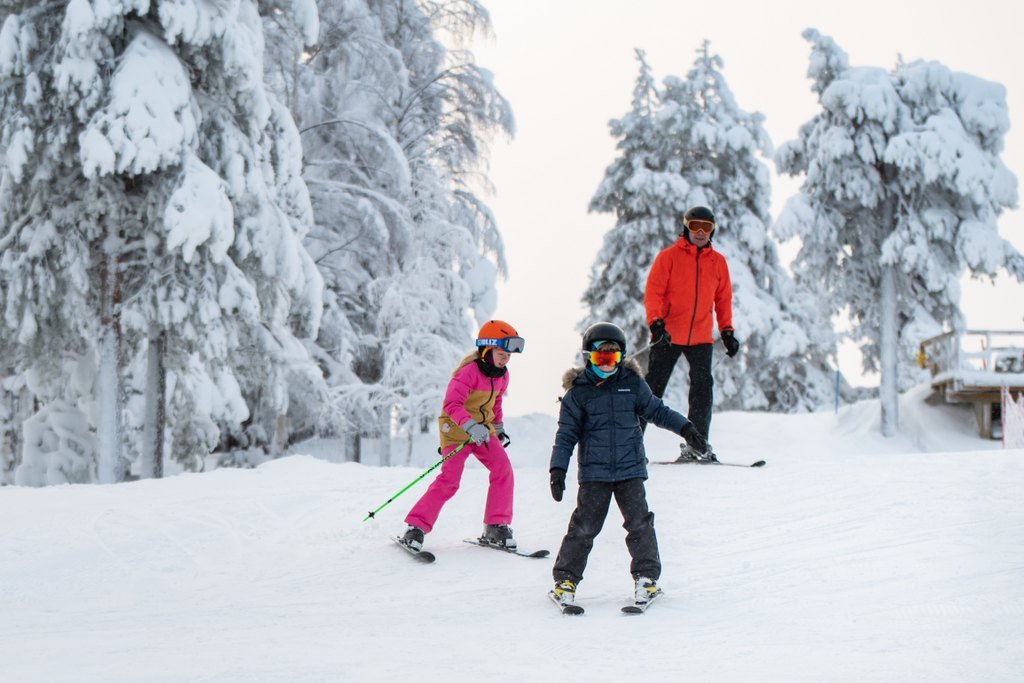 Kotatieva: open in winter 2021-2022, this outdoor skating complex offers a 500m track through the forest and other services. It is possible to book transport at the same time as the entrance tickets.
Link: https://www.kotatieva.fi/
The municipal swimming pool: everything is in the title, it is a municipal swimming pool. In addition to the (municipal) swimming pools, you will have access to single-sex (municipal) saunas and a gym.Link : more information here.
Well, that's the end of this long article! We hope it has given you a clearer idea of how to prepare your family trip to Rovaniemi!
If you have any questions, please don't hesitate to write to us. We are used to organizing family programs from Rovaniemi. You can contact us at info@nordicodyssey.net with a list of your desired activities, and we'll send you a program with a quote.
You can also consult all our guided activities, which can be enjoyed with children under 8 years of age:
FULL LIST OF
OUR TOURS
WWW.NORDICODYSSEY.NET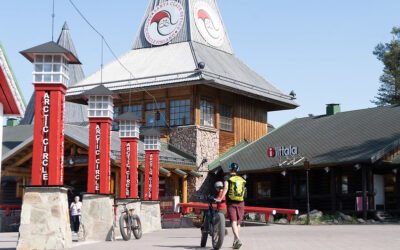 SUMMARY 1.See the city of Rovaniemi and Santa Claus Village 2. Try a beginner-friendly trail in Ounasvaara 3. Go for a rewarding adventure in Santavaara 4. Travel down the river from Rantavitikka 5. See northern lights on a biking ride to an observation towerBIKING IN...