Ski Trekking by Night (Aurora Borealis Tour)
Enjoy a ski trekking adventure by night from Rovaniemi to reach elusive nature areas with no light pollution where Northern lights may be visible. Aurora story telling is included in this great tour.
Quick Info
Location: Rovaniemi

Duration : 3h00

Price: from 80€/pers!!!
Included: ski, hot drinks, guiding, transportation, etc.
Included
Ski & poles, expert guiding & stories, biscuits & hot drinks, transportation in small group, passion of the guide.
TiME
Duration: 3h00
Start time: 19h30
SEASON
Available: From December to April
BEST PRICE IN TOWN!
ADULT (from 12 years old)
1-2 pers.: 90€/pers
(110€)
3-4 pers.: 85€/pers (105€)

5+ pers.: 80€/pers
(100€)
All prices include VAT
A SKI ADVENTURE BY NIGHT
This tour will offer a memorable night adventure on skis! Your guide will take you in small groups away from Rovaniemi to some elusive wild areas with no light pollution. During the excursion, you will explore Lapland wilderness by night, gliding on deep snow to reach some beautiful nature area. 
Ski touring is an easy ski discipline designed to let you glide on deep snow off the beaten tracks or groomed trails. The backcountry skis (called in Finnish, "sliding snowshoes") are equipped with a skin allowing to both hike uphill and slide downhill ; they are equally used for long Arctic expeditions or shorter day tours into wild nature. They are the perfect equipment to get to beautiful elusive places that you cannot reach with cars or on foot.
Because the tour happens during the night, you will also get a chance to observe the Northern lights and capture them! We will always try to adapt the tour to increase the chance of finding auroras; the trek will for example aim at reaching some elusive areas without light pollution and a nice open view to the north. You may then ski through the forests to reach a little hidden lake, or walk up to a hilltop to have a nice view over the horizon.
During the tour, your guide will teach you more about the Northern lights, the scientific explanation behind the phenomenon but also the tales and legends associated to it. Biscuits and hot drinks will be served as well to warm you up.
This skiing adventure by night is a great tour for those of you who want to experience the Northern lights with an extra nature activity. The ski trekking + auroras combo is also a nice alternative to our famous Northern Lights Photography Hunting Experience from Rovaniemi , especially when the weather conditions are less promising: in case of snowfalls, you still get a memorable adventure into arctic wilderness!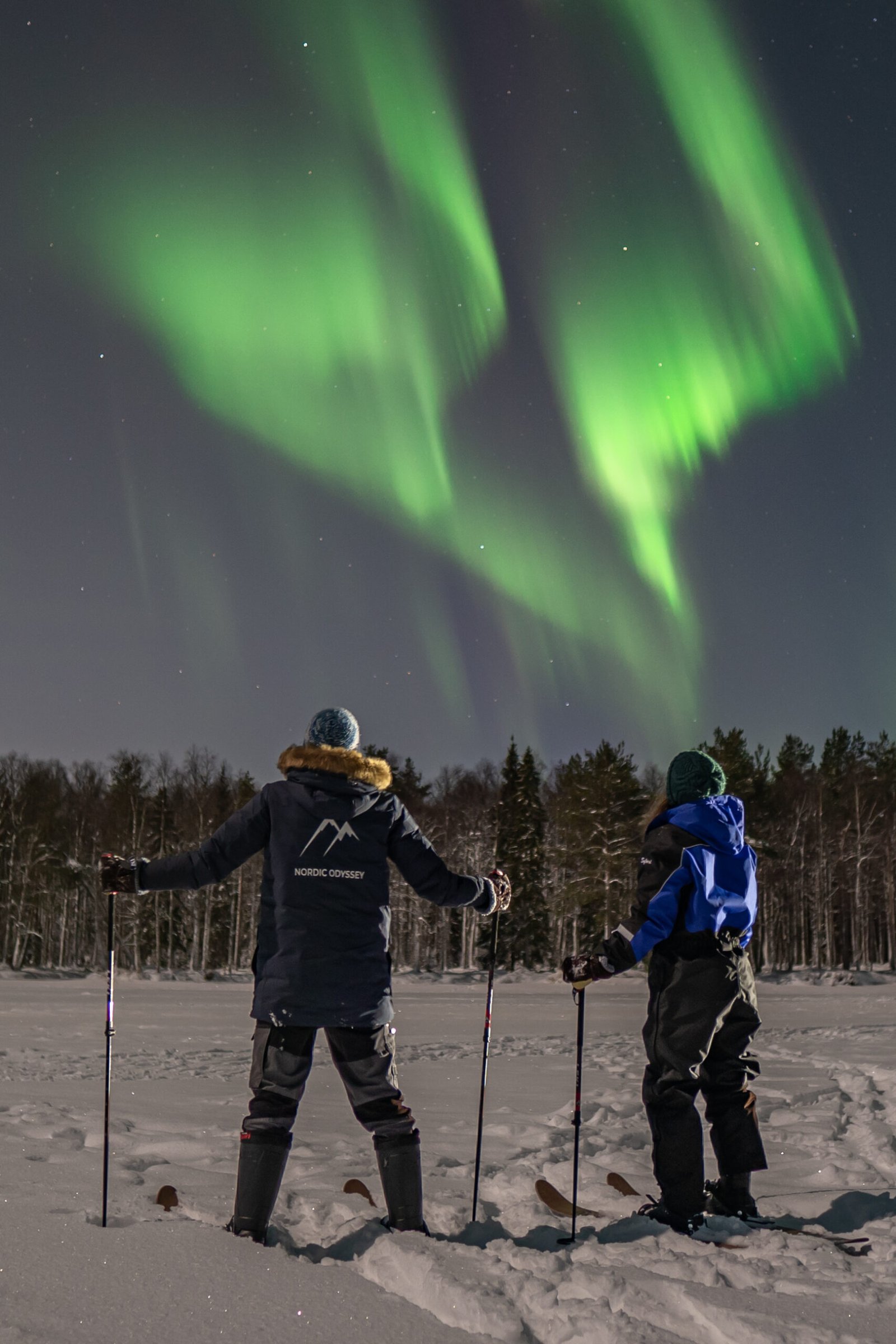 INCLUDED
Aurora & outdoor guide
Hotel pickup
Transportation
Backcountry skis and poles
Biscuits & hot drinks
Stories & explanation
Activity adapted as much as possible to increase the chance
EXTRA OPTIONS
Clothes rental: Winter overalls + boots (5€/pers)
PLEASE NOTE
We recommend to book in advance, as availability may be very limited in peak seasons.
A minimum of 2 paying adult participants is required for the trip to operate. We reserve the right to cancel the trip if the group is too small or because of bad weather conditions.
If you are a solo traveler, you are very welcome to join any departing trip at the standard price or we may organise the trip just for you at some extra costs (please contact us).
Please dress appropriately according to the weather, with warm clothes, good winter boots, gloves, hats and thick socks. You may rent professional winter overalls and winter boots for an extra cost of 5€/set.
A certain amount of walking is involved. This tour is not recommended for pregnant travelers, for people with heart conditions or with limited mobility. Children under 12 years old are not accepted on this tour.
CANCELLATION POLICY
We will charge a cancellation fee of 10% if booking is cancelled 7 days or more before departure;
We will charge a cancellation fee of 50% if booking is cancelled between 7 days and 24h before departure.
We will charge a cancellation fee of 100% if booking is cancelled 24h or less before departure.
HOW TO BOOK
Select the number of participants, the date and time in the calendar below and follow the booking steps. Payment by credit or debit card.
CONTACT US
If you have also any question, feel free to ask and we'll be happy to answer you with as many details as possible. You can also write us on Whatsapp (+358(0) 40 258 20 81).

Explore the beauty of Pyha-Luosto National Park with a guided hike through the forest and fells to reach the amethyst mine. Visit of the mine and lunch snack around the


A great animal tour for your summer / autumn holiday in Rovaniemi. It combines a reindeer farm visit, a visit of a husky kennel with 6km cart ride and lunch


Visit a husky kennel outside Rovaniemi, learn how to drive your own sled dog team and embark on a great adventure in the forests of Lapland (45 min).