Winter Journey from Rovaniemi to Tromsø
Make the most of your trip to Tromsø! The itinerary is designed to let you enjoy many arctic activities on the way and experience the fairy-tale Winter scenery of Lapland.
Route Info
Type: One-way Trip (Private)
Departure: Rovaniemi
Arrival: Tromsø
Duration : 7 days, 6 nights

Transportation by Minivan

Distance : 690km
ITINERARY
Rovaniemi – Levi – Pallas – Kilpisjärvi – Tromsø
Nights
Accommodation in wilderness yurt (1 night) and hotel twin rooms (5 nights)
Level
Easy: this trip is accessible to everyone.
BEST SEASON
Available: March- April
Recommended : March
PRICING
Adult Rate
2 Adults : 2990€/adult
3 – 4 Adults : 2640€/adult
5 – 6 Adults : 2290€/adult
Child Rate
1 – 2 Children : 1790€/child
3 – 4 Childen : 1490€/child
This is our standard itinerary for this journey. If you would like to adapt the duration, the type of accommodation or the tours included in this package, please contact us. Meals are included when mentioned : (B) breakfast, (L) lunch, (D) Dinner, (S) Snack.
 DAY 1: ARRIVAL TO  ROVANIEMI (D)
Private Transfer from Rovaniemi Airport
Your private guide will come and greet you directly at Rovaniemi airport/train station. You will be given a presentation of your schedule for the week, will be provided with professional winter clothing and boots, and will check with your guide other practical details and questions. Accommodation in twin room with dinner in a hotel in the city centre of Rovaniemi.
Note: the program of this first day may be adapted depending on your flight/train arrival time. If you arrive early for example, you may book an additional activity to fill your free time, such as a ski trekking excursion, a visit of the Arktikum Musem or a Northern lights tour in the evening. 
 DAY 2: ROVANIEMI & SANTA CLAUS VILLAGE (B, S, D)
Visit of a Traditional Reindeer Farm
Meet the most iconic animal of Lapland! Accompanied by your guide, you will visit one of the most traditional reindeer farms in Southern Finnish Lapland, located on the shores of a peaceful bucolic lake. As you enter the place, the herders will greet you and show you around their farm. You will have a chance to get closer to the animals while they will get fed. You will also test your driving skills with a short loop sleigh ride (around 2 minutes).  The visit will warmly end around the fire, with some cookies and hot drinks, and a very informative explanation of reindeer husbandry in the Arctic.
Private Rovaniemi sightseeing, visit of Santa Claus Village and Crossing the Arctic Circle
After the reindeer farm visit, your guide will take you around Rovaniemi, the capital town of Finnish Lapland, to show you the main places of interest and explain you a bit more about its history. You will then enjoy a gentle walk to the top of Ounasvaara hill and to the viewpoint it offers on the rivers and city. A light BBQ snack lunch will be served around the fire.
After this great sightseeing tour, you will head to Santa Claus Village, located around 12 km north. Your guide will show you around the village, make you cross the Arctic Circle, explore the world-famous post office and meet Santa Claus! Some free time will be kept to wander in the village on your own, feel the never-ending Christmas atmosphere of the place, enjoy a bit of shopping or buy souvenirs.
Visit of Ice Hotel and Dinner in a Ice Restaurant
Dinner time is ringing! Be ready to live a Lapland must-do experience: a visit of the ice hotel and its restaurant! You will have the chance to explore the different rooms of the hotel made completely of snow and ice. After the visit, you will enjoy a delicious 3-course meal in the ice restaurant, served on a ice table… Brrrrrrrrrrrr!
Overnight in a Wilderness Yurt
After dinner, your guide will drive you to your accommodation for the night. No hotel or cottage. Tonight you will sleep in a comfy wilderness yurt pitched on the bank of the frozen river! The yurt is located in a great place to observe beautiful Northern Lights if the weather is good enough. Memorable night guaranteed!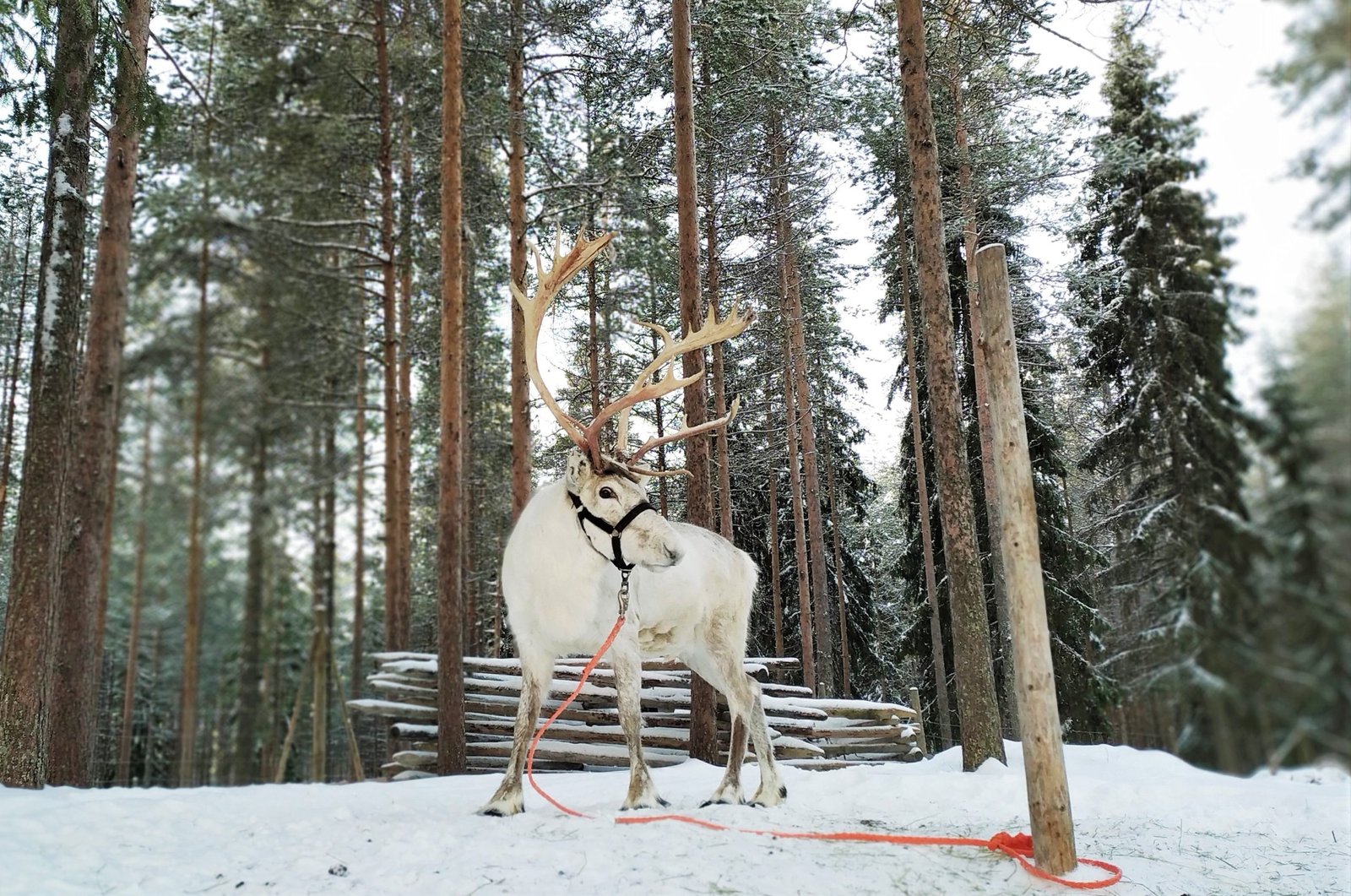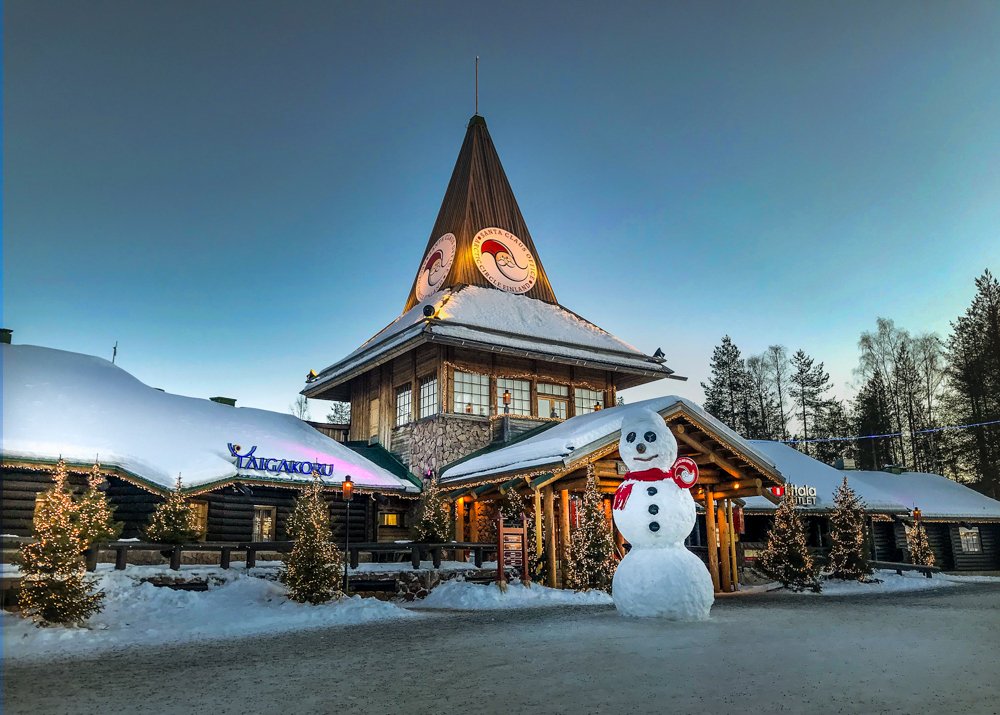 DAY 3: JOURNEY TO LEVI (B, L, D)
Enjoy a Husky Sleigh Ride Safari
Today, as you will be travelling farther north, you will visit a small husky farm on the way. This is a great chance to discover in more depth the job of a musher, how they train their dog teams to run long distances and some other aspects of their daily lifestyle. The visit of the kennel will also give you the opportunity to test your mushing skills. You will be introduced to your own dogs and sleigh, while the musher will teach you some basic safety instructions how to lead them. Once ready, you will embark for a fantastic  safari through the beautiful and untouched snowy landscapes of Lapland. This a thrilling experience and an arctic must-do that we strongly recommend when one visits the Nordics! After the safari, you may spend some more time to cuddle the dogs and take photos with them (they are very photogenic!).
Trip to Levi & Visit of Samiland Museum
After this memorable safari, you will warm your stomach with a filling lunch at a restaurant on the way to Levi. As you are heading to your destination, you will soon see the impressive fell of Levi. It is not a coincidence if Levi is the most popular Finnish ski resort!
Levi also marks the border into the Northern part of Lapland. You will then have the chance to visit the Samiland Museum and learn about the Sami culture, the indigenous people of the North. The indoor and outdoor exhibitions of the Museum display informative boards, artefacts and traditional buildings to give you a great insight of Sami lifestyle, mythology, language and many other aspects of their culture.
Private Northern Lights Hunting Tour*
In the evening, your guide will take you for a Northern Light Hunting Tour. You will be driven away from the town of Levi and its light pollution, to find great locations with open views to the north. The aurora excursion will also give your guide the opportumity to explain in more details this fantastic polar phenomenon and tell you some mythology associated with the Northern Lights.
Accommodation in twin room with dinner in Levi.
*Based on the weather forecasts and the aurora predictions, you may decide together with your guide to re-schedule the Northern Lights Hunting Tours included in this package to some other nights that are more promising.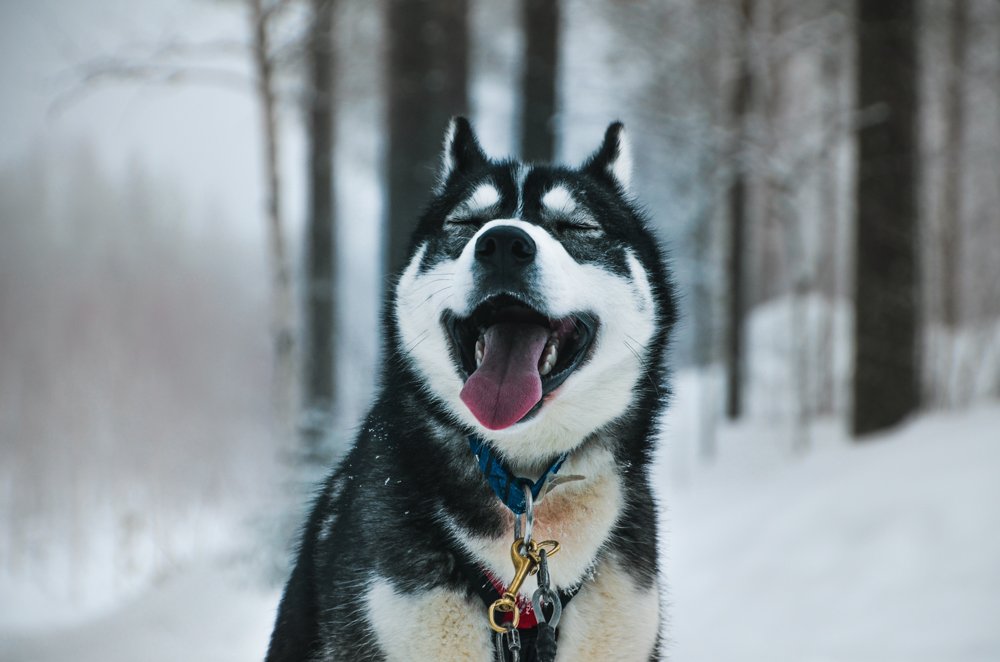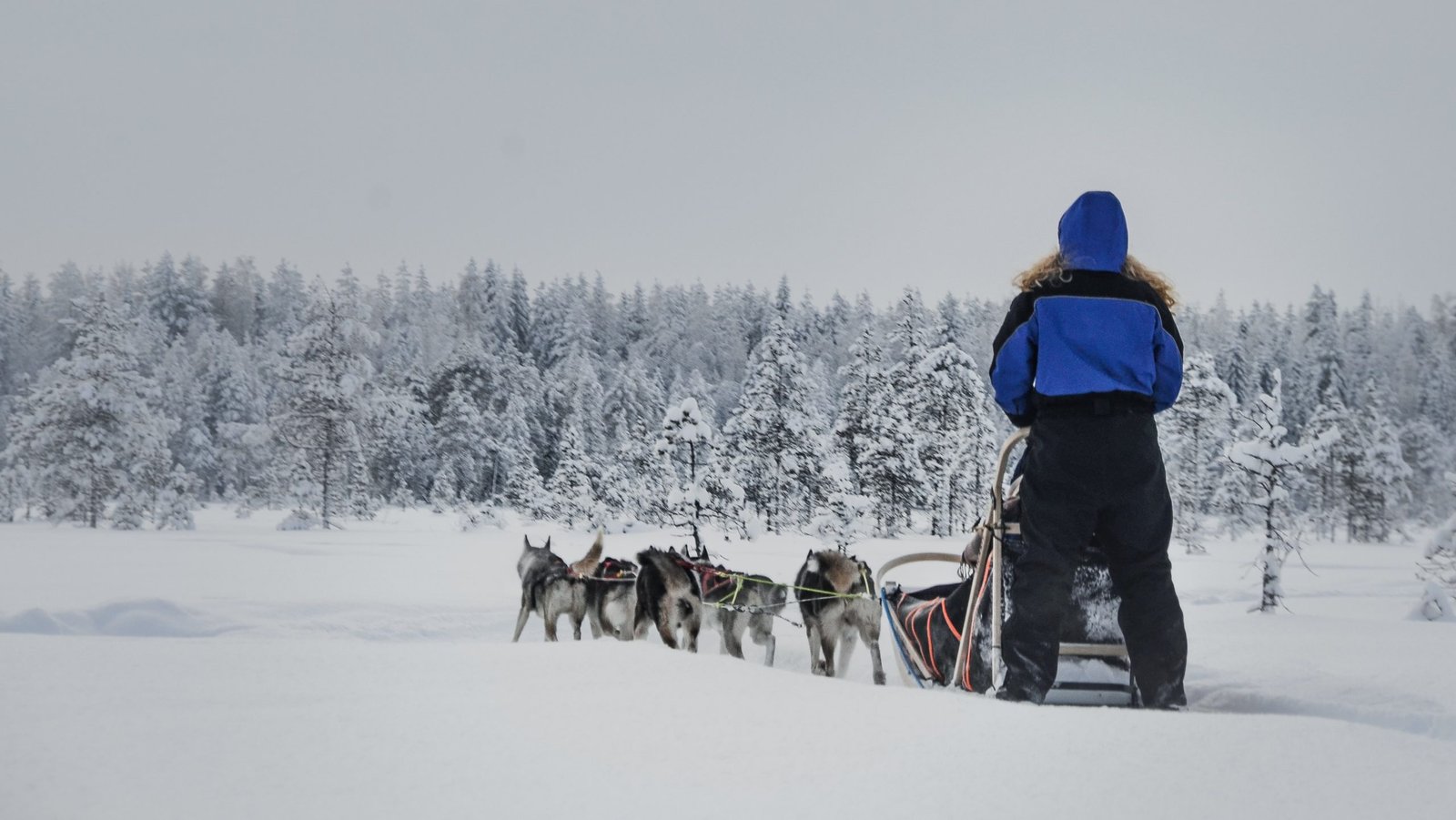 DAY 4: PALLAS TO KILPISJÄRVI (B, S, D)
Private Ice-Fishing on Pallasjärvi
Enjoy a very local activity in the middle of a fabulous landscape! Not only ice-fishing is a fun way to catch your lunch, but it is certainly one of the best ways to properly experience the silence and peacefulness that reign in the Arctic. Like many locals who practice ice-fishing during their free time, you will learn how to drill your own hole through the thick ice and drop your fishing line in the clean waters.
But the success of a good ice-fisher also depends on the spot they choose. Pallasjärvi is an immense relaxing lake that offers a stunning view to the high summits of the Pallastunturi National Park. The scenery, combined with its fishing opportunities, make it an ideal place for ice-fishing parties! A snack lunch around the fire and hot drinks will be prepared by your guide to warm you up if you feel cold. And if you catch a fish of a decent size, your guide will gladly add it to the menu!
Trip to Kilpisjärvi
Relax and enjoy a nice drive to Enontekiö and the extreme limit of Finland. As you head farther north to the Norwegian border, you could already see some major changes in thesurrounding  landscapes: the toundra is slowly replacing the Taiga forest, the hills and fells are becoming high mountains….
You will get some free time in the village of Kilpisjärvi where your hotel is located (accommodation in twin room with dinner). If the weather is good in the evening, you may even decide with your guide to go for a Northern Lights trip around the area.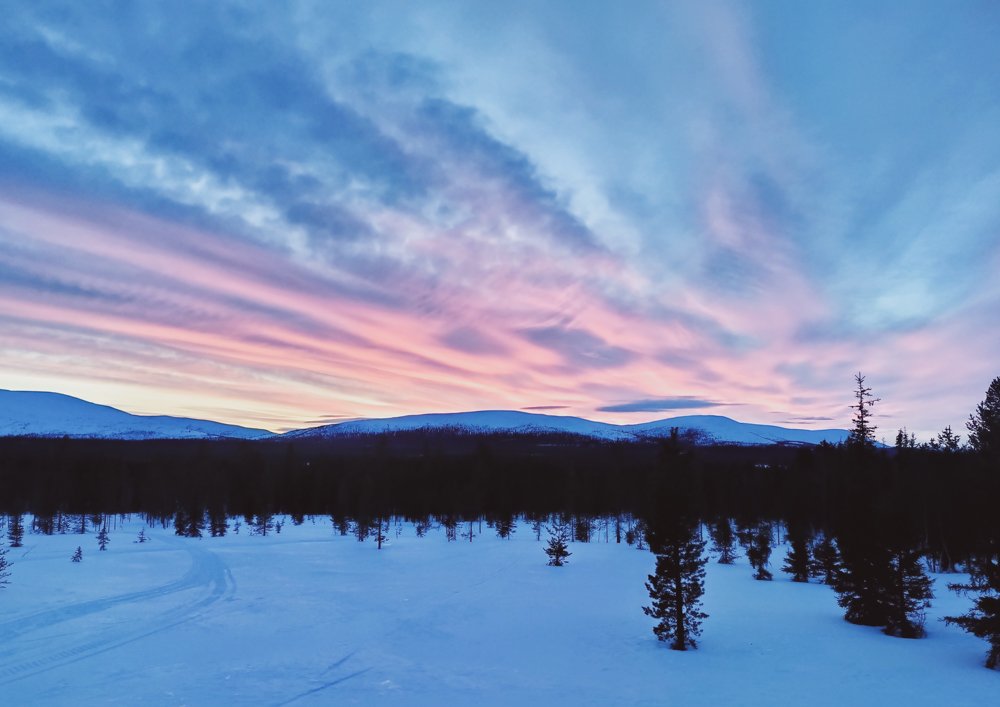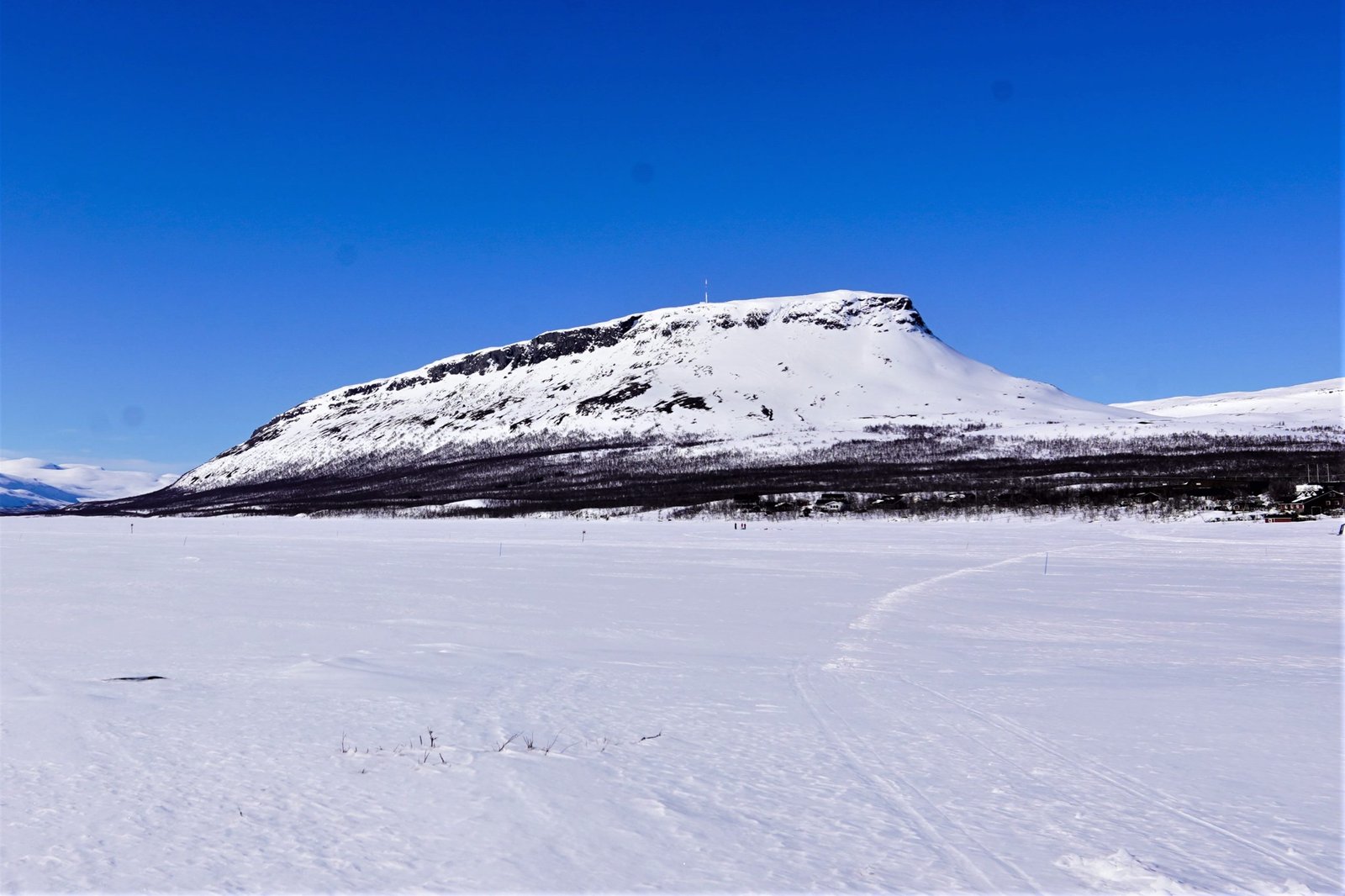 DAY 5: KILPISJÄRVI (B, S, D)
Private Snowshoe Trip to Saana
With its specific shape, Saana is the iconic fell (1029m) of Kilpisjärvi and a great location appreciated by all nature-lovers. Your guide will take you for a memorable snowshoe hike to the top or around the fell. Depending on your condition, you may chose between two alternative routes: a more challenging hike to the top of Saana fell, or a gentle walk to the lake at the bottom.
Snowmobile Safari to the Three-Country Border
Get ready for another thrilling experience! This time, you will explore the strict nature reserve of Malla, driving your own snowmobile. During the safari, you will drive through pure untouched nature and reach a world-famous point: the triple border between Sweden, Norway and Finland!
Private Northern Lights Hunting Tour*
In the evening, your guide will take you for a second Northern Light Hunting Tour. You will try to get away as much as possible from the light pollutions emitted by roads and villages, and find promising locations to spot the Northern Lights. Considering the latitude where Kilpisjärvi is located, the chance of spotting Northern Lights is higher than in Southern Lapland.
*Based on the weather forecasts and the aurora predictions, you may decide together with your guide to re-schedule the Northern Lights Hunting Tours included in this package to some other nights that are more promising.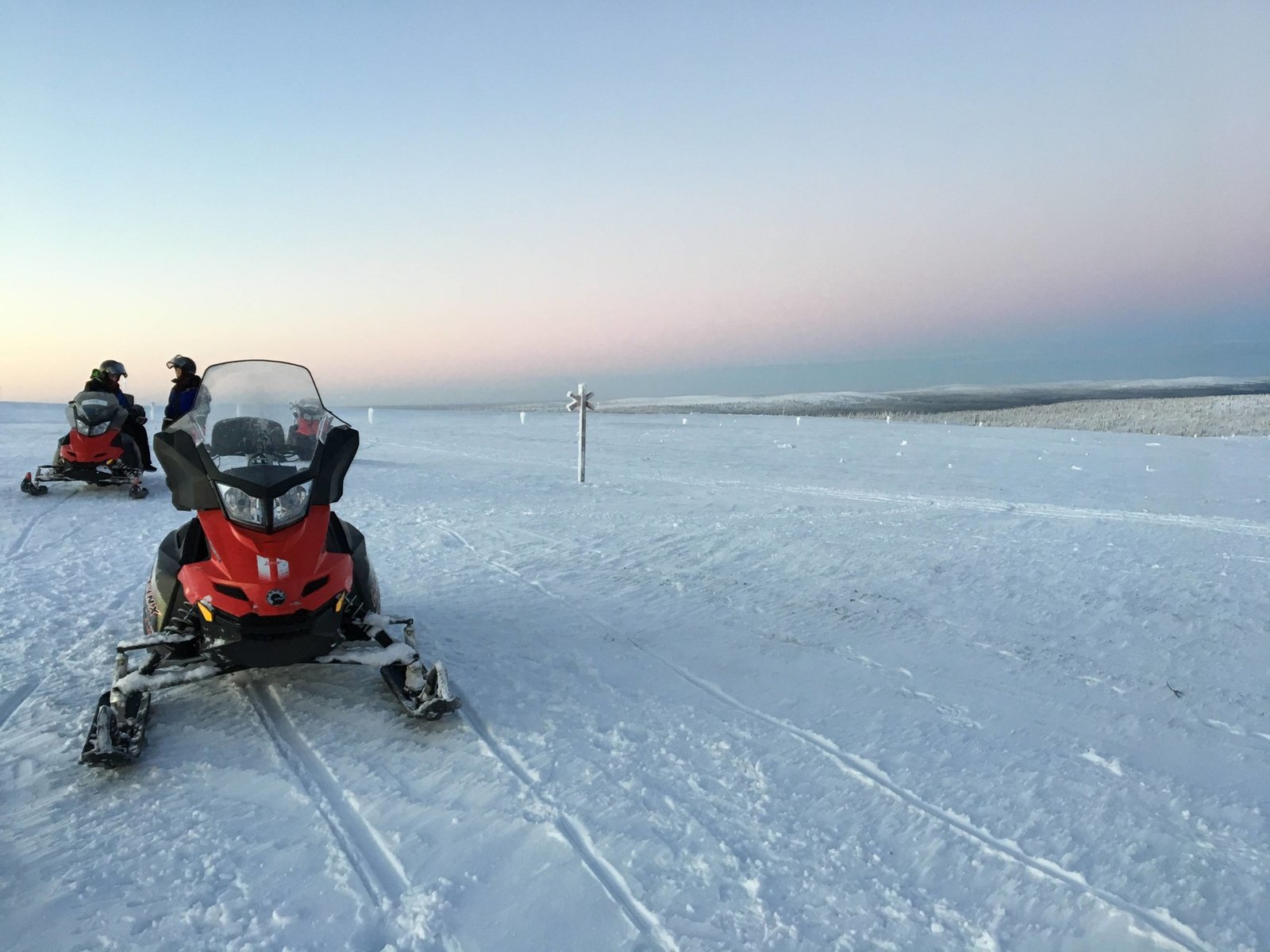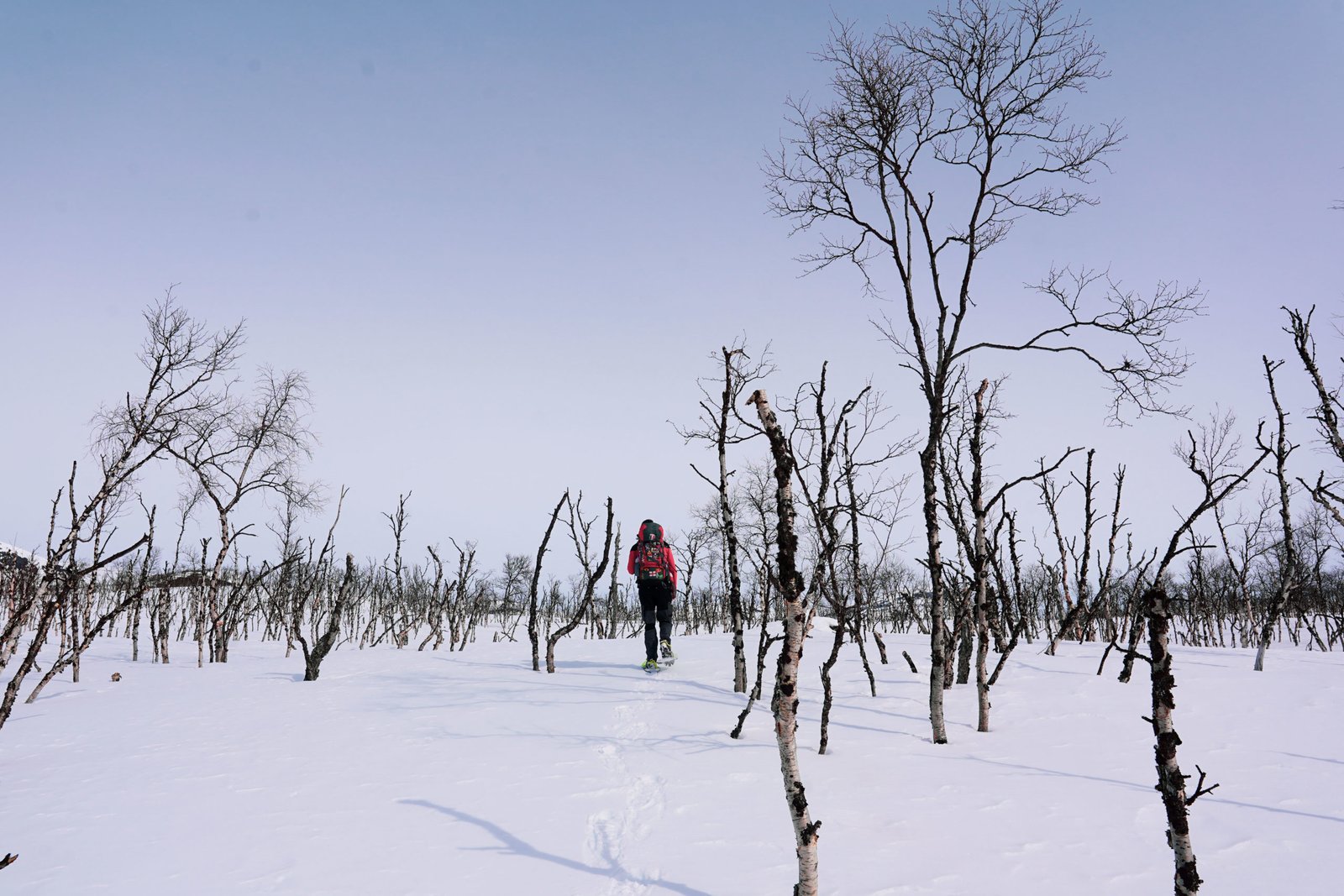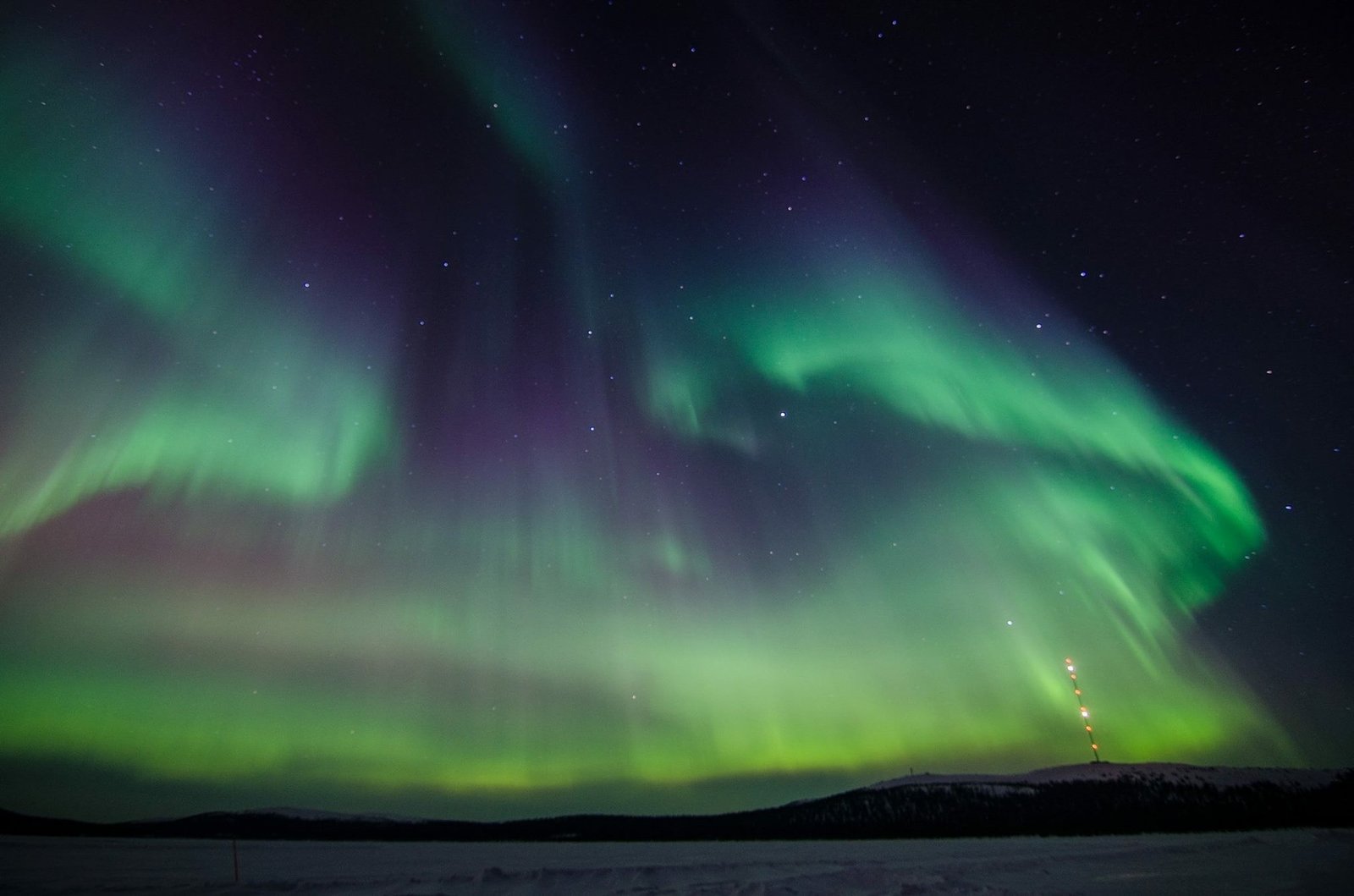 DAY 6: KILPISJÄRVI TO TROMSø (B, L, D)
Private Trip around the Fjords
It is time to say goodbye to Finland, as you enter the gate formed by the Norwegian mountains. The route to Tromsø is usually not very long, but depending on the snow conditions, your guide will happily make some detours and take smaller roads to show you the impressive fjords created by the ocean. Fjords are a picturesque symbol of the Norwegian landscapes and something that one should not miss when visiting Norway.
Free time in Tromsø 
Welcome to "the little paris of the North"! Whether you prefer to stroll through its port city centre, or seek to gain height with its famous cable car (fjellheisen), Tromsø will offer you a last relaxing and romantic afternoon to conclude your wonderful odyssey. Accommodation in twin rooms with dinner.
DAY 7: DEPARTURE FROM TROMSø (B)
Private Transfer to Tromsø Airport
Tromsø is one of the most important airports in the North and has many connections with major destinations, including Oslo. Transfer to the airport will be arranged based on your flight departure time so you can peacefully enjoy your last moments in the city.
Note: the program can be extended one extra day and night to include a whale-watching trip.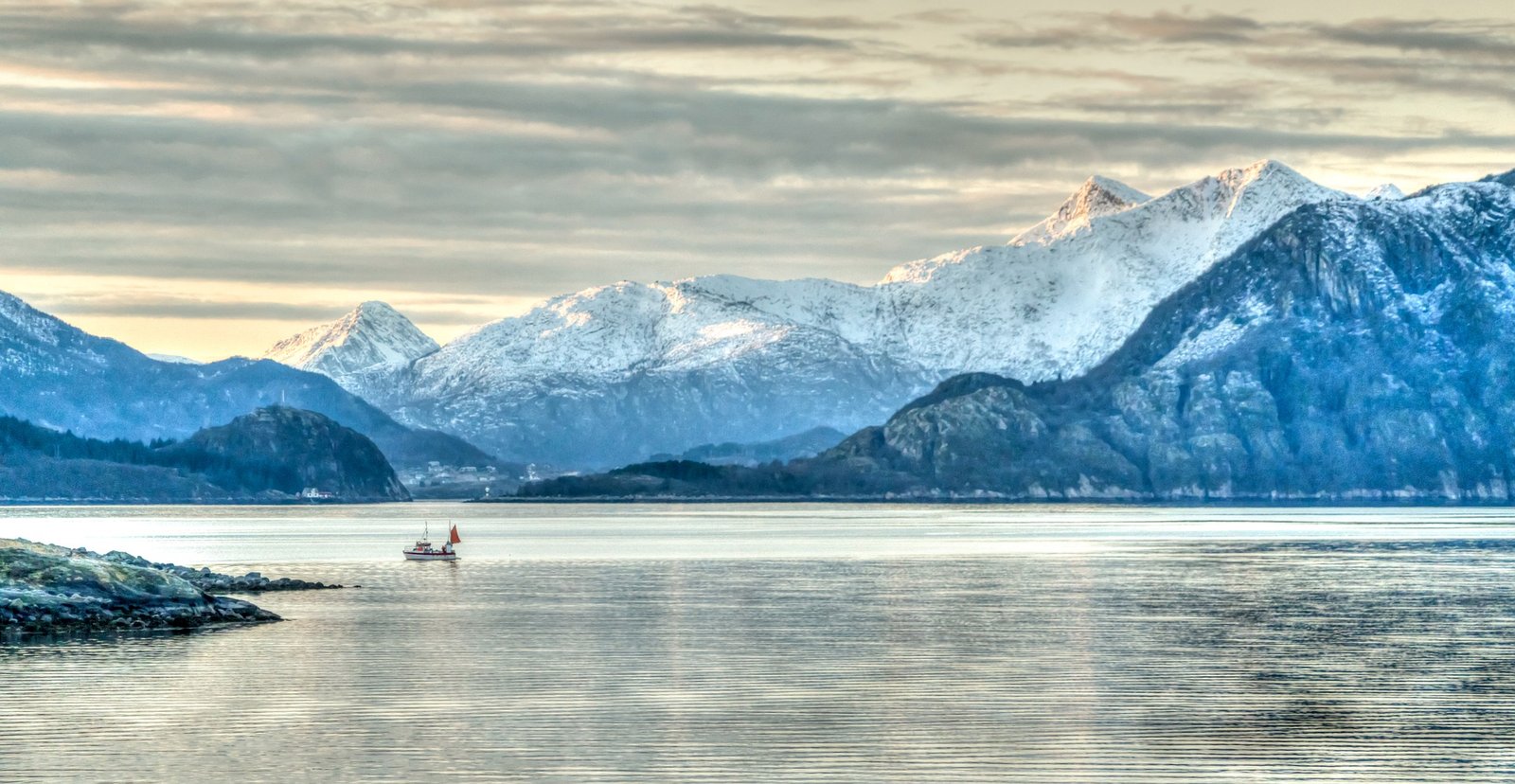 INCLUDED
Activity
2 x Private Northern Lights hunting tour
Visit of a traditional reindeer farm
Private visit of Rovaniemi, Ounasvaara and Santa Claus Village
Visit of a snow hotel with dinner in an ice restaurant
10km husky safari and visit of the kennel (2h)
Visit of Samiland museum in Levi
Private Ice-fishing experience
Private snowshoeing experience
Snowmobile safari
Private road trip around the fjords
Accommodation 
1 night in a wilderness yurt
5 nights in twin rooms
Others Services
Personal guide
Airport transfers x2
Meals as mentioned (B=breakfast, L=lunch, S=snack, D=dinner)
Winter overalls and boots
Transportation
All equipment and gear for activities
All taxes & handling fee
NOT INCLUDED
Flight tickets
Gratuities
PLEASE NOTE
We recommend to book in advance, as availability may be limited in peak seasons.
Transportation and most of the activities are private. Participants will be led by their own private professional guide during the whole trip.
A minimum of 2 adult participants is required for the trip to operate. The maximum capacity is 6 people for comfort reasons. For larger groups, please contact us and we can discuss a specific package.
Child rate applies from 5 to 12 years old. Because of long distance trips and the rough winter conditions in Lapland, we do not recommend to bring infants aged less than 5 years old.
Private transportation by minivan. One luggage and handbag per person allowed.
For snowmobile safari, a valid driving license (for cars) is required if you wish to drive the snowmobile. The safari is twin driving, you are 2 participants on one snowmobile (1 driver, 1 passenger). Solo driving (1 per snowmobile) may be possible at extra costs.
You will be provided with professional Winter overalls and boots if needed. However,  please dress appropriately with warm inner clothes, two pairs of socks, gloves and hats.
This trip requires to cross a Schengen border. Participants shall be able to present a valid ID document (EU/EEA passport or ID, passport with Schengen visas, etc.) to local authorities if requested.
CANCELLATION POLICY
We will charge a cancellation fee of 20% if booking is cancelled 61 days or more before departure;
We will charge a cancellation fee of 100% if booking is cancelled 60 days or less before departure.
HOW TO BOOK
Please send us a booking request. Our team will check availability for your dates and will send you a quote with payment instructions.
PAYMENT
Payment by bank transfer and credit card are accepted.
An immediate 30% deposit payment is required to confirm the booking. Payment of the remaining 70% is required at least one month before departure.

Explore most of Korouoma canyon, its deep nature and frozen waterfalls, with a 2-day snowshoe trek and overnight in a wilderness hut.


Enjoy a unique forest ski experience with this 1-day / 1-night trip to a traditional cottage lost in the middle of Lapland nature.


Ski accross the National Park of Pyhä-Luosto and its picturesque fells with a memorable 3-day trek. Overnights in wilderness cabin or camps.