NORTHERN LIGHTS TOURS IN ROVANIEMI
AURORA TOURS FROM ROVANIEMI
We present here our selection of Northern Lights tours in Rovaniemi.
Every excursion is led by an aurora expert guide and organised in small groups. They will offer you a chance to observe Northern lights in different conditions, depending on the adventure you are looking for. 
ABOUT ROVANIEMI AND AURORAS
Rovaniemi is located on the Arctic Circle, in the southern part of Lapland. Its 66°N lattitude is north enough to be right in the "auroral oval", a ring zone where northern lights manifest the most due to Earth's geomagnetic interferences.
The geographic situation of Rovaniemi also makes it an excellent basecamp for Northern Lights trips, with easy access to roads in all directions. In addition, local climate and winds from Sweden and the Bothnian Sea offer more chance of clear sky and fast weather changes during most of the Northern Light season. A thorough weather analysis will usually offer some promising destinations with clear sky within a few hours drive, even if the sky above Rovaniemi is too cloudy.
Overall, Rovaniemi is an excellent location to start an aurora trip and hunt the Northern lights. If you do not know where to go or how to do, don't worry! Our aurora guides are here to take you on a great night adventure!
RENT YOUR EQUIPMENT IN ROVANIEMI
We rent equipment and warm clothing for independent travelers visiting Rovaniemi. Renting is a good option if you want to experience Lapland on your own and at a lower cost!
Our equipment is of very good quality and easy-to-use. We can bring it to your accommodation or you can collect it from our storage in Rovaniemi.
Contact us and arrange rental in a simple way:
Tel. or Whatsapp: +358 (0) 40 258 2081
Email: info@nordicodyssey.net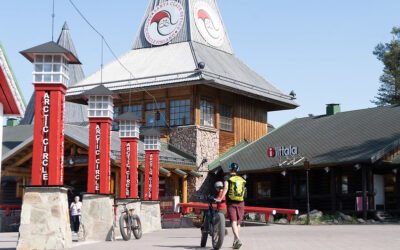 Here are our 5 recommended biking circuits from Rovaniemi to make the most of your time sorrounded by the beautiful nature in Lapland.