Summer Sports & Outdoor Activities in Rovaniemi (3 Days)
Welcome to Rovaniemi, the capital of Finnish Lapland and official hometown of Santa Claus! This 3-day holiday package has been designed to let you enjoy all the best sporty and outdoor activities of Rovaniemi in summertime! The activity package may be booked with accommodation or independently ; a selection of hotel options is presented in connection with this summer package.
Quick Info
Type: Summer Sport Package
Location: Rovaniemi, Finland
Duration: 3 days
The program is customizable.
Activities in small groups.
INCLUDED
Guide, activities in small groups, accommodation in option, meals as mentioned, etc.
PRICING
The pricing depends on the selected activities, and the number of participants. Please contact us for a quote.
DAY 1 – E-FATBIKE & CANOE
Welcome to Lapland! On your first day, you will explore Lapland landscapes with an electric fatbike trip through the forest and nature.
The fat tires of your bikes allow you to ride on every kind of terrain : city roads, rocky paths, forests, sand and even snow! They are easy to ride with their engine to help you in difficult moments. This is the perfect way to explore Lapland in summer & autumn!
Your guide will lead you from Rovaniemi city-centre on a scenic itinerary. The tour is always adapted, based on your level and condition. The chosen route is designed to let you first get familiar with your fatbike on easy cycling paths before entering forests roads and/or reaching hilltops. The tour is around 3 hours.
The afternoon will be let free to get some rest. This is the perfect time to walk in he city-centre and do some shopping. For a cultural activity we recommend you visiting the Arktikum Museum easily accessible by foot. If you prefer doing a small hike, Ounasvaara trail will be the best option not so far from the city.
As "night" comes, it will be time for another adventure ! You will go for a canoe trip on Rovaniemi's rivers. Depending on the start times, you may enjoy midnight sun or beautiful gold colors reflecting on the water.
During the experience, you will enjoy paddling your own canoe on a quiet lake away from Rovaniemi area. This is a great outdoor experience that allows you to connect with the beautiful arctic nature while enjoying some gentle exercise.
A perfect time to relax after this first intensive day!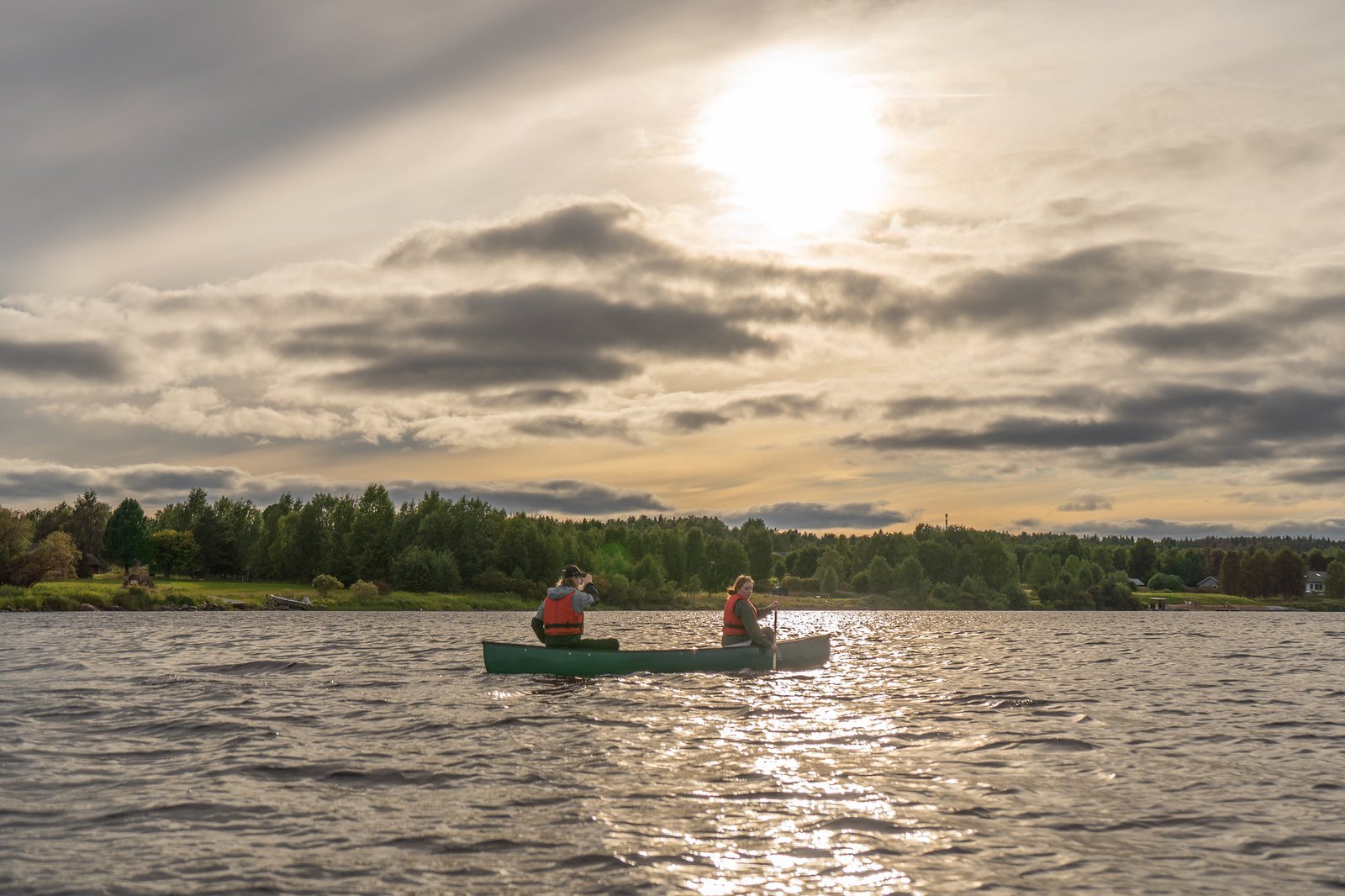 DAY 2 – PACKRAFT & HIKE
This day will be more adventurous and combine 2 different sports : packrafting and hiking. The experience mixes river rafting and hiking on a totally independent basis.
Packrafting is an ideal outdoor activity for water sports lovers and trekkers. The rafts are portable, compact and ultralight, allowing to carry them on a trek and unpacking them whenever one feels like paddling down a river. Nature cannot stop you anymore! With a packraft, you can navigate down fast moving rivers and white waters in an easy and safe way. The adventure will let you enjoy Lapland untouched landscapes while practicing a thrilling activity.
Packrafting requires a good physical condition. This activity is open to beginners if they are in good shape and can swim.
Once you went down the fast moving river, a lunch break will be served around the fire. You will then hike back to the starting point through the forest, stopping at some stunning viewpoints on hilltop. 
DAY 3 – HORSEBACK RIDING & SAUNA
This is the last day of your sporty package. It will start by a horseback riding through the forest. Depending on your level you will go for a 1 hour or 2 hour ride. The ride takes place in a forest, along the path taken by reindeers and other animals. Rides in Lapland are so calm and peaceful that you might have the chance to observe wildlife.
The stable where the horses live is a family-sized ethical stable with passionate workers. Horses are treated with care and respect, and never ride too much for their health. With calm temperament, the Irish Cob horses are hardy and well adapted to Finnish cold temperatures.
In the afternoon, it is time to relax after these 3 sporty and challenging days. What would be better than a traditional Finnish sauna in the wilderness. Sauna is part of the local culture in many aspects, and therefore a must-do experience when coming to Lapland. Saunas are deeply ingrained in Finnish culture, and no trip to Lapland is complete without experiencing one. The traditional Finnish sauna involves going into a hot, dry room and sweating intensely for a short period of time, before cooling down in cold water. This practice became a hobby for many locals and is to be known as very good for the skin and the immune system. Enjoy an evening in a traditional wilderness sauna located outside Rovaniemi (transportation included) giving you full privacy. Dig in the freshwater straight from the sauna pontoon and listen to the peaceful sound of nature.
If you want to do more sport and try something else, we recommend extending the day and doing some SUP on the lake.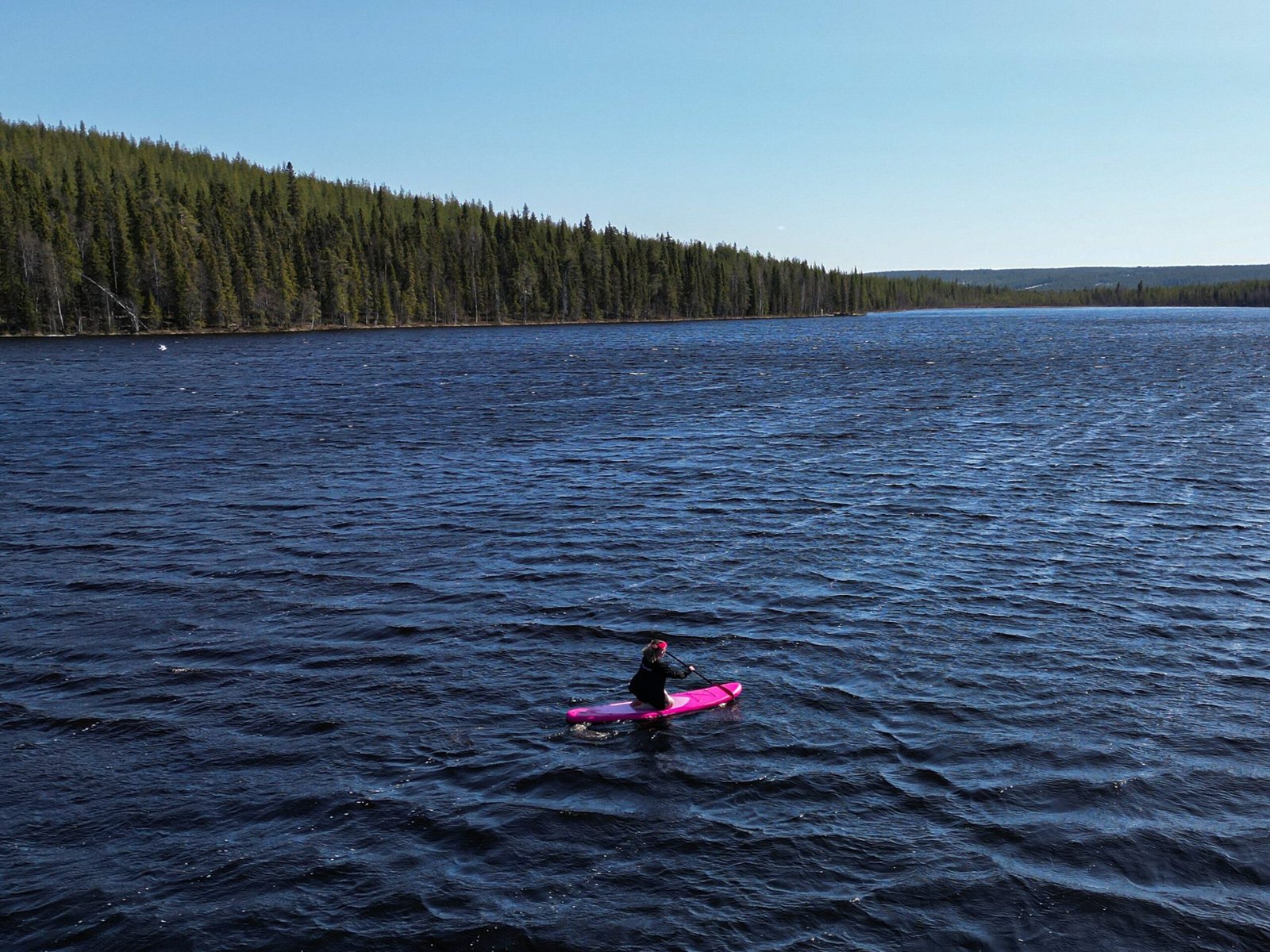 DEPARTURE
All good things come to an end… After this great 3 days, it is time to say goodbye to Lapland! Undoubtedly, the beautiful landscapes, untouched nature, lovely animals and peaceful Nordic lifestyle will give you as many reasons to come back very soon… why not in Winter or Autumn ?
WOULD LIKE TO EXTEND YOUR STAY? 
You may request to add one or several days to this program if you would like to enjoy more of Lapland.
We are always very flexible to arrange the program that best fits you! Feel free to contact us if you would like to amend this summer program.
We offer four differents types of pricing category for your accommodation. You can find our accommodation partner list for further information.
INCLUDED
Activity
Activities mentioned. You may request some changes to the program. 
Others Services
Professional guide
Hotel transfers
Meals when mentioned
Transportation
All equipment and gear for activities
All taxes & handling fee
PLEASE NOTE
Based on your request, our team will arrange the holiday package for you. Contact us if you want to customise the program ; we will then send you all information with a quote.
Transportation and most of the activities are in small groups. Participants will be accompanied by a professional guide during the holidays.
A minimum of 2 adult participants is required for the trip to operate. For large groups (more than 8 participants), please contact us and we can discuss a specific package.
This package require a minimim of physical conditions. We cannot accept childern under 12 years old.
CANCELLATION POLICY
We will charge a cancellation fee of 20% if booking is cancelled 31 days or more before departure;
We will charge a cancellation fee of 100% if booking is cancelled 30 days or less before departure.
HOW TO BOOK
Please send us a booking request. Our team will discuss with you about the different options, check availability for your dates and send you a quote with payment instructions.
PAYMENT
Payment by bank transfer and credit card are accepted.
An immediate 30% deposit payment is required to confirm the booking. Payment of the remaining 70% is required at least one month before departure.

Explore most of Korouoma canyon, its deep nature and frozen waterfalls, with a 2-day snowshoe trek and overnight in a wilderness hut.


Enjoy a unique forest ski experience with this 1-day / 1-night trip to a traditional cottage lost in the middle of Lapland nature.


Ski accross the National Park of Pyhä-Luosto and its picturesque fells with a memorable 3-day trek. Overnights in wilderness cabin or camps.