5 biking circuits to try in Rovaniemi
Rovaniemi is situated in the middle of vast wilderness areas and some of them are ideal for biking. Here are our 5 recommended biking circuits from Rovaniemi to make the most of your time sorrounded by the beautiful nature in Lapland.
BIKING IN ROVANIEMI
In all seasons, biking is a gret way to sightsee – it's silent, slow enough to let you enjoy the landscapes, but fast enough to allow seeing the majority of landmarks and attractions in Rovaniemi in one day. It is also a great way to get accustomed with the famous Finnish nature, by following bikeways along the river or paths made for mountain biking in the middle of the forest and maintained in good conditions all year long. Rovaniemi is a bike-friendly city with wide sidewalks and cyclepaths throughout the city. No matter if you prefer to cycle in the middle of the city or you are drawn towards the numerous nature-based biking paths, our electric fatbikes are suitable for all kinds of terrain (even snow!) thanks to their wide tires with a good grip and an engine which will help you get through the most difficult parts of your trip. Below you can find our selection of recommended biking circuits in Rovaniemi.
1. SEE THE CITY OF ROVANIEMI AND SANTA CLAUS VILLAGE (ALL SEASONS)
For all those interested in history and culture, we offer a unique way to sightsee the city and its surroundings. Hop on a e-fatbike and follow the itinerary on this unique circuit from Rovaniemi, stopping at cultural and historical points of interest, landmarks and other atractions. Thanks to the booklet included when renting the bike, there is no need to research the information about each of them quickly in your browser.
We have collected all of the most important facts and anecdotes and put them together in one place that is easy for you to reach for whilst on the tour. You will get an already prepared optimal itinerary possible to follow with GPS, with markings of stops corresponding to the booklet. This way you get to guide your very own tour with ease, and at your own pace, with no need to conform to the needs of a group. This is a great option for families with children, as you can add a biking cart to the booking if you wish.
You are completly free to visit Santa Claus VIllage (included in the itinerary), museums and other attractions if you wish to, choosing from the places that interest you the most and without spending time on those that don't spark your exitement. There is no time limit on your tour too, except of course the e-fatbike rental time. This is an interesting alternative to bus tours around the city and Santa Claus in all seasons, and it's accessible to everyone, thanks to the wide tires and the help of the engine on your bike. Feeling convinced yet? Check out our cultural fatbike tour here.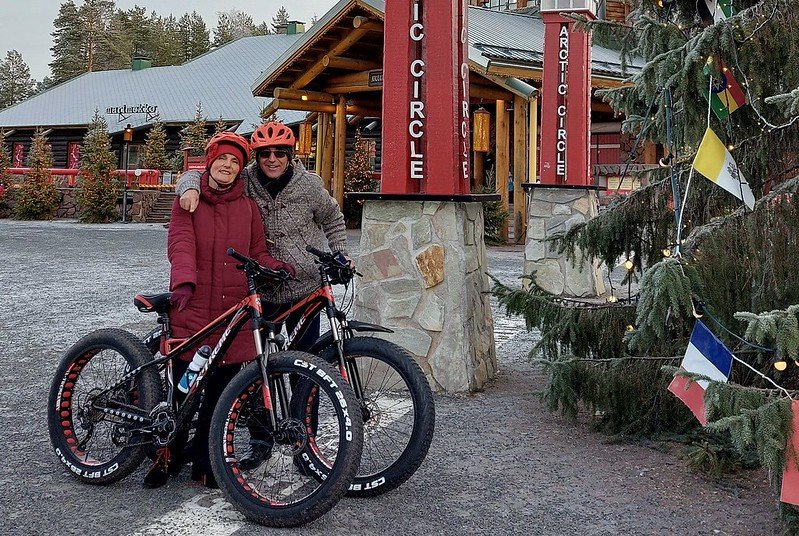 2. TRY A BEGINNER FRIENDLY TRAIL IN OUNASVAARA
(ALL SEASONS)
Ounasvaara is a famous place for hiking, but it is home for numerous biking circuits too! With different lenghts and difficulty levels of the trails specifically made and maintained in good condition for fatbikes, it is a perfect place to start your adventure with this activity. You will be rewarded with beautiful views, as you follow the trails through the forest to reach the viewpoint at the top of the hill, and there are several places where you can stop to have a snack around a fire too! The area is proud of its good outdoor infrastructure, featuring lean-to shelters and public fireplaces where you can stop to fuel up and meet some locals, who love to spend time in the nature and are eager to use the public fireplaces to grill sausages and make coffee. Both winter and summer/autumn trails are available in Ounasvaara.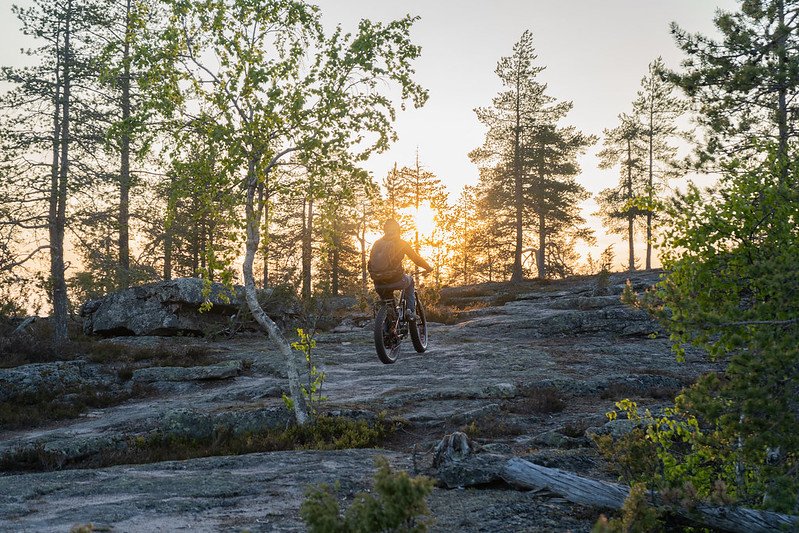 3. GO FOR A REWARDING ADVENTURE IN SANTAVAARA (SUMMER/AUTUMN)
If you are looking for bucket list activities to do in Rovaniemi in the autumn time, you will surely find observing the beautiful orange and yellow landscapes and trying to spend time like a local in one of the public lean-to shelters.
Santavaara is an ideal place to combine those two, as it features a lean-to shelter on a top of a hill with a stunning view on the forest, which in the autumn time will stand out with the warm colours of the leaves. Perfect conditions to enjoy a little barbecue! And as one of the best ways to enjoy the food outdoors is after gentle excersise, we highly recommend you to go up the hill on a e-fatbike and follow this circuit from Rovaniemi. The itinerary is very straight-forward and easy to follow, and the hill is located only about 9 km from the city centre. If you feel more adventourous than sporty and like to have a destination when biking, make sure to check out the Santavaara circuit.
4. TRAVEL DOWN THE RIVER FROM RANTAVITIKKA
(ALL SEASONS)
Rantavitikka is the university area of Rovaniemi, located in the south-west from the city and arount 10 minutes from the city centre by bike. If you are looking for an easy-to-ride circuit in Rovaniemi mostly on cycleways and all on paved roads, but all at the same time surrounded by nature, you are in the right place. This path is an all-level circuit, with trees on one side and a river on the other. It feels like biking in the nature without the need to go off-road, if you are not comfortable with that, or if you simply prefer to relax and focus your attention on the sorroundings. And, to make it special, there is a beach about 5 km from the end of the circuit, if you want to go for a swim of simply lay on the sand and rest from the gentle excercise.
If you need a break during your ride, there are plenty of places along the way that are perfect for a picnic. There is an open fireplace near the beach too, if you wish to cook yourself a warm meal outdoors!
5. SEE NORTHERN LIGHTS ON A BIKING RIDE TO AN OBSERVATION TOWER (SEPTEMBER-APRIL)
Coming to Lapland to see northern lights, but want the experience to be special? Look no longer, as we have prepared a biking itinerary to an observation tower in the middle of the forest, which is an optimal spot to observe northern lighs! Get away from the light pollution of the city and wait for the lights to appear surrounded by nature and listening to the sounds of the woods. You can bring snacks and hot drinks with you too, to sweeten the waiting time.
The fat tires of your bike together with the engine will make it almost effortless to achieve the observation tower, and the gentle excercise will warm you up in the cold months too!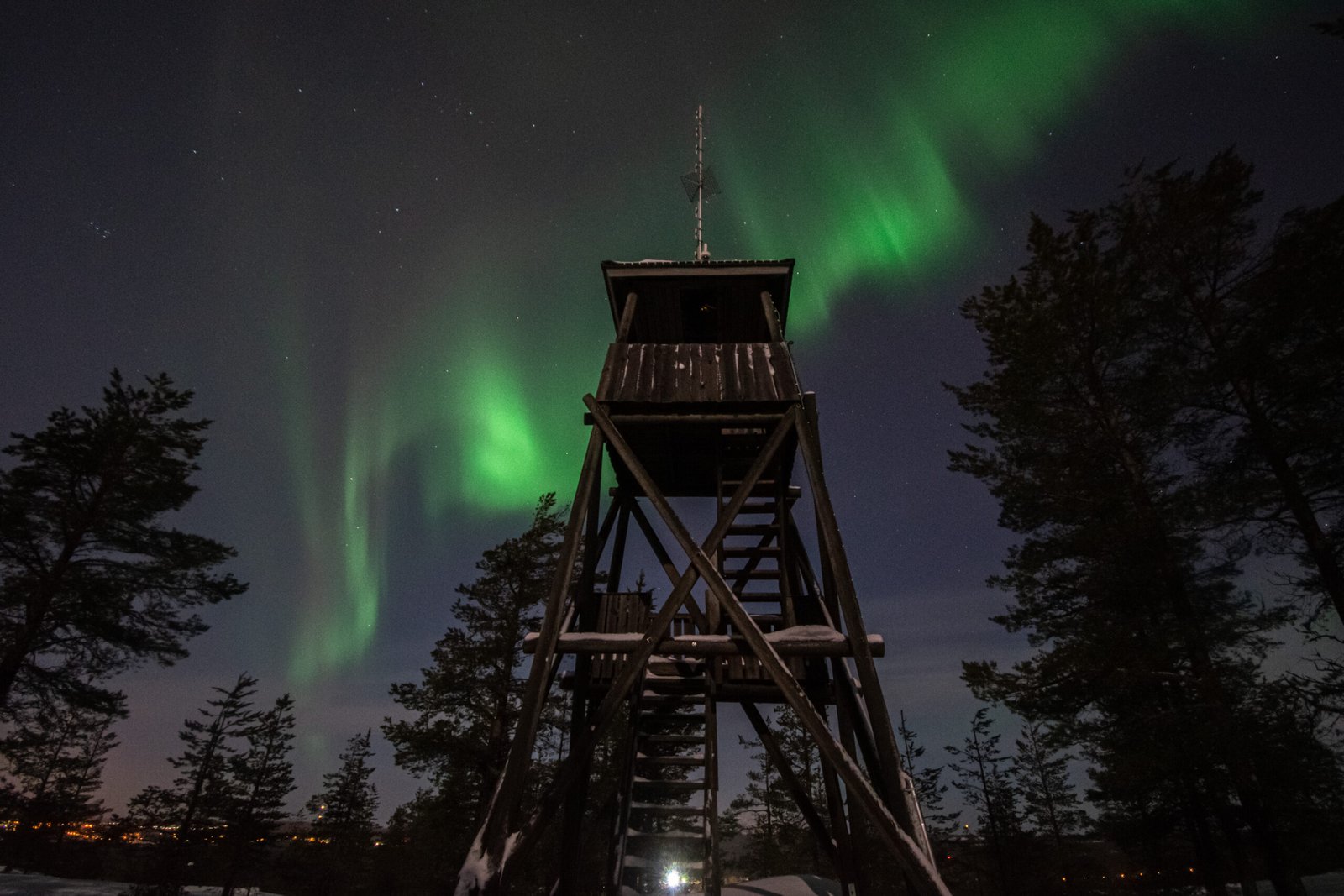 That's it! We hope you enjoyed reading this blogpost.
If you have any question, feel free to contact us!
We will be super glad to help you plan your summer trip to Rovaniemi!
FULL LIST OF
OUR TOURS
WWW.NORDICODYSSEY.NET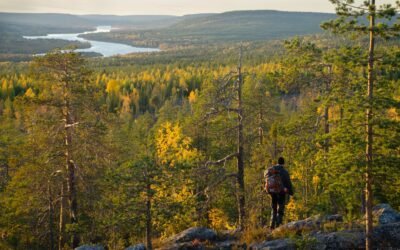 La Laponie n'est pas qu'une destination purement hivernale. Nous avons déjà mentionné dans un article précédent que l'été dans le Grand Nord vaut également le détour. Mais avons-nous parlé de l'entre-deux-saisons ? L'automne arctique vous étonnera par ses couleurs, sa...