Private Northern Lights Photography Hunting ( with Dinner option)
Get the highest chance to observe the Aurora Borealis with a premium guided experience. Drive very far from Rovaniemi to find the Northern lights, take beautiful pictures and enjoy a unique wilderness dinner!
Quick Info
Location: Rovaniemi

Duration : 6h00

Price: 750€/group
Included: private tour, photos, snacks, guiding, transportation, etc.
Included
Private experience, long distance transportation to find auroras, photos, expert guiding & stories, snacks & hot drinks, etc.
TiME
Duration: 6h00
Start time: adapted to conditions
SEASON
Available: From September to April
BEST PRICE IN TOWN!
GROUP (1 – 8 participants)
750€ / group
(900€)
Option Extra: Wilderness Dinner
Group of 1 – 4 people : + 100€/group
Group of 5 – 8 people : +150€/group
All prices include VAT
 PREMIUM AURORA EXPERIENCE
Treat yourself and your loved ones with the best aurora hunting experience you can imagine. This private Northern Lights tour is organised by an aurora expert guide who will do everything possible to find the auroras for you. The tour has been designed to offer all the best features for a successful aurora hunt!
The tour lasts up to 6 hours, which allows to drive very far (up to 300km around Rovaniemi) to find clear sky and observe the auroras. Driving far might be the only way to find northern lights, especially when the weather is challenging in Rovaniemi. By staying out for a longer time, you also get the opportunity to see more in the sky and will not miss any Northern lights if they appear late in the night!
The tour is private, allowing for an intimate experience adapted to your needs and requests. A specific start time will be suggested, based on our analysis of the weather and conditions (a brief report will be send to you in the morning to inform you about our analysis of the conditions) but it can also be adapted to your timetable. During the experience, you may always decide together with your guide if you would like to change locations to experience something else or stay longer at the specific place because you enjoy it. You are also free to decide to return home at any time when you feel fully satisfied. Basically, this is YOUR experience.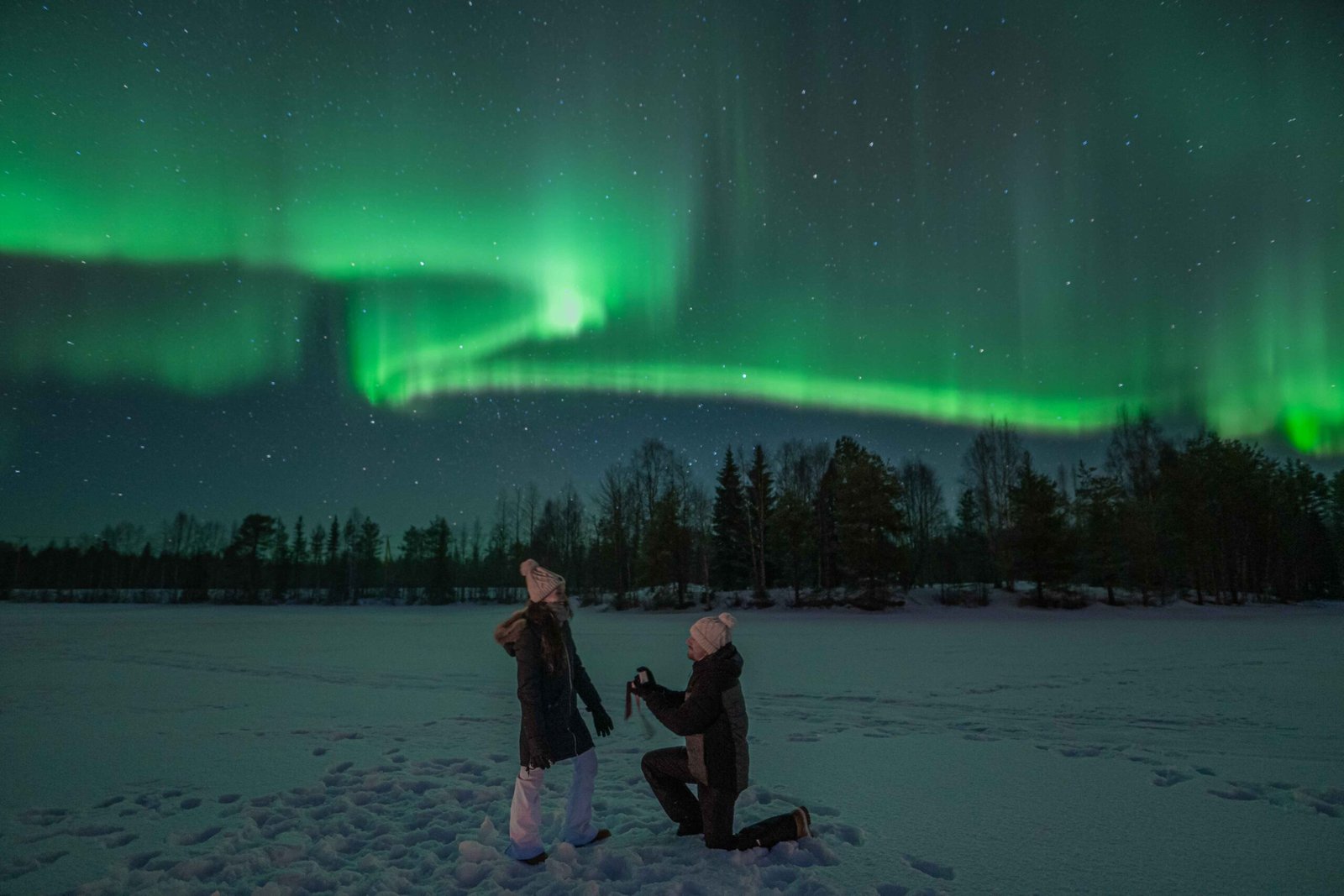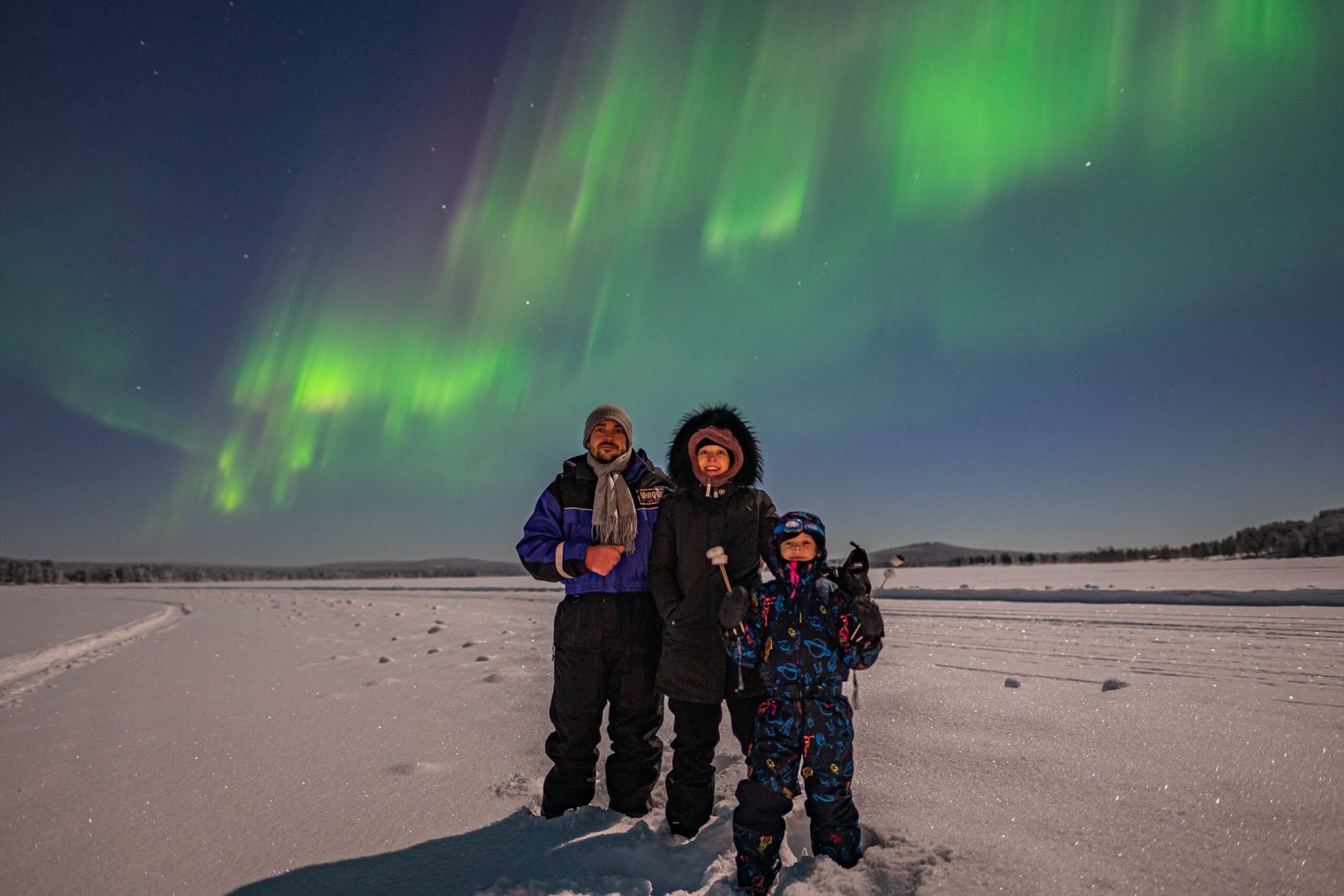 PHOTOS INCLUDED
Your guide will always be equipped with a professional camera, specifically designed for low-light photography. This is a must-have tool when chasing Northern Lights! It helps anticipate the evolution of the sky and therefore allow us to make the best decisions! And of course, pictures are always nice to keep as a souvenir! All pictures taken during the tour will be sent to you by email in high quality!
OPTION FOR A WILDERNESS DINNER
A standard Finnish snack (Finnish sausages with hot drinks) is included in the program. However, you may be willing to live a more special experience and opt for a wilderness dinner served around the open fire. Your guide will then cook and serve some local traditional food directly around the fire in the middle of nowhere (and hopefully under the northern lights!). The dinner includes local hot drinks, starters, main salmon dish and homemade dessert.
A vegetarian option is also possible on request. Vegetarian options are for the whole group.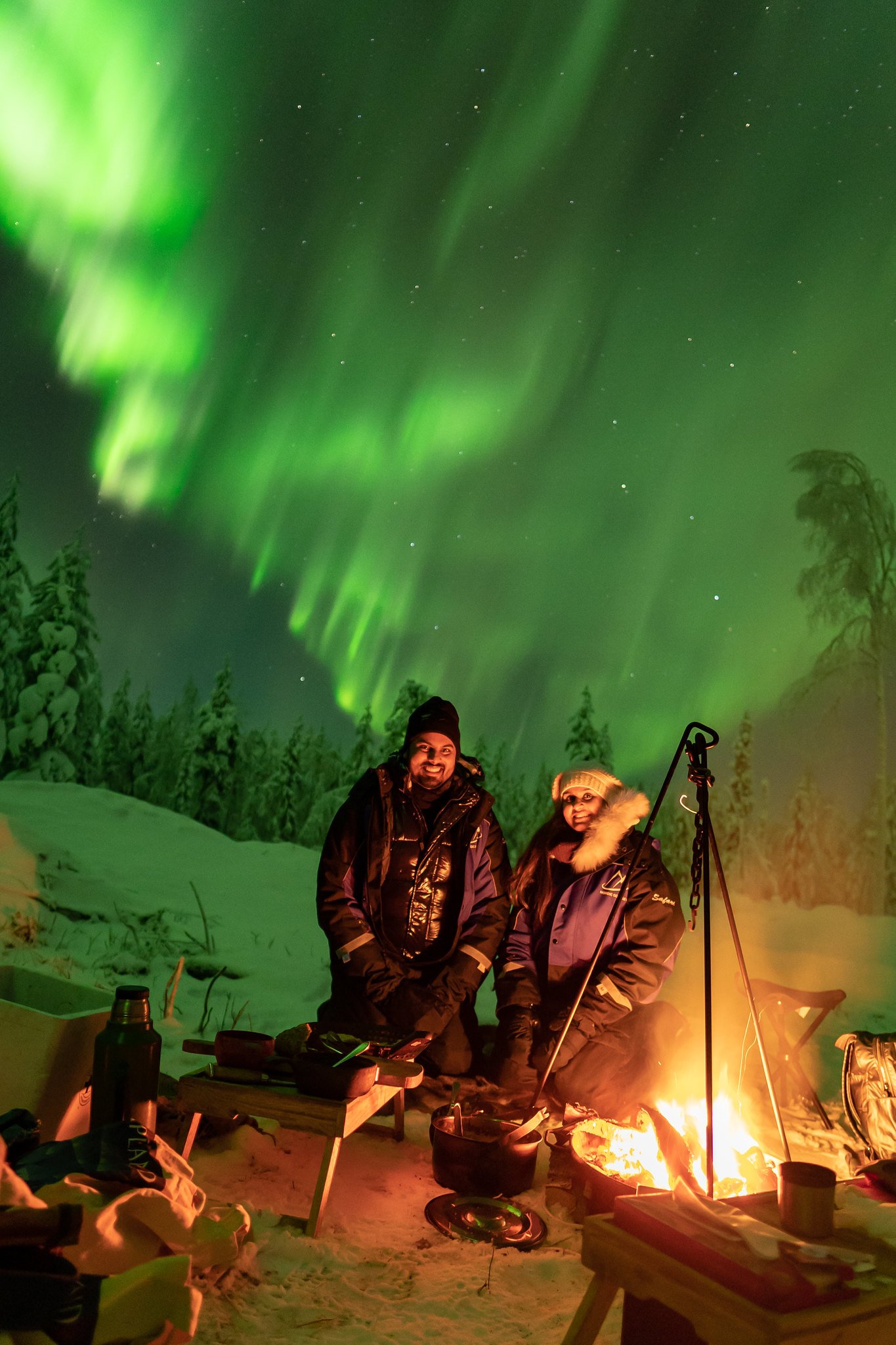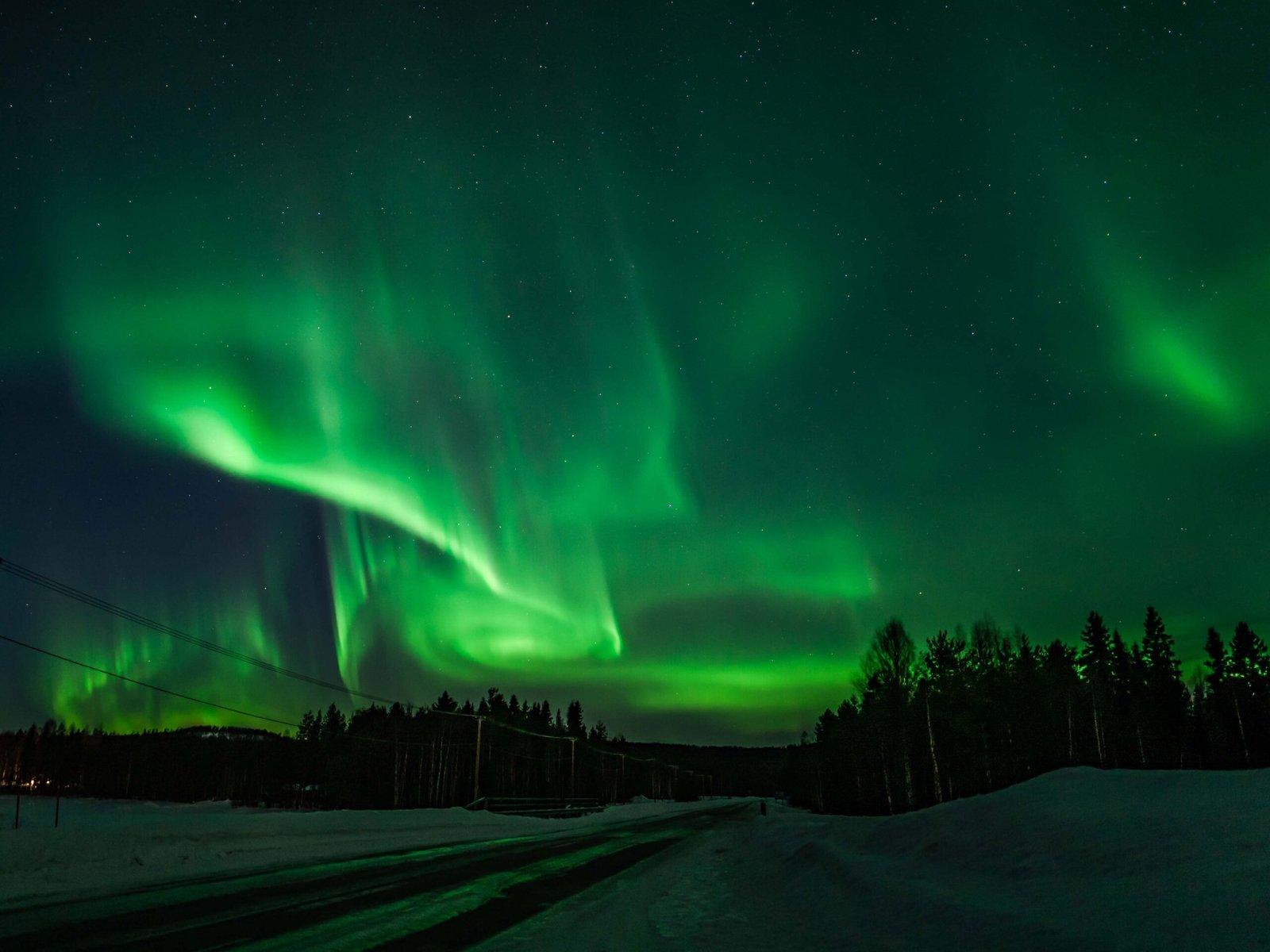 ABOUT AURORAS
Unfortunately, we cannot guarantee to see the Northern Lights. No matter how hard we try, no matter of the decisions we take or the distances we drive, sometimes we also need a bit of luck. Northern Lights are an unpredictable phenomenon, and despite our long experience, there is unfortunately nothing we can do if Mother Nature decides not to offer us auroras… This is also the beauty about the Northern lights and we all have to accept it. But even if we are unlucky, the adventure will be worth it!
INCLUDED
Private experience
Long-distance transportation
Hotel pickup
Personal aurora expert guide
Weather analysis
Photos with professional camera
Snacks & hot drinks
Option for wilderness dinner
Stories & explanation
Overalls & winter boots if needed
EXTRA OPTIONS
Wilderness dinner cooked around the open fire
PLEASE NOTE
We recommend to book in advance, as availability may be very limited in peak seasons.
This private tour is limited to groups of 8 participants maximum. For larger groups, please contact us at info@nordicodyssey.net so we can arrange a specific tour for your group.
We reserve the right to cancel the trip because of unsafe weather conditions.
Please dress appropriately according to the weather, with warm clothes, good winter boots, gloves, hats and thick socks. 
The start time mentioned in the calendar or on your ticket is only indicative. You will receive more information before the tour regarding the weather and conditions. The start time will then be adapted to the conditions to increase your chance.
CANCELLATION POLICY
We will charge a cancellation fee of 10% if booking is cancelled 7 days or more before departure;
We will charge a cancellation fee of 50% if booking is cancelled between 7 days and 24h before departure.
We will charge a cancellation fee of 100% if booking is cancelled 24h or less before departure.
HOW TO BOOK
Select the number of participants, the date and time in the calendar below and follow the booking steps. Payment by credit or debit card.
CONTACT US
If you have also any question, feel free to ask and we'll be happy to answer you with as many details as possible. You can also write us on Whatsapp (+358(0) 40 258 20 81).

A guided trip from Rovaniemi to the Ranua Wildlife Park to see and discover all the Arctic animals: polar bears, wolves, predatory birds, wolverines, etc.
BOOK NOW

The perfect combo in Rovaniemi: visit a traditional reindeer farm with a long sleigh ride (2km), enjoy a delicious lunch, then visit an ethical husky kennel with a self-driven safari
BOOK NOW

Get onboard a unique icebreaker cruise from Rovaniemi, in Lapland, with guided visit, ice-floating in survival suits & delicious lunch.
BOOK NOW