12 things to do in Rovaniemi in Autumn (2023)
Lapland is not just a pure winter white destination. We already mentioned in a previous blogpost that summer in the Far North is also worth the trip. But did we tell you about the in-between season? The Arctic autumn will amaze you with its colors, its beautiful ambient nostalgia, and the unsuspected experiences it offers. Still doubtful? Well then, here are 12 reasons to come to Rovaniemi, the capital of Finnish Lapland, during the autumn season. Let's go!
12 THINGS TO DO IN ROVANIEMI IN AUTUMN (2023)
Lapland is said to have not four, but eight seasons. One of the most remarkable of them happens in September, and is called Ruska. Ruska is a word that literally describes the autumn colors, then by extension it gives its name to the period when those colors happen.
As soon as summer comes to an end, nature indeed adorns itself with delicate colors of auburn, brown and gold. Birches, heathers, blueberry plants transform the Arctic landscapes into a nostalgic fairyland. This is the perfect time to head into mosquito-free forests and enjoy a small hike or a long trek!
1. EXPERIENCE THE RUSKA COLORS
As mentionned before, Ruska is a Finnish term that refers to the stunning autumn foliage transformation in the northern regions, particularly in Lapland. During this period, the leaves of deciduous trees turn vibrant shades of red, orange, and yellow, creating a breathtaking and colorful display across the landscape. It's a unique natural phenomenon that attracts visitors from around the world to witness the beauty of autumn in Finland's northern wilderness.
Experience this captivating transition from summer to autumn and immerse yourself in nature's vibrant display with our unforgettable outdoor activities:
Canoeing: Drift along tranquil lakes, surrounded by the stunning colors.
Fatbiking: Traverse forest trails on fatbikes and discover some magnificent viewpoints.
Hiking: Wander through trails painted with autumn shades and savor the unique atmosphere of Lapland's wilderness.
You'll find activities that suit every member of the family, and you're guaranteed to have a wonderful time!
2. TAKE AN E-FATBIKE TOUR
Explore the lively forests around Rovaniemi with an e-fatbike trip! Riding fatbikes or e-fatbikes is a great sustainable way to do some gentle exercise while heading off the beaten paths into deep forest.
This is the perfect way to explore Lapland all year round!

Hop on your saddle and let yourself be carried by the wide tires of your bike, from along the rivers to the top of the surrounding hills of Rovaniemi! Different scenic routes are available depending on the levels and expectations of our guests. Rovaniemi has a few hills such as Ounasvaara or Santavaara that offer beautiful viewpoints. 
If you wish to discover Rovaniemi independently and at your own pace, there is also the possibility to rent our fatbikes for 3h, 24h or more!
WE RECOMMEND: a guided fatbike trip under the Ruska colors in September, is a great way to experience Lapland shining with beautiful warm colors! The tour is also available from May to November. The rental is available all year round.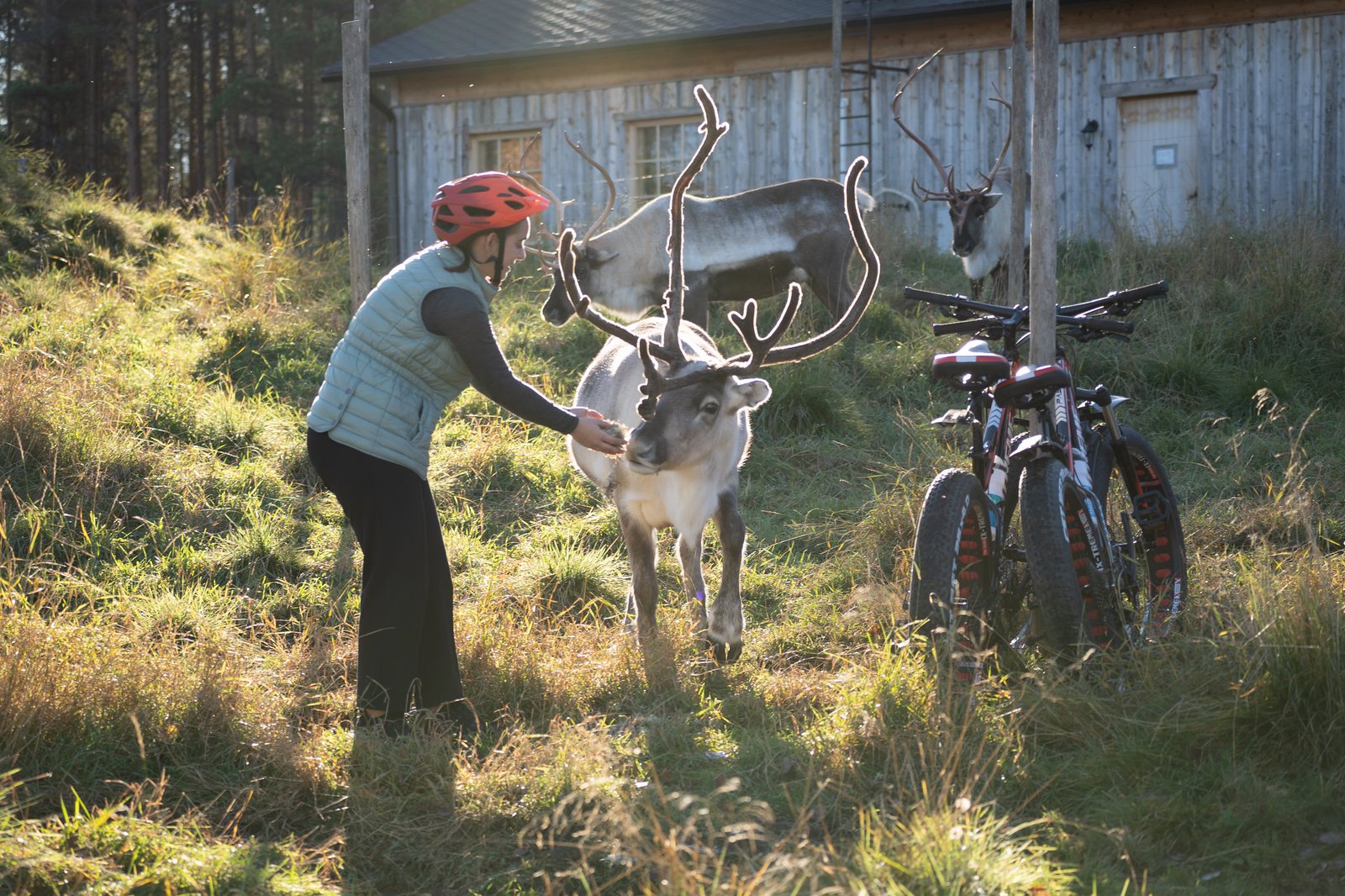 3. OBSERVE THE NORTHERN LIGHTS
Northern Lights are back in autumn! From late August, the nights get dark enough to permit the observation of the first Northern lights in the Rovaniemi sky. In addition, September is one of the two best months to observe the auroras, especially due to the clear weather and the position of the Earth.
Autumn is then a great season for Northern Lights photography. The absence of ice allows beautiful reflections of the auroras in lakes and rivers. And without snow, the moonshine does not affect too much the ambient darkness. Perfect then, to take epic pictures!
WE RECOMMEND: You should definitely consider booking a proper Northern Lights hunt with photos. This will greatly increase your chance to observe the auroras, in addition to provide you with a great night experience (and beautiful pictures for memories!). 
4. PADDLE IN LAPLAND'S STUNNING FALL FOLIAGE
(UNTIL SEPTEMBER)
Finland is nicknamed as the Land of a Thousand Lakes after its 188 000 lakes spread on its territory, a significant part of which are located in Lapland. Discover the stunning autumn colors of Lapland while canoeing through a painting. 
Canoeing is a great way to explore the pure and untouched landscapes in the far North. As you paddle to some elusive places, you will certainly feel the peacefulness of the surrounding nature and understand why so many locals have decided to settle here, so far away from the rest of the world! Interested? We have different options that could fit all levels!
 Half a day canoe adventure is a good start to explore Finnish lakes. Afraid to be too short? Then our full day canoe adventure will give you plenty of time to paddle through the islands. For the more
 adventurous ones, we offer an overnight canoe trip that will give a unique opportunity to disconnect completely and immerse in the peaceful nature. 
If you are up to try something new, feel free to rent a stand up paddle board to challenge yourself in the most beautiful scenery possible! 
WE RECOMMEND: Why not combine canoe with camping? Our two day canoe trip will help you immerse yourself in nature completely!

5. BEAR WATCHING (UNTIL SEPTEMBER)
Bear watching is a once-in-a-lifetime experience. Also known as bear viewing, it is a popular outdoor activity where individuals observe bears in their natural habitats. This activity typically involves hiking or taking guided tours to locations where bears are known to live or frequent. Bear watching can be done year-round, however the best time to observe bears is usually during their mating season (late spring) or during salmon runs (early autumn). The season in the north happens during the midnight sun season, so you have the opportunity to observe mother bears and cubs bathing all night long. 
Hidden in a cabin in the middle of a national park, it is an opportunity to be fully  immersed in Finnish nature. It is important to note that bear watching should always be done with the guidance of experienced professionals, as bears are wild animals and can be dangerous if not approached with caution. Additionally, it is important to respect the bears' natural habitats and not disrupt their daily activities.
WE RECOMMEND: Enjoy a two day road trip on the way to discover the arctic wildlife! Combine bear watching with the visit of an authentic reindeer farm, a polar dog kennel and Ranua wildlife park !

6. HIKING ADVENTURE THROUGH GOLDEN FORESTS
Immerse yourself in the stunning beauty of Lapland during the fall season. Take a break from the hustle and bustle of everyday life and experience the tranquility of the Finnish Lapland wilderness on a hiking adventure. As the leaves change color and the air becomes crisp, the landscape transforms into a breathtaking canvas of reds, oranges, and yellows. Exploring the vast trails of Lapland during the fall season is a perfect opportunity to witness the Northern Lights and capture amazing photos. With fresh, clean air, and a peaceful atmosphere, hiking in Lapland during the fall season offers a rejuvenating escape in nature. Traverse through breathtaking landscapes of colorful forests, rolling hills, and pristine lakes. It is time for you to unleash your inner adventurer and discover the best of Lapland's Ruska season with our exciting hiking adventures.So pack your bags, lace up your boots, and embark on an unforgettable hiking journey in the heart of Lapland.
Choose from short hikes during the day, overnight expeditions, or the unforgettable hike a Tunturi in a national park. We give you the opportunity to have a guided hiking experience during half a day or all day but we also think you can DO IT YOURSELF! 
WE RECOMMEND: If you are looking for combining the outdoors with a cultural experience, we recommend joining a hike to the Amethyst mine in Luosto departing from Rovaniemi!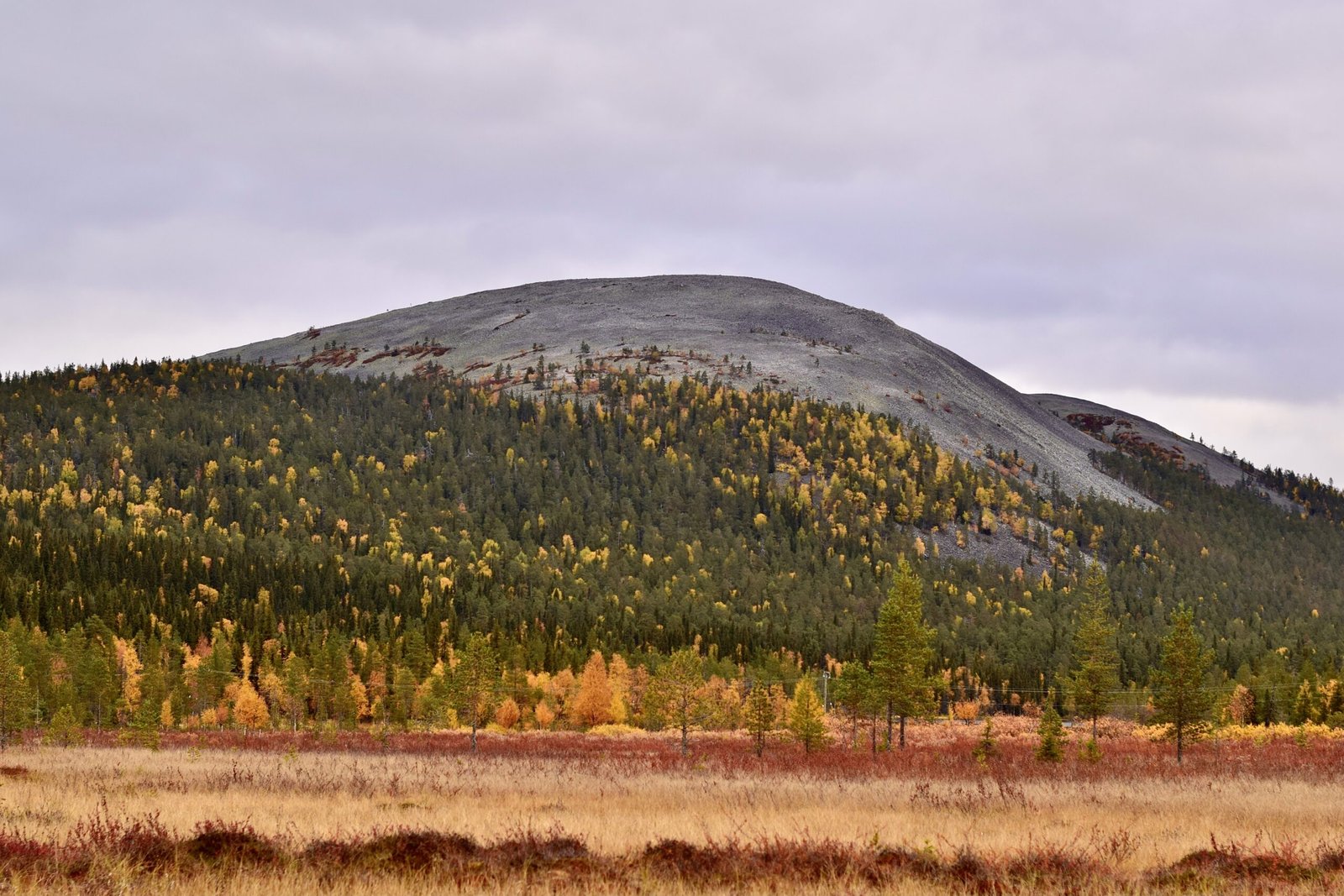 7. VISIT A REAL REINDEER FARM
Did you know that there are more reindeer than people spread across Lapland? Reindeer are indeed the most iconic animal of the region. In summer, you find them everywhere on the sides of the roads or in the forests near Rovaniemi.
Visiting an authentic reindeer farm is a worthwhile experience during your summer holidays in Lapland. Local reindeer herders will gladly share with you their inherited reindeer husbandry lifestyles while you feed the reindeers directly from your hands. Summer is also the time when the cubs are growing, so are the strong antlers of the males!
To strengthen the accent on local lifestyle and connect more with the Finnish culture we recommend a reindeer farm visit combined with a traditional sauna experience -> link to the activity
WE RECOMMEND: We have different options for you to meet those iconic animals. You can either join our Morning Visit in this authentic farm, or switch the ride in a minivan with e-fatbike to the reindeer farm. As we believe that this activity could easily be combined, we also have a few options for you : Reindeer farm visit with the visit of Ranua wildlife park which gives you an overview of the arctic fauna; and if you want to have it as a private activity you can choose to enjoy a relaxing sauna after the reindeer farm visit!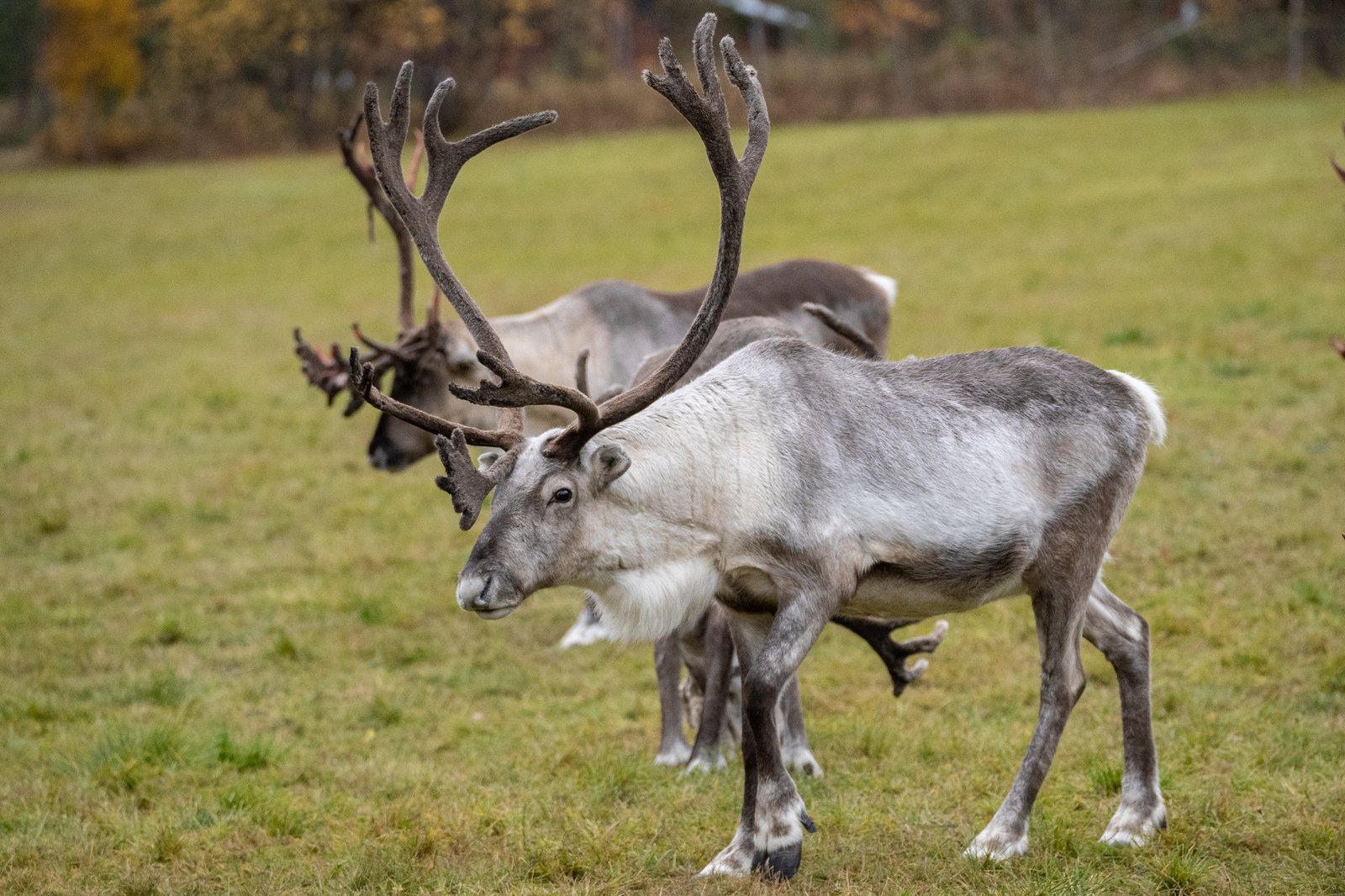 8. PARTICIPATE IN HUSKY TRAINING
Autumn in Lapland is the perfect time to train huskies for the upcoming winter season. Take your chance to experience the beauty of the northern landscape while helping the huskies stay in top shape. Enjoy a thrilling cart ride through the stunning autumn colors and fresh air, all while the huskies get the physical exercise and mental sharpness they need to be ready for the snowy season ahead. Book your ride now and give these magnificent animals a head start for the winter!
WE RECOMMEND: Reindeer farm visit combined with the visit of an ethical husky kennel with a cart ride. You also support an ethical and responsible kennel near Rovaniemi!
9. MEET SANTA CLAUS AND CROSS THE ARCTIC CIRCLE 
Rovaniemi is worldwide known as the official hometown of Santa Claus. His most-famous resident receives visitors all year round, and autumn is no exception!
You will probably be unsettled by the Christmas carols over the loudspeakers, and the eternal Christmas spirit skillfully nurtured throughout the year by shops and hotels. But even before the snowy season comes, the village of Santa Claus is worth a visit.
Besides meeting Santa Claus, you can cross the Arctic Circle, send letters with a special Arctic Circle postmark from the Post Office of Santa Claus (and receive them a couple of months later for Christmas!), find many restaurants, souvenir shops, and some activity providers.
But be careful and don't book a crazily-expensive guided tour to Santa Claus Village! The entrance to the village is free of charge and city buses (bus n°8) regularly departs from/to city centre. The village is located 8km away from the city centre.
WE RECOMMEND: Explore Rovaniemi's local heritage on an electric biking excursion that takes you through the city to the iconic Santa Claus Village. This guided e-fatbike tour allows you to discover Rovaniemi's charm in an sustainable ride amidst the autumn beauty.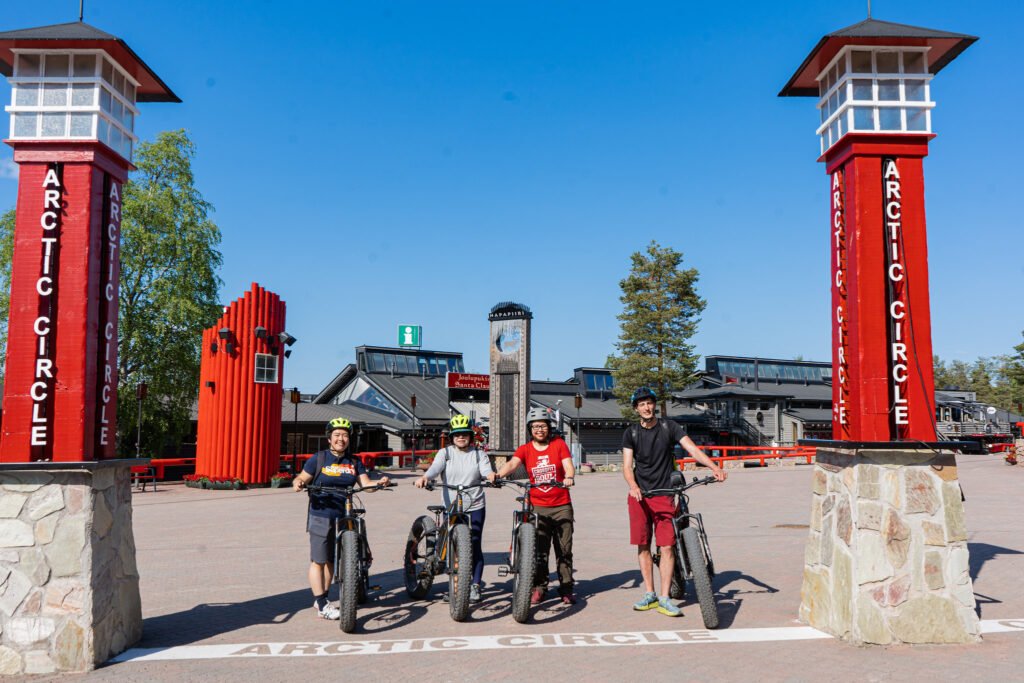 10. VISIT RANUA WILDLIFE PARK
Want to see more than just the moose? Meet all the Arctic animals in Ranua Wildlife Park.
Located one hour away from Rovaniemi, the Ranua Wildlife Park is the northernmost wildlife park in the world. It consists of approximately 50 wild animal species and 200 individuals. In the park, it is possible to see polar bears, brown bears, reindeer, wolves, gluttons, lynxes, predatory birds, otters, wild boars, etc. 
The park is Lapland's leading tourist attraction for families and groups with children. In autumn, most of the animals are still active as temperatures are not too cold, giving you a chance to watch brown bears, otters, and other animals.
WE RECOMMEND: check our day trip to Ranua Wildlife Park, that includes transportation, guiding, entrance tickets and lunch in the restaurant. You won't regret it!

11. RELAX IN FINNISH SAUNA
There is nothing more Finnish than a Finnish sauna! Sauna is part of the local culture in many aspects, and therefore a must-do experience when coming to Lapland. Saunas are deeply ingrained in Finnish culture, and no trip to Lapland is complete without experiencing one. The traditional Finnish sauna involves going into a hot, dry room and sweating intensely for a short period of time, before cooling down in cold water. This practice became a hobby for many locals and is to be known as very good for the skin and the immune system.
Enjoy an evening in a traditional wilderness sauna located outside Rovaniemi (transportation included) giving you full privacy. Dig in the freshwater straight from the sauna pontoon and listen to the peaceful sound of nature. You can extend your activity and enjoy SUP paddling under the sunset.
WE RECOMMEND: Complete the sauna experience with an authentic reindeer farm visit and enjoy two unique activities of Lapland.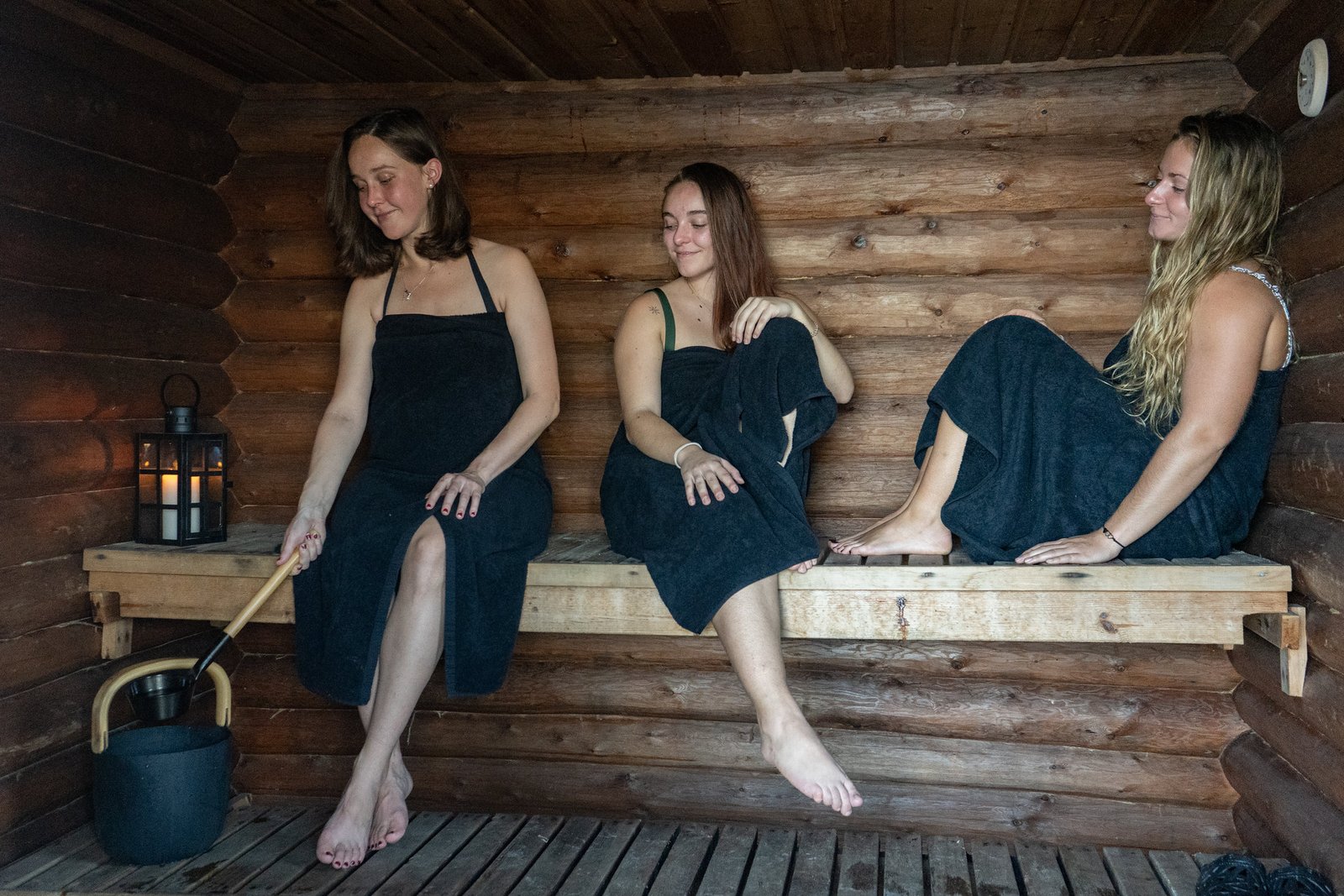 12. EXPERIENCE FINNISH FOLKLORE & MYTHOLOGY
Immerse yourself in the captivating world of Finnish legends and tales with our two immersive experiences: 'Finnish Legends and Tales Night Around the Fire' and 'Forest Hike in Search of Finnish Mythological Creatures'.
During the Legends and Tales Night around a crackling fire, ancient tales will transport you back in time, revealing the essence of Finnish culture, traditions and life in the Far North. Enjoy pancakes cooked over the fire while listening to your guide's captivating tales. This intimate experience, designed for small groups, connects you with nature for a truly unforgettable evening.
If you prefer a daytime adventure in the forest, go in search of Finnish mythological creatures on a gentle hike into the heart of Finnish nature, where mystical creatures and monsters once wandered. Led by a expert guide, immerse yourself in the stories created by the landscapes – forests, rocks, lakes and swamps – where these were once believed to live. Let your imagination run wild as you search for their hidden shapes along the trail. Perfect for families and friends, this 3 to 6 km hike offers not only enchanting tales but also fireside snacks.
That's it! We hope you enjoyed reading this blogpost.
If you have any question, feel free to contact us!
We will be super glad to help you plan your trip to Rovaniemi!
FULL LIST OF
OUR TOURS
WWW.NORDICODYSSEY.NET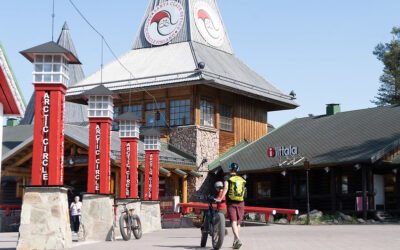 SUMMARY 1.See the city of Rovaniemi and Santa Claus Village 2. Try a beginner-friendly trail in Ounasvaara 3. Go for a rewarding adventure in Santavaara 4. Travel down the river from Rantavitikka 5. See northern lights on a biking ride to an observation towerBIKING IN...