10 things to do in Rovaniemi in summer (2022)
You probably know Rovaniemi for its white fairy-tale landscapes, its many snow activities, its Northern lights, or maybe just because of Santa Claus. But did you know that Rovaniemi is also a summer destination? Yep, and we have have listed for you our 10 recommended activities and things to do when visiting Rovaniemi in summer!
1. EXPERIENCE THE MIDNIGHT SUN
Rovaniemi is located on the Arctic Circle line, which has an important meaning in astrophysics. The Polar Circle marks the theoretical latitude from which the polar night in winter (at least 24 hours without the sun rising) and the polar day in summer (at least 24 hours without the sun setting) begin.
Rovaniemi is then a good place to admire a great summer phenomenon : the Midnight Sun. The Midnight Sun describes the sun that never sets (and therefore is still visible at midnight). It may also create some other atmospheric optical phenomena to observe such as sundogs, circumzenithal arcs and other halos.
Due to the reliefs and surrounding hills, you can experience the Midnight Sun colours from a longer period than just the summer solstice. The Midnight Sun period is considered to extend from around 20 May to 5 July in Rovaniemi. As you travel northward, this period gets longer.
WE RECOMMEND: the Midnight Sun usually offers beautiful redish-pinkish colours in the "evening" hours. Those are a great time to get out and enjoy a hike, or even some relaxing activities like paddling, biking or arctic floating!  
2. MEET SANTA CLAUS AND CROSS THE ARCTIC CIRCLE 
Rovaniemi is worldwide known as the official hometown of Santa Claus. His most-famous resident receives visitors all year round, including… summer!
You will undoubtedly be unsettled by the Christmas carols over the loudspeakers, and the eternal Christmas spirit skillfully nurtured throughout the year by shops and hotels. But even without snow, the village of Santa Claus is worth a visit.
Besides meeting Santa Claus, you can cross the Arctic Circle, send letters with a special Arctic Circle postmark from the Post Office of Santa Claus (and receive them for Christmas!), find many restaurants, souvenir shops, and some activity providers.
WE RECOMMEND: don't book a crazily-expensive guided tour to Santa Claus Village! The entrance to the village is free of charge and city buses (bus n°8) regularly departs from/to city centre. The village is located 8km away from the city centre.
3. VISIT A REAL REINDEER FARM
Did you know that they are more reindeer than people spread across Lapland? Reindeer are indeed the most iconic animal here. In summer, you find them everywhere on the sides of the roads or in the forests near Rovaniemi.
Visiting an authentic reindeer farm is a worthful experience during your summer holidays in Rovaniemi. Local reindeer herders will gladly share with you their inherited reindeer husbandry lifestyles while you feed the reindeers. Summer is also the time when the cubs are growing, so are the strong antlers of the males.
WE RECOMMEND: Make sure to chose an authentic reindeer farm, as some tour operators would take you to some made-up tourist attractions. If you don't know where to go, feel free to contact us or check our Morning Visit in this authentic farm (link here)?
4. TRAVEL BACK IN TIME
There are several interesting museums in Rovaniemi: Korundi as the local contemporary art museum, the Science Centre Pilke with its exhibitions about the northern forests and resource management, or the famous Arktikum Museum.
Located in the remarkable building designed by the world-famous architect Aalto, the Arktikum covers a wide range of topics about life in the Arctic.
WE RECOMMEND: If you want to travel back in time and feel how it was to live in Lapland in 1900s, the Rovaniemi Heritage Museum is for you! Located in the wooden outbuildings of an old farm (only open in summer months), the museum illustrates lifestyle of a Lappish family a hundred years ago. The many preserved artefacts and tools will offer you a memorable experience, in many ways.
5. PADDLE INTO PEACE 
Finland is nicknamed as the Land of a Thousand Lakes after its 188 000 lakes spread on its territory, a significant part of which are located in Lapland. Summer holidays in Rovaniemi are not complete if you don't experience at some point a bit of paddling on quiet waters.
Canoeing is indeed a great way to explore the pure and untouched landscapes in the far North. As you paddle to some elusive places, you will certainly feel the peacefulness of the surrounding nature and understand  why so many locals have decided to settle here, so far away from the rest of the world!
WE RECOMMEND: Enjoy a convenient combo experience with three activities in one! The Canoeing trip to Reindeer and Husky Farm is a must-experience tour when visiting Rovaniemi in summer! It includes a visit of an authentic reindeer farm, the visit of an ethical husky kennel and the return canoe trip that connect both places. The tour is also accessible to all levels, and perfect for families!
6. VISIT RANUA WILDLIFE PARK
Located one hour away from Rovaniemi, the Ranua Wildlife Park is the northernmost wildlife park in the world. It consists of approximately 50 wild animal species and 200 individuals. In the park, it is possible to see polar bears, brown bears, reindeer, wolves, gluttons, lynxes, predatory birds, otters, wild boars, etc. 
The park is Lapland's leading tourist attraction for families and groups with children. And in summer, most of the animals can be easily spotted as they cannot hide under the snow.
WE RECOMMEND: take your own picnic with you. There are plenty of fireplaces and picnic sites inside the park, as well as some ice-cream shops along the way.

7. GO FOR BERRY PICKING
Lapland is full of berries, all of which are superfoods with surprising health properties. In summer, the undergrowth of the forests around Rovaniemi are covered with carpets of blueberries, lingonberries, and the gold of Lapland: cloudberries!
The sweet taste of the fruits, which reindeer, bears, moose and other mammals of Lapland adore, are well worth an afternoon of picking on foot in the woods! But beware the mosquitoes, who rather like the sweet taste of your skin…
WE RECOMMEND: you don't know where to go to find berries? Go with a local guide! They will take you to great spots, and show you how to make juice out of the fruits! Yummy! 
8. TAKE A FATBIKE RIDE OUT OF TOWN
Explore the lively forests around Rovaniemi with a fatbike trip! Riding fatbikes are a great way to do some gentle exercise while heading off the beaten paths into deep forests.
Hop on your saddles and let yourself be carried by the wide tires of your bikes, from along the rivers to the top of the surrounding hills of Rovaniemi!
WE RECOMMEND: a guided fatbike trip under the midnight sun in July, is a great way to experience Lapland shining with beautiful warm colors! The tour is also available daytime from July to November.
9. WALK WITH YOUR OWN HUSKY 
Husky sledding is a popular winter activity in Lapland, but it is obviously impossible to do in summer. Most tour operators in Rovaniemi then offer to visit a husky kennel in summer as an alternative. You can meet the huskies (and their puppies!), take pictures, give many cuddles and learn from the mushers about how they train them for racing.
Unfortunately, the experience will mostly be reduced to spending time with the huskies within the fences of the kennel. Why not going for a walk with them instead?  
WE RECOMMEND a summer hike with your own husky! During this tour, you will freely walk in the forests with your own husky and the guide. This is a great experience to connect with the animal and the surrounding nature! And you support an ethical and responsible kennel near Rovaniemi!
10. RELAX IN FINNISH SAUNA
There is nothing more Finnish than a Finnish sauna! Sauna is part of the local culture in many aspects, and therefore a musy-do experience when coming to Lapland. Steamy, traditional, wooden-smoked, lakeside or luxury, Rovaniemi offers plenty of options when it comes to sauna.
WE RECOMMEND: enjoy an evening in a traditinal wooden sauna floating on the Ounasjoki river. Jump in the fresh water straight from the sauna pontoon! The sauna is located outside Rovaniemi (transportation included) with great nature view and privacy. 
That's it! We hope you enjoyed reading this blogpost.
If you have any question, feel free to contact us!
We will be super glad to help you plan your trip to Rovaniemi!
FULL LIST OF
OUR TOURS
WWW.NORDICODYSSEY.NET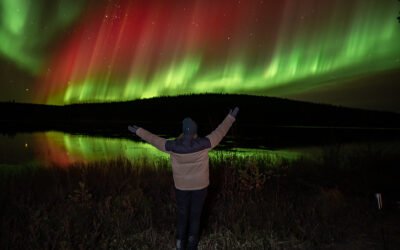 Mère Nature étant imprévisible, vous arriverez peut-être à Rovaniemi en automne avant les premières chutes de neige, alors que vous vous attendiez à vivre l'hiver blanc des cartes postales... Malheureusement, l'automne est toujours incertain quant à la quantité de...