15 things to do in Rovaniemi in summer (2023)
You probably know Rovaniemi for its white fairy-tale landscapes, its many snow activities, its Northern lights, or maybe just because of Santa Claus. But did you know that Rovaniemi is also a summer destination? Yep, you'll be probably surprised by how much fun the capital town of the Finnish Lapland has to offer! We have listed here for you our 15 recommended activities and things to do when visiting Rovaniemi in summer!
1. EXPERIENCE THE MIDNIGHT SUN
Rovaniemi is located on the Arctic Circle line, which has an important meaning in astrophysics. The Polar Circle marks the theoretical latitude from which the polar night in winter (at least 24 hours without the sun rising) and the polar day in summer (at least 24 hours without the sun setting) begin.
Rovaniemi is then a good place to admire a great summer phenomenon : the Midnight Sun. The Midnight Sun describes the sun that never sets (and therefore is still visible at midnight). It may also create some other atmospheric optical phenomena to observe such as sundogs, circumzenithal arcs and other halos.
Due to the reliefs and surrounding hills, you can experience the Midnight Sun colours from a longer period than just the summer solstice. The Midnight Sun period is considered to extend from around 20 May to 5 July in Rovaniemi. As you travel northward, this period gets longer.
Evening hours are a great time to get out and enjoy a hike, an e-fatbike tour or horse riding with stunning viewpoints. If you would rather spend a relaxing evening we have a wilderness sauna located outside of Rovaniemi where you can enjoy the midnight sun in all privacy (SUP paddles are also available). Learn more about different ways to enjoy the midnight sun from our blogpost devoted especially to this phenomenon.
WE RECOMMEND: the Midnight Sun usually offers beautiful redish-pinkish colours in the "evening" hours. Enjoy them from the best possible perspective – from the middle of a lake – with our midnight sun canoe experience.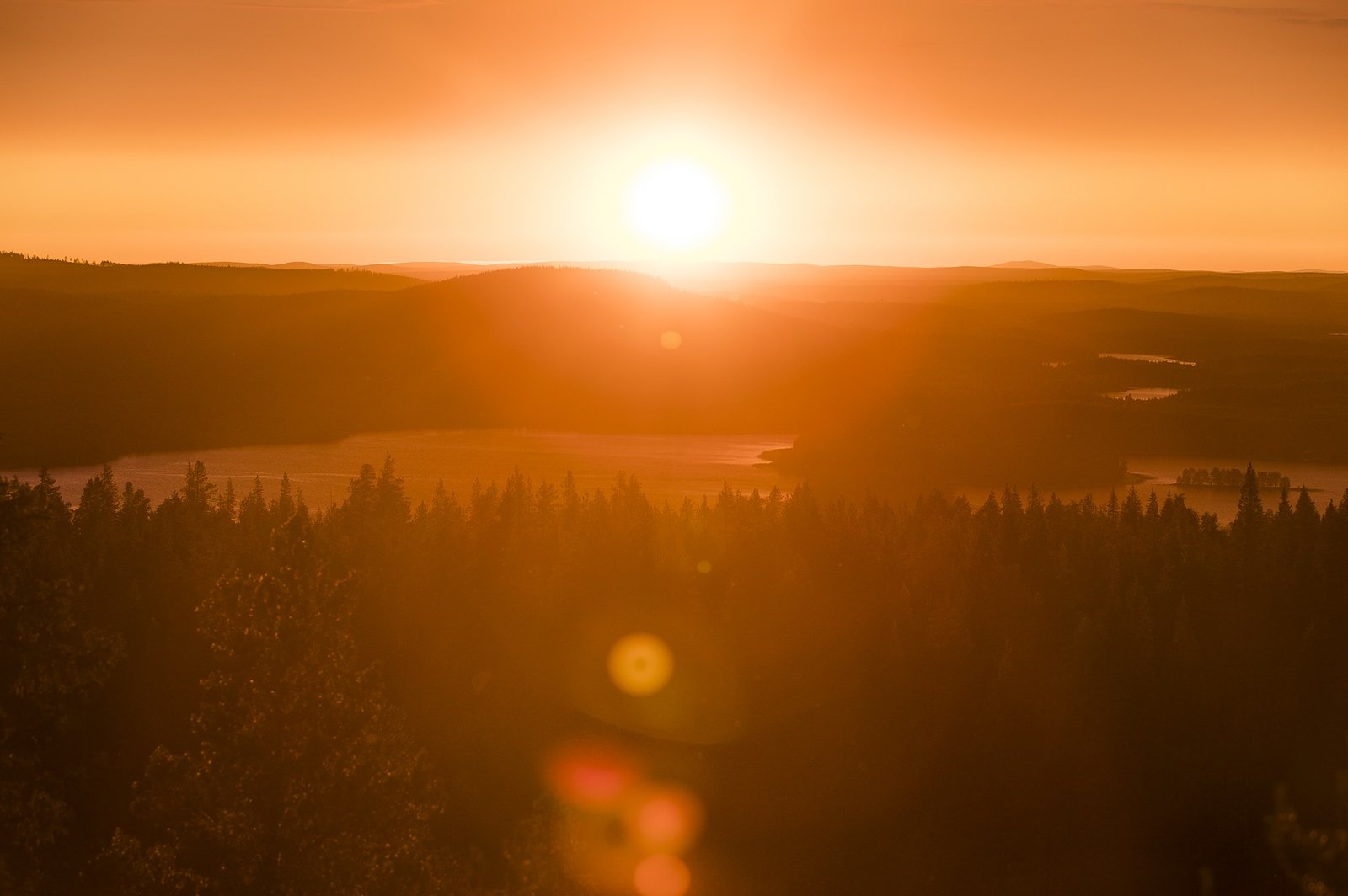 2. TAKE AN E-FATBIKE RIDE OUT OF TOWN
Explore the lively forests around Rovaniemi with an e-fatbike trip! Riding fatbikes or e-fatbikes is a great way to do some gentle exercise while heading off the beaten paths into deep forest.
Hop on your saddle and let yourself be carried by the wide tires of your bike, from along the rivers to the top of the surrounding hills of Rovaniemi! Different scenic routes are available depending on the levels and expectations of our guests. Rovaniemi has a few hills such as Ounasvaara or Santavaara that offer beautiful viewpoints. 
If you wish to discover Rovaniemi independently and at your own pace, there is also the possibility to rent fatbikes and electric fatbikes for 3 hours, all day or more!
WE RECOMMEND: a guided e-fatbike trip under the midnight sun in June is a great way to experience Lapland shining with beautiful warm colors! The tour is also available daytime from May to November.
3. PADDLE INTO PEACE
Finland is nicknamed as the Land of a Thousand Lakes after its 188 000 lakes spread on its territory, a significant part of which are located in Lapland. Summer holidays in Rovaniemi are not complete if you don't experience at some point a bit of paddling on quiet waters.
Canoeing is a great way to explore the pure and untouched landscapes in the far North. As you paddle to some elusive places, you will certainly feel the peacefulness of the surrounding nature and understand  why so many locals have decided to settle here, so far away from the rest of the world! Interested? We have different options that could fit all levels! Half a day canoe adventure is a good start to explore Finnish lakes. Afraid to be too short? Then our full day canoe adventure will give you plenty of time to paddle through the islands. For the more adventurous ones, we offer an overnight canoe trip that will give a unique opportunity to disconnect completely and immerse in the peaceful nature. 
If you are up to try something new, feel free to rent a stand-up paddle board to challenge yourself in the most beautiful scenery possible! 
WE RECOMMEND: Why not combining paddling and midnight sun? Our evening canoe trip is accessible to everyone! And for the ones who wish to explore finnish lakes in a less sporty way, you can spend a day boating and fishing in the pristine waters around Rovaniemi!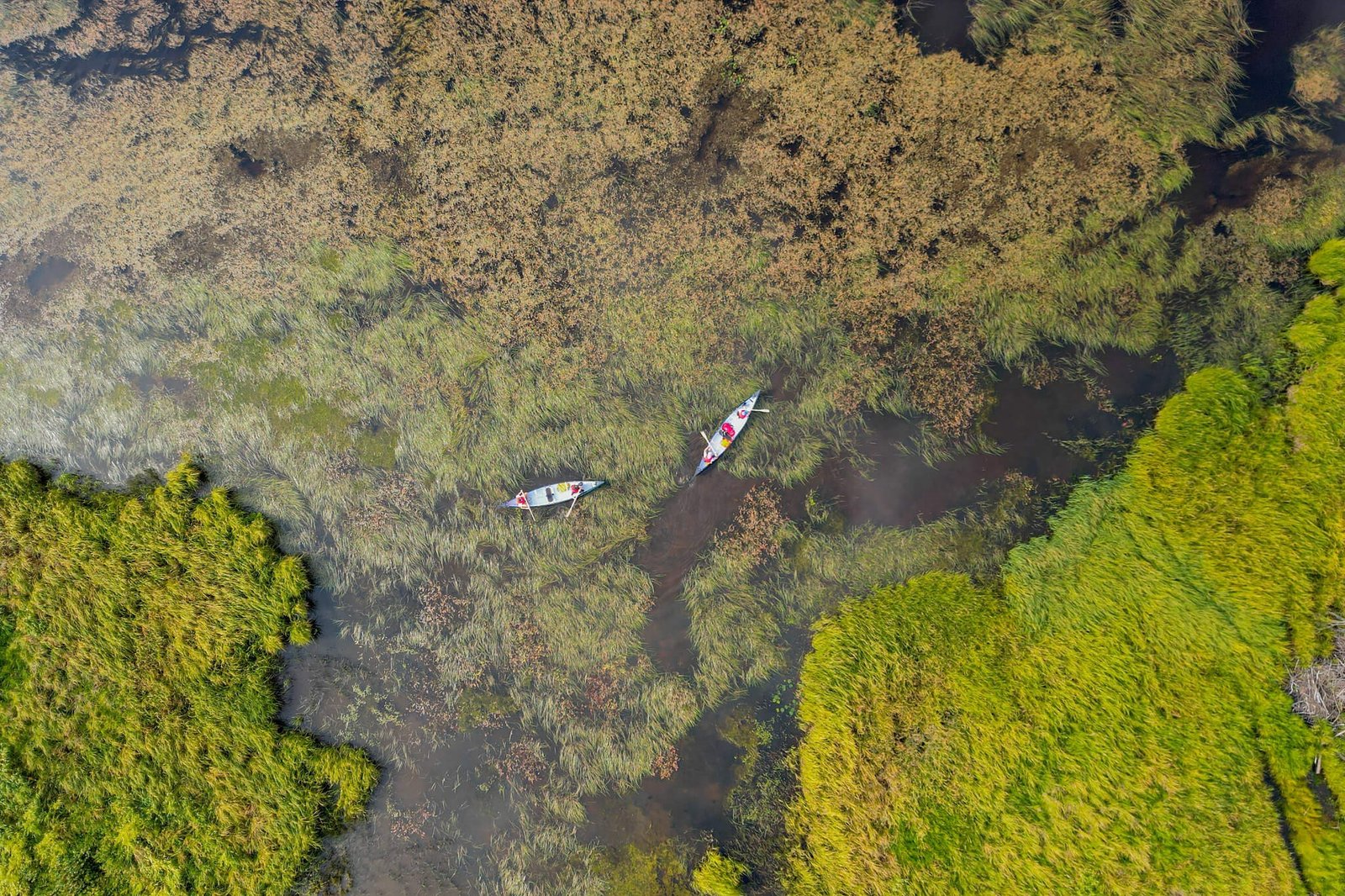 4. LEARN ABOUT THE LOCAL CULTURES
As the capital of Lapland, Rovaniemi is also the perfect place to get to know more about the local cultures through museums as well as cultural guided tours. There are several interesting museums in Rovaniemi: Korundi as the local contemporary art museum, the Science Centre Pilke with its exhibitions about the northern forests and resource management, or the famous Arktikum Museum. Located in the remarkable building designed by the world-famous architect Alvar Aalto, the Arktikum museum gathers culture, nature, science and traces the history of the north. In summer, from the beginning of June to late September, Rovaniemi Heritage Museum opens its doors where you can find some treasures of the past! 
We also like to spend our summer outside like locals do! That's why we love to combine fresh air and culture. If you learn better by doing or prefer to discover the meanders of Finnish culture in the open air, hop on an e-fatbike and follow your passionate guide through Rovaniemi's best cultural spots. You will get the possibility to have a nice overview and knowledge of the landmarks in the capital of Lapland while admiring the beautiful landscapes. 
And in the evenings when the city gets calmer and nature prepares for the night, we invite you for a unique journey through Finnish folk myths and beliefs. In a traditional tipi and around an open fire you will discover Finland from a completely different perspective, hearing stories so much different than anywhere else!
WE RECOMMEND: End your cultural day with a cosy evening in a tipi around an open fire listening to Finnish legends and myths in a mystical atmosphere.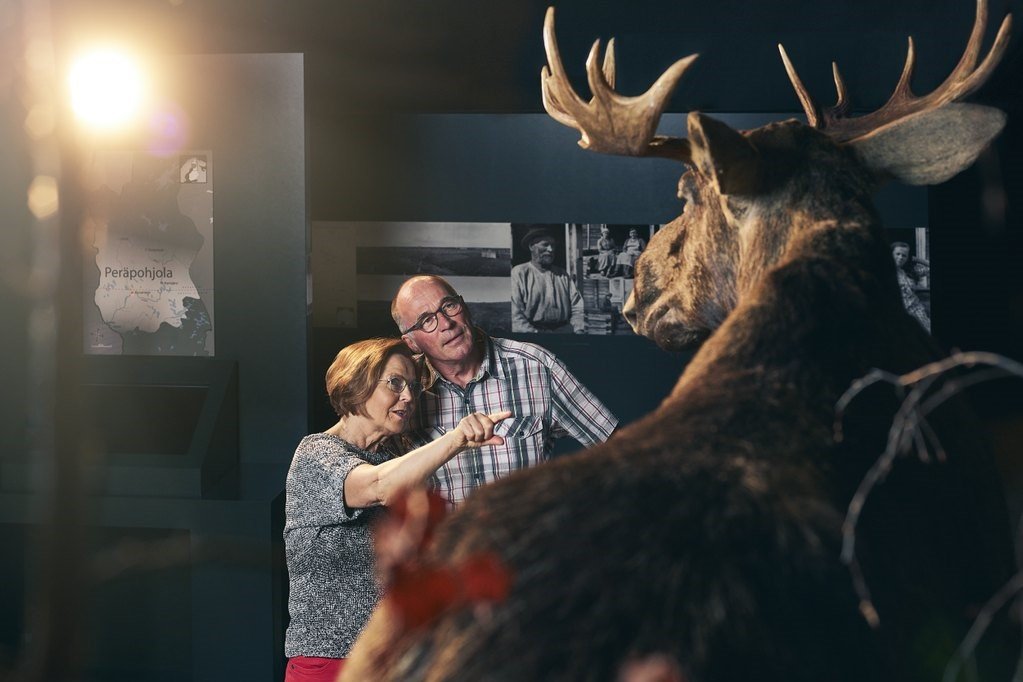 5. PET THE HUSKIES
Husky sledding is a popular winter activity in Lapland, but it is impossible to do in summer – it is simply too warm for the dogs to exercise. Most tour operators in Rovaniemi then offer to visit a husky kennel in summer as an alternative. You can meet the huskies (and their puppies!), take pictures, give many cuddles and learn from the mushers about how they train them for pulling the sleds. Certain ethical kennels also offer to spend an intimate moment with the animal during a nice one-hour husky walk in the forests! 
In autumn, you will have the chance to participate in the training of the dogs for the winter season. Drive your own husky cart and ride around the forests!
WE RECOMMEND: A combo of authentic reindeer farm and ethical kennel visits with homemade lunch. This is a great experience to connect and learn about the animals while supporting an ethical and responsible kennel and a long-established reindeer farm near Rovaniemi!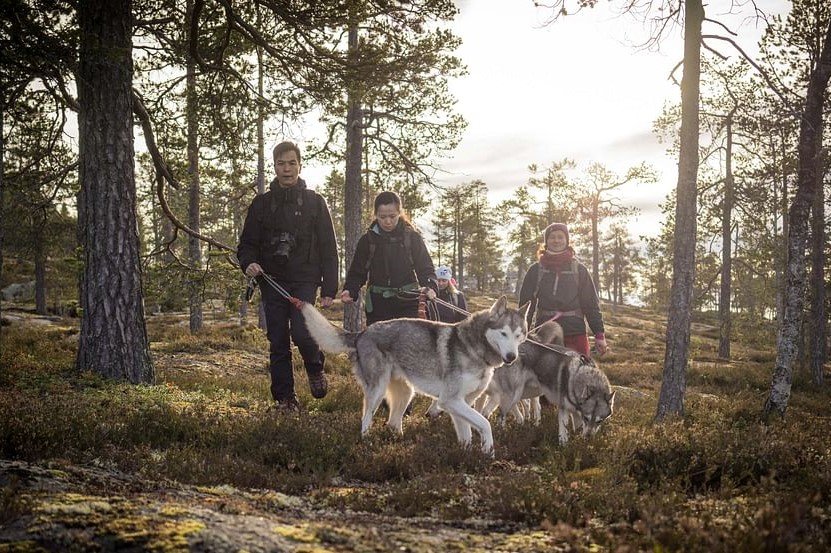 6. EXPERIENCE A BEAR-WATCHING OVERNIGHT
Bear watching is a once-in-a-lifetime experience. Also known as bear viewing, it is a popular outdoor activity where individuals may observe bears in their natural habitats. This activity typically involves taking guided tours with specialised rangers to locations where bears are known to live or frequent. Bear watching can be experienced from May to October (ie. outside the hibernation season), however the best time to observe bears is usually during their mating season (late spring) or during salmon runs (late summer). A great time in the far north also happens during the midnight sun season, as you have the opportunity to observe mother bears and cubs bathing all night long.
Hidden in a cabin in the middle of a national park, it is an opportunity to be fully immersed in Finnish nature. It is important to note that bear watching should always be done with the guidance of experienced professionals, as bears are wild animals and can be dangerous if not approached with caution. Additionally, it is important to respect the bears' natural habitats and not disrupt their daily activities.
WE RECOMMEND: Enjoy a two day road trip to discover the arctic wildlife! The guided journey combines bear watching with the visit of an authentic reindeer farm, a polar dog kennel and Ranua wildlife park !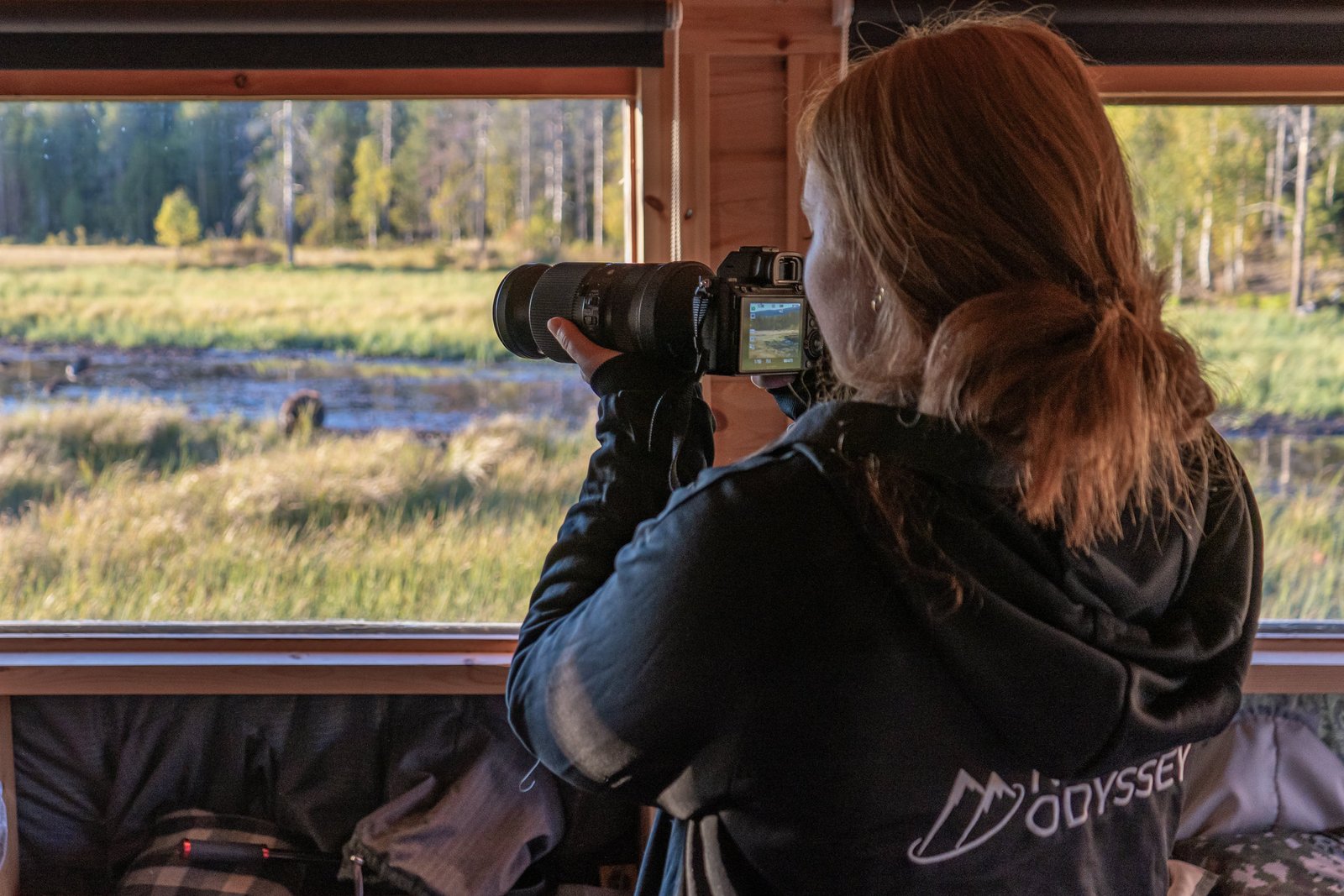 7. RELAX IN FINNISH SAUNA
There is nothing more Finnish than a Finnish sauna! Sauna is part of the local culture in many aspects, and therefore a must-do experience when coming to Lapland. Saunas are deeply ingrained in Finnish culture, and no trip to Lapland is complete without experiencing one. The traditional Finnish sauna involves going into a hot, dry room and sweating intensely for a short period of time, before cooling down in cold water. This practice became a hobby for many locals and is to be known as very good for the skin and the immune system. Enjoy an evening in a traditional wilderness sauna located outside Rovaniemi (transportation included) giving you full privacy. Dig in the freshwater straight from the sauna pontoon and listen to the peaceful sound of nature. You can extend your activity and enjoy SUP paddling under the midnight sun.
WE RECOMMEND: You can extend your sauna activity and enjoy SUP paddling on the peaceful lake between two sauna sessions. Complete the sauna experience with an authentic reindeer farm visit and enjoy two unique activities of Lapland.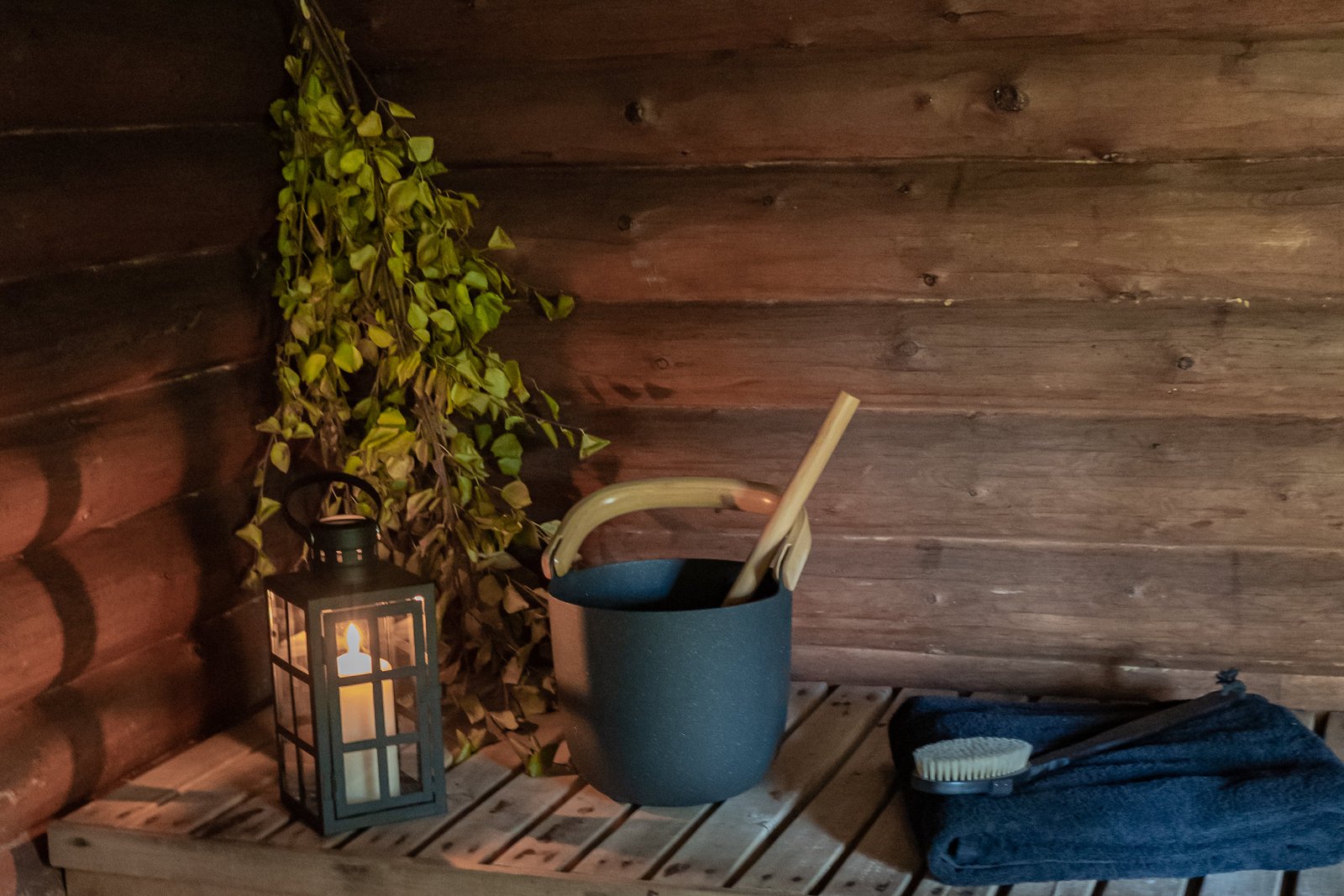 8. TRAVEL THROUGH FINNISH FORESTS
Besides being the land of thousands of lakes, Finland is also the most forested country in Europe. Lappish wilderness evokes untouched land and peacefulness. Hiking in Lappish forests is a wonderful experience that offers a unique and peaceful way to explore the natural beauty of Lapland. Finland has a vast network of well-marked hiking trails that traverse through the countryside, forests, and national parks, giving hikers easy access to the wilderness. Whether you are up for an active afternoon in the outdoors, or have a longer expedition in mind, hiking trails are accessible and camping equipment rental is easy to rent. Learn more about hiking possibilities in the Arctic Circle Hiking Area.
The Finnish forest is characterised by the presence of tall trees, unique wildlife like reindeer, elk and bears, and pristine lakes and rivers. Hiking in Lapland is especially pleasant during the summer and fall, when the weather is mild, and the landscape transforms into a burst of colours. For locals, forests are the perfect scenery to breathe the fresh air, recharge batteries and pick up berries. In summer, the undergrowth of the forests around Rovaniemi are covered with carpets of blueberries, lingonberries, and the gold of Lapland: cloudberries!
Overall, hiking in forests is an unforgettable experience that allows one to connect with nature, discover hidden treasures of the forest, and enjoy tranquil surroundings. So if you wish for a longer trek in the nature but could not fly in with all the equipment, we have your back! Thanks to our DIY hiking packages you can choose different options and prepare your hiking adventures. 
WE RECOMMEND: Adventure yourself in Lappish forest with our arctic guides and learn all about survival tips. Master how to make a fire, recognize edible berries and live like a local for a moment during our arctic wilderness hike.
9. HIKE A TUNTURI
Tunturi is a Finnish word that refers to a type of fell, which is a term used for a mountain-like formation found in Finnish Lapland. Tunturis are characterised by rounded tops, sparse vegetation, and rocky terrain, and they offer beautiful panoramic views of the surrounding landscape. Take your time to explore and appreciate the beauty of your surroundings.
To prepare for the hike, check the weather and plan accordingly. Tunturis can be difficult to hike in bad weather, so make sure you choose a day when conditions are favourable. Wear appropriate clothing and gear : tunturi hikes require sturdy hiking boots, warm layers, and rain protection gear. It's also a good idea to bring a map, compass, and plenty of water and snacks. Don't worry if you haven't thought about bringing some of the gear. You can rent all your hiking & camping equipment easily from our equipment room! 
When hiking, remember to follow the marked trails. Tunturis are usually protected areas, and it's important to stay on the designated hiking trails to avoid damaging the fragile ecosystem. Respect the wildlife too : remember that those beautiful landscapes are home to a variety of wildlife, including reindeer and birds of prey. Be respectful of their habitat and observe them from a distance. 
The closest tunturi from Rovaniemi is Pyhä-Luosto, located 1h30  drive away. The national park offers you a great oppotunity for an independent trek accessible to most hikers, including beginners. 
WE RECOMMEND: If you are looking for combining the outdoors with a cultural experience, we recommend joining a hike to the Amethyst mine in Luosto departing from Rovaniemi!
10. EXPLORE LAPLAND FROM A HORSEBACK
If you are an animal lover, don't miss the opportunity to explore Lappish nature from a horse back! Adapted for both beginners and experienced riders, the horse riding tour from Rovaniemi will make you discover the region from a new perspective and with a lot of flexibility – you can ride your horse independently, with a walker holding the lead, or, if you don't want to ride yourself, in the sled pulled by horses. 
The stable where the horses live is a family-sized ethical stable with passionate workers. Horses are treated with care and respect, and never ride too much for their health. With calm temperament, the Irish Cob horses are hardy and well adapted to Finnish cold temperatures.
WE RECOMMEND: Let yourself get carried through beautiful forest paths on a relaxing afternoon or evening on a horse back!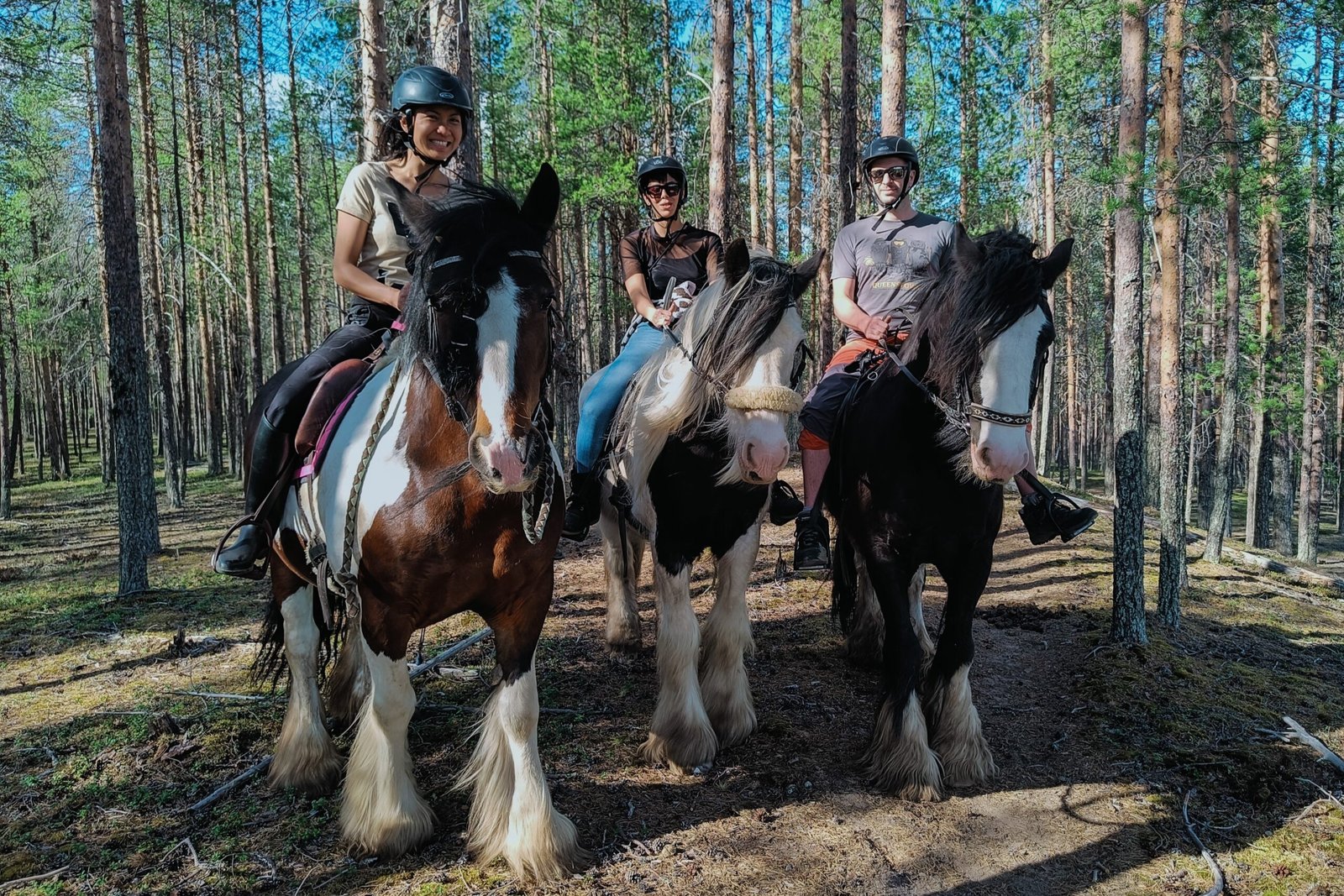 11. MEET SANTA CLAUS AND CROSS THE ARCTIC CIRCLE
Rovaniemi is known worldwide as the official hometown of Santa Claus. His most-famous resident receives visitors all year round, including… summer!
You will undoubtedly be unsettled by the Christmas carols over the loudspeakers, and the eternal Christmas spirit skillfully nurtured throughout the year by shops and hotels. But even without snow, the village of Santa Claus is worth a visit.
Besides meeting Santa Claus, you can cross the Arctic Circle, send letters with a special Arctic Circle postmark from the Post Office of Santa Claus (and receive them for Christmas!), find many restaurants and souvenir shops. Public transportation is very accessible to reach Santa Claus Village, however, there are nice walking and cycling paths connecting it with Rovaniemi's city centre that are worth trying!
WE RECOMMEND: Instead of using public transportation, rent an e-fatbike and enjoy the scenic views to Santa claus Village. If you wish to discover, in addition to Santa Claus Village, a few famous attractions in the town as well as less-famous hidden treasures related to cultural, architectural and historical aspects of the city-centre, you can book our cultural guided tour with e-fatbike!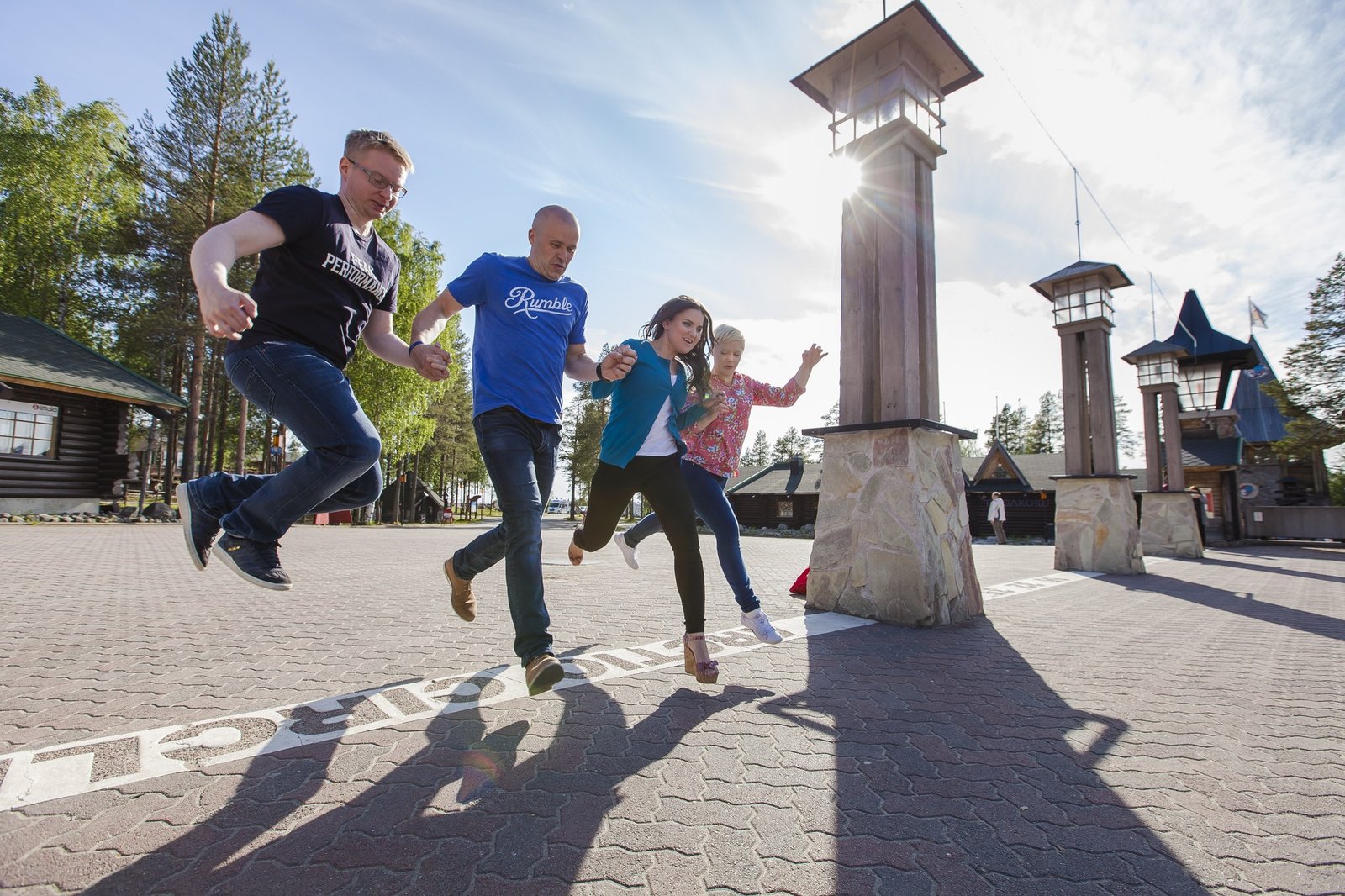 12. VISIT AN AUTHENTIC REINDEER FARM
Did you know that there are more reindeer than people spread across Lapland? Reindeer are indeed the most iconic animal of the region. In summer, you find them everywhere on the sides of the roads or in the forests near Rovaniemi.
Visiting an authentic reindeer farm is a worthwhile experience during your summer holidays in Lapland. Local reindeer herders will gladly share with you their inherited reindeer husbandry lifestyles while you feed the reindeers directly from your hands. Summer is also the time when the cubs are growing, and so are the strong antlers of the males! 
There are a few reindeer farms around Rovaniemi that you may reach by car or, even better, by bike! But before you go, make sure to check that you choose an authentic long-established farm and not some unfortunate tourist-traps… In case of any doubt, you may always ask us before! 
WE RECOMMEND: To strengthen the accent on local lifestyle and connect more with the Finnish culture we recommend a reindeer farm visit combined with a traditional sauna experience. And if the reindeers sparkle your interest in Arctic fauna, we recommend a Reindeer farm visit with the visit of Ranua wildlife park.
13. FISH LIKE A LOCAL
Fishing in Lapland is a must-do activity for anyone visiting the region. With over 188 000 lakes and 79,000 km of rivers and streams, Lapland offers some of the best fishing opportunities in the world. The main fish species found in Lapland waters are trout, grayling, whitefish, pike, perch, and Arctic char.
To go fishing in Lapland, you need a fishing licence. These can be purchased online or at local tourist offices. Licences are usually valid for certain dates and areas, so make sure to check before buying one. 
Fishing in Lapland can also be combined with other outdoor activities such as hiking or canoeing. It's a unique way to experience the beauty of Lapland's wilderness and catch your own meal.
WE RECOMMEND: If you prefer a guided tour, we recommend trying fishing from a boat, which unifies admiring beautiful landscapes and trying out one of the locals' favourite leisure activities! The guide will then provide you with fishing gear and help you catch your meal!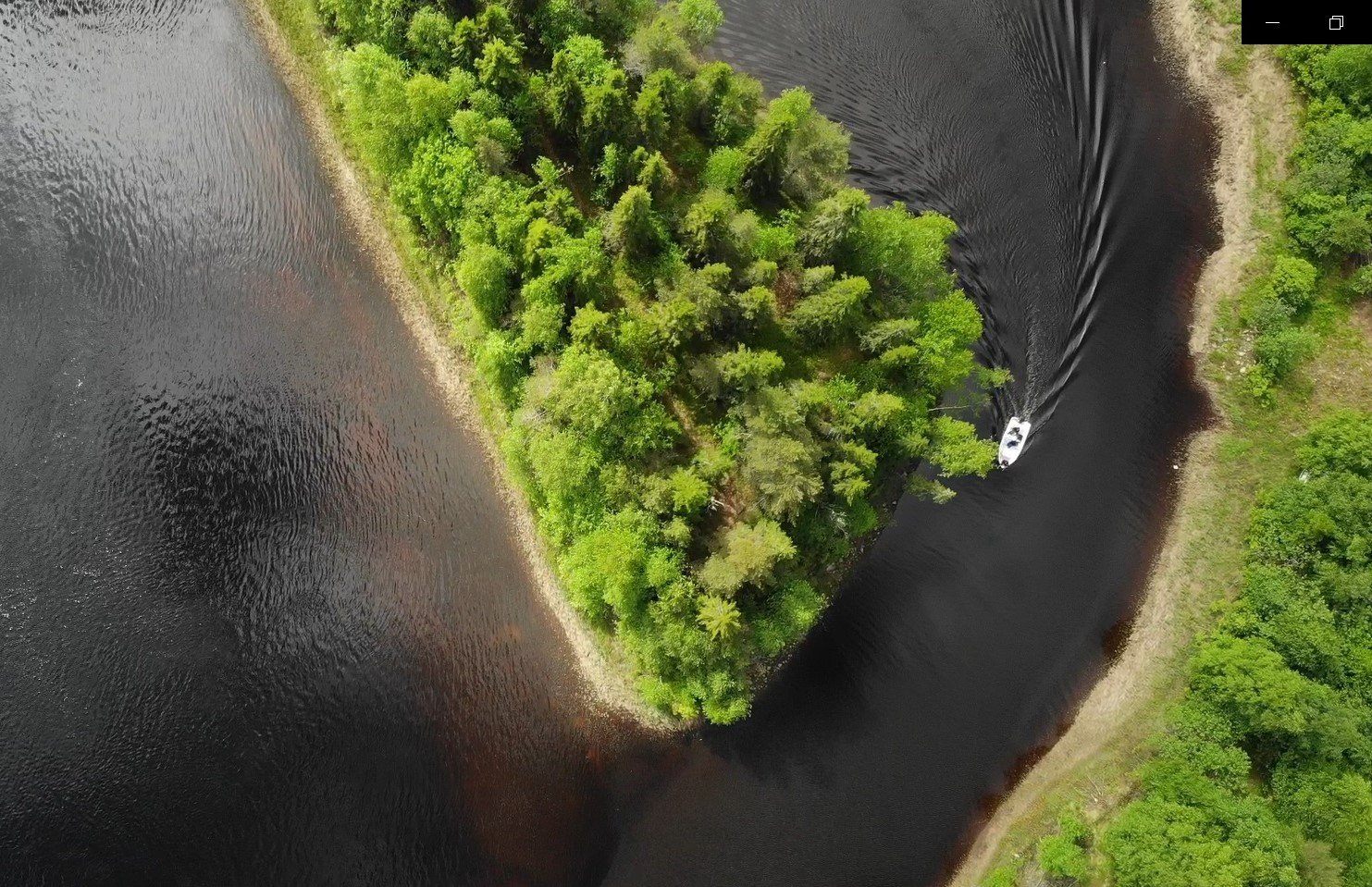 14. VISIT RANUA WILDLIFE PARK
Located one hour away from Rovaniemi, the Ranua Wildlife Park is the northernmost wildlife park in the world. It consists of approximately 50 wild animal species and 200 individuals. In the park, it is possible to see polar bears, brown bears, reindeer, wolves, wolverines, lynxes, predatory birds, otters and wild boars, among many others. Most of them are almost impossible to spot in their natural habitat, so it's your chance to meet the arctic animals!
The park is Lapland's leading tourist attraction for families and groups with children. And in summer, most of the animals can be easily spotted as they cannot hide under the snow. Guided by our arctic guide, they will share all their knowledge on arctic wildlife. It is also a great opportunity for children to ask all their questions! 
WE RECOMMEND: Spend the day discovering arctic animals and combine Ranua wildlife park visit with a morning visit to an authentic reindeer farm. If you wish to go even deeper, join our ultimate arctic animal trip and add bear watching to the list.
15. ROAD TRIP IN LAPLAND
Still not sure what to choose? The good news is that you don't have to! With many facilities and a strategic geographical location, Rovaniemi will serve as a great base camp if you would like to adventure further north into Lapland. You may enjoy all the activities mentioned and have a chance to discover the unique nature in different parts of the region with a personal guide! This multi-day journey brings together the summer highlights of Lapland, in an itinerant circuit.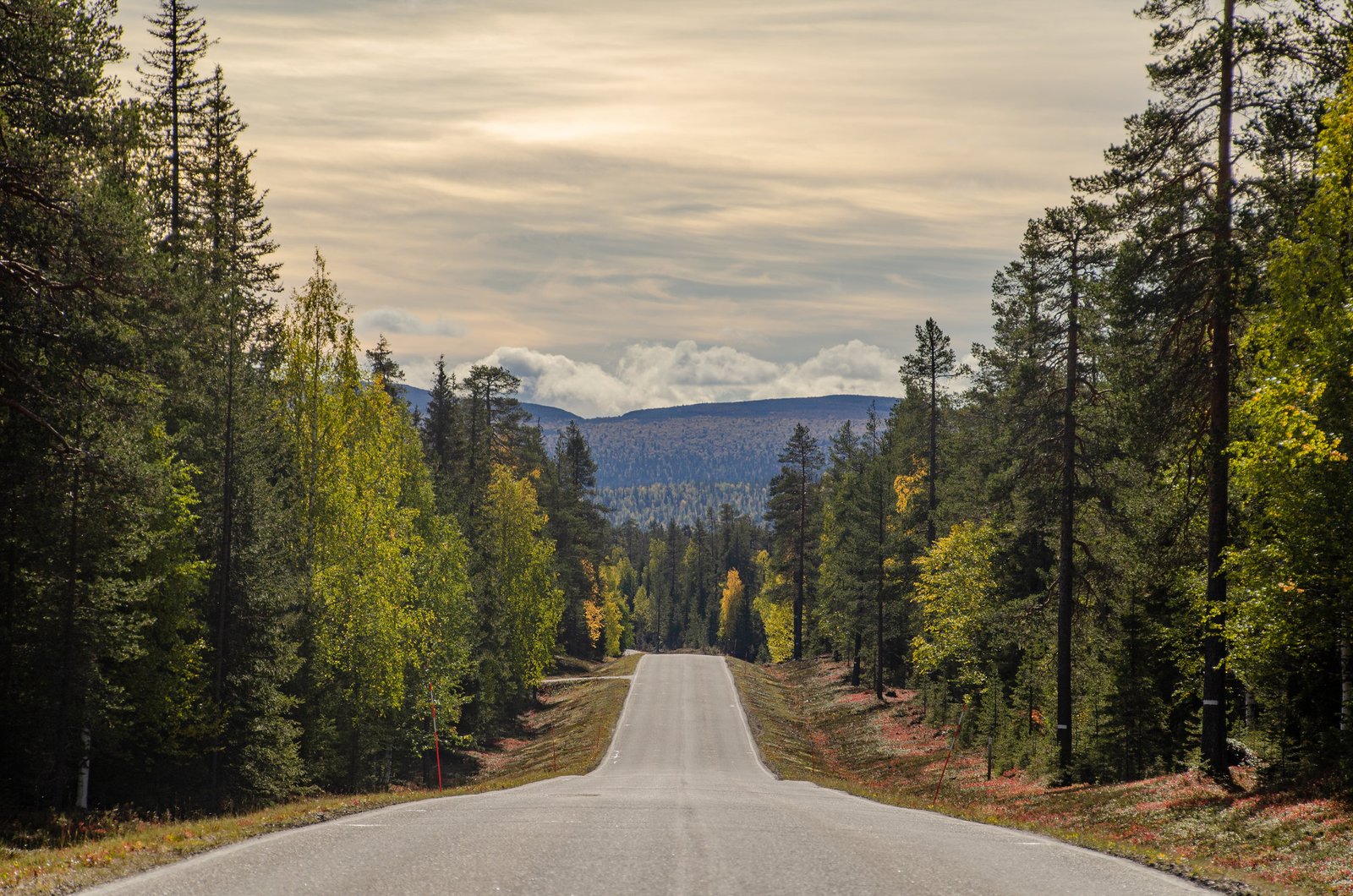 That's it! We hope you enjoyed reading this blogpost.
If you have any question, feel free to contact us!
We will be very glad to help you plan your trip to Rovaniemi!
FULL LIST OF
OUR TOURS
WWW.NORDICODYSSEY.NET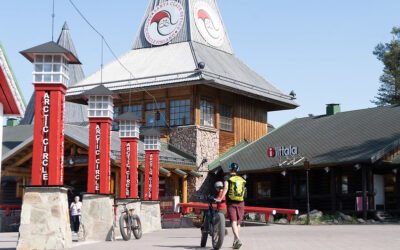 SUMMARY 1.See the city of Rovaniemi and Santa Claus Village 2. Try a beginner-friendly trail in Ounasvaara 3. Go for a rewarding adventure in Santavaara 4. Travel down the river from Rantavitikka 5. See northern lights on a biking ride to an observation towerBIKING IN...