Bear & Arctic Animals Trip From Rovaniemi
This is the ultimate trip for all the animal-lovers! Experience Lapland and its wildlife with your guide. This 2-day tour includes an authentic reindeer farm visit, a wildlife park tour, a Polar dogsled ride and a bear-watching overnight in a wilderness cabin!
Route Info
Type: Animal Trip
Departure/Arrival: Rovaniemi
Duration : 2 days, 1 night

Transportation by Minivan

Distance : 470km
ITINERARY
Rovaniemi – Kuusamo – Ranua – Rovaniemi
Nights
One night in a bear-watching cabin
TIME
Departure : 9:00
Back around 14:00 the following day
BEST SEASON
Available: August – September
BEST PRICING IN LAPLAND!
ADULT
1-2 adults : 610€/pers.
3-4 adults : 590€/pers.
5+ adults : 570€/pers.
CHILD (4 – 12 years)
420€/child
Program can be tailored on request!
This is our standard itinerary for this journey. If you would like to adapt the duration, the type of accommodation or the activities included in this package, please contact us. Meals are included when mentioned : (B) breakfast, (L) lunch, (D) Dinner, (S) Snack.
 DAY 1: REINDEER, WILDLIFE PARK & BROWN BEARS! (L, S)
Visit of a Traditional Reindeer Farm
Meet the most iconic animal of Lapland! Accompanied by your guide, you will visit one of the most traditional reindeer farms in Southern Finnish Lapland, located on the shores of a peaceful bucolic lake. As you enter the place, the herders will greet you and show you around their farm. You will have a chance to get closer to the animals and feed them yourself with lichen or hay. This is perfect time to take some pictures with those lovely animals!
During summertime, the antlers of the reindeer are growing to reach their maturity in September. The males will look very strong and beautiful with their ornamented heads!
The visit will warmly end around the fire, with some cookies and hot drinks.The herders will provide you with very informative explanation of reindeer husbandry in the Arctic and will answer any of your questions.
Ranua Wildlife Park (with restaurant lunch)
Let's go for the next adventure of your animal trip: the visit of Ranua Wildlife Park. Before entering the park, a lunch buffet will be provided at the restaurant of Ranua to fill your stomach.
Ranua is the world-northernmost wildlife park and a very popular destination in Lapland. The visit is a great opportunity to meet and learn about all the arctic animals, including polar bears, arctic foxes, eagles and owls, moose, musks, otters, wolves, etc. As you wander throughout the park, your guide will share with you their knowledge of each of them that you spot. At the end of the visit, you should have a sharp knowledge of local animals that reside in the "Far North"!
Bear-Watching Overnight in a Wilderness Cabin
This is the climax of your animal trip! As you arrive to the limits of Finland, you will already feel the call of the wild! Your guide will lead you to a bear-watching hut in the middle of the wilderness. 
You will probably already spot some marks and footprints left by the bears on the ground, as you walk to the remote cabin. Inside the hut, there are many large windows and special places to install our cameras, so that you do not miss anything of the show!
Bear watching is a once-in-a-lifetime experience. Quiet, calm, a professional bear-watcher will explain you more about the lives of the bears, while you will be waiting for the massive animals to approach the cabin. Soon, the bears should come, as dusk colours start covering the Autumn sky. They would be looking for food in the surrounding bogs, offering their large furry figures to your eyes and cameras.
Wildlife is always unpredictable, and you may have to wait for a few hours before some bears appear. Cold snacks and drinks will be provided for the evening. Unfortunately, it is impossible to cook in the hut, as the smell and noise may affect the behaviour of the bears walking all around you!
Comfortable bunk beds are installed in the cabin, so you can use them whenever you need a rest. Warm sleeping bags and dried toilets will offer you a bit of comfort during this adventurous night!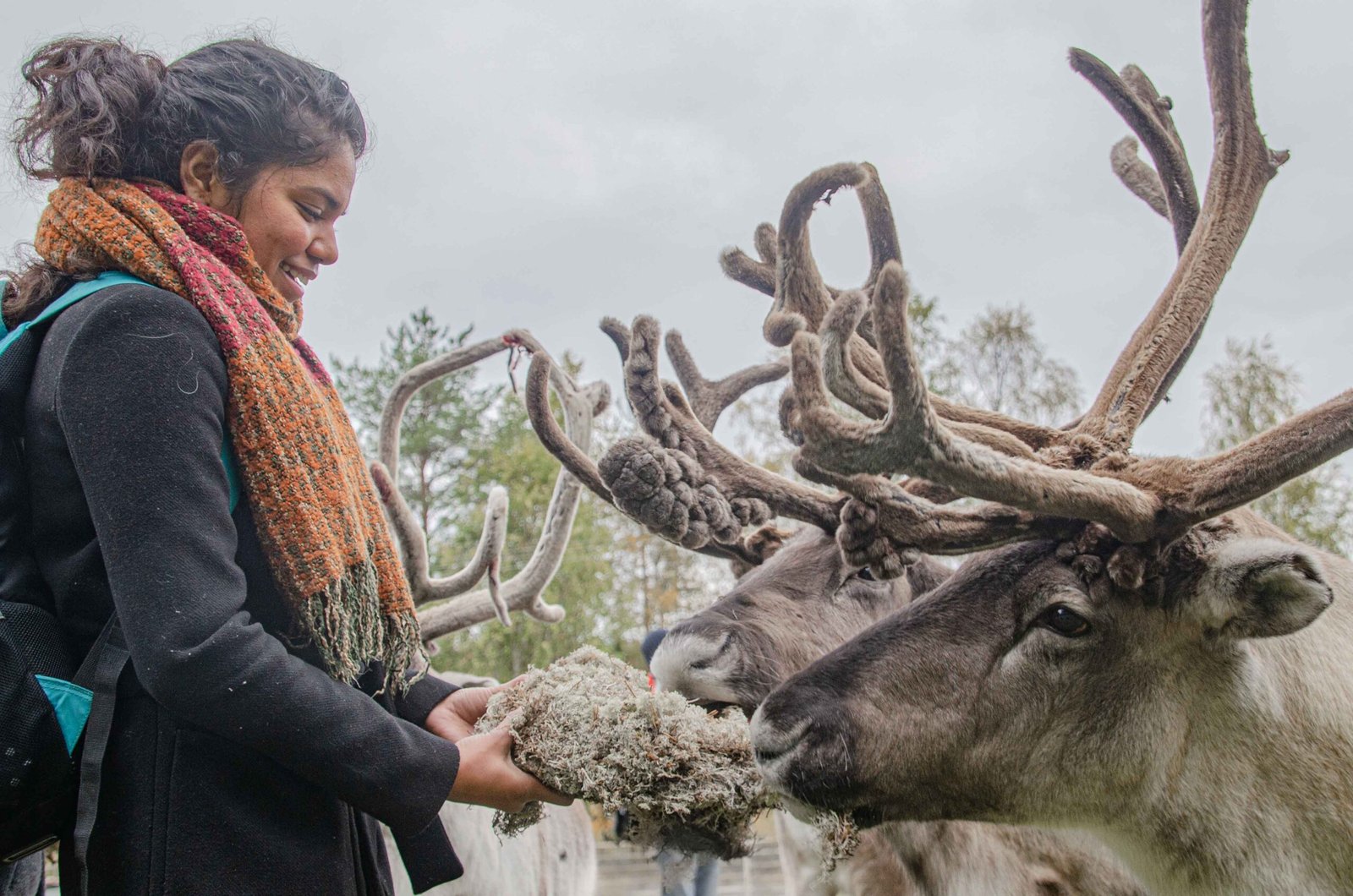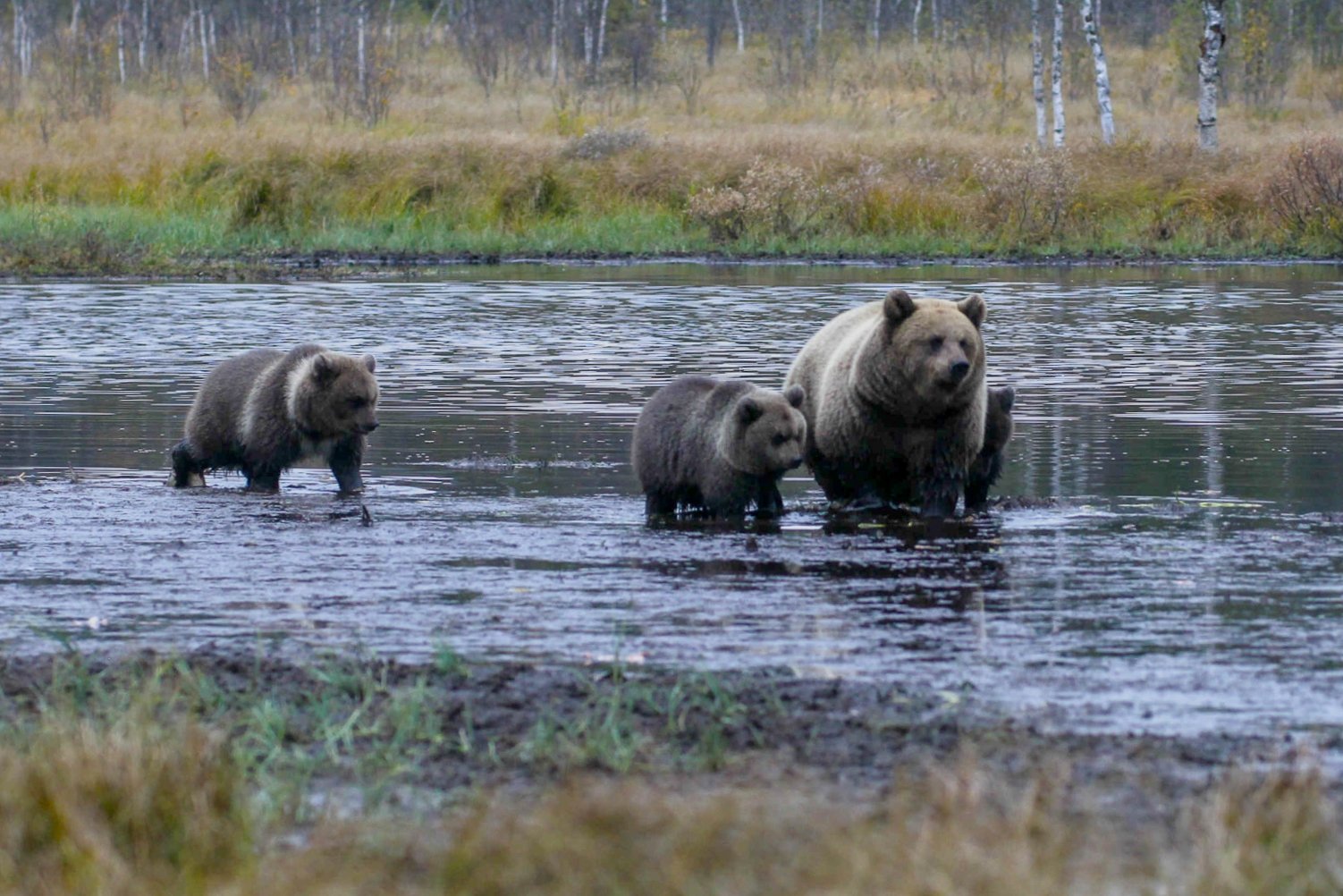 DAY 2: RUN WITH THE POLAR DOGS (B, S)
Polar Dog Sledding
In the morning, after a light expedition breakfast, you will leave the wilderness cabin and continue your journey back to Rovaniemi. On the way, you will stop at an ethical family-sized kennel that hosts around 45 fluffy Polar dogs. The lovely dogs will be excited as soon as they see you!
Sledding dogs are indeed more than happy to run, they even need it! As soon as summer is over and the temperatures get cold enough, the mushers need to train their dog teams. In Autumn, even if the snow has not arrived yet in Lapland, a wheelcart allows the dog to run again as a team!
The mushers will show you how they choose and prepare their dogs, and will invite you to seat in the cart with them. You will then enjoy a ride of 30min-1h ride, following some trails and crossing large green meadows. In September, it is sometimes even possible to spot reindeers in these never-ending landscapes!
After the tour, you will spend time at the kennel with the dogs who definitely deserve all your cuddles! The mushers will also share you about their passion and the lifestyle of their beloved animals by answering all your questions. You will also enjoy a lunch snack in a teepee to fill your stomach before hitting the road again.
You should be back to Rovaniemi in early afternoon.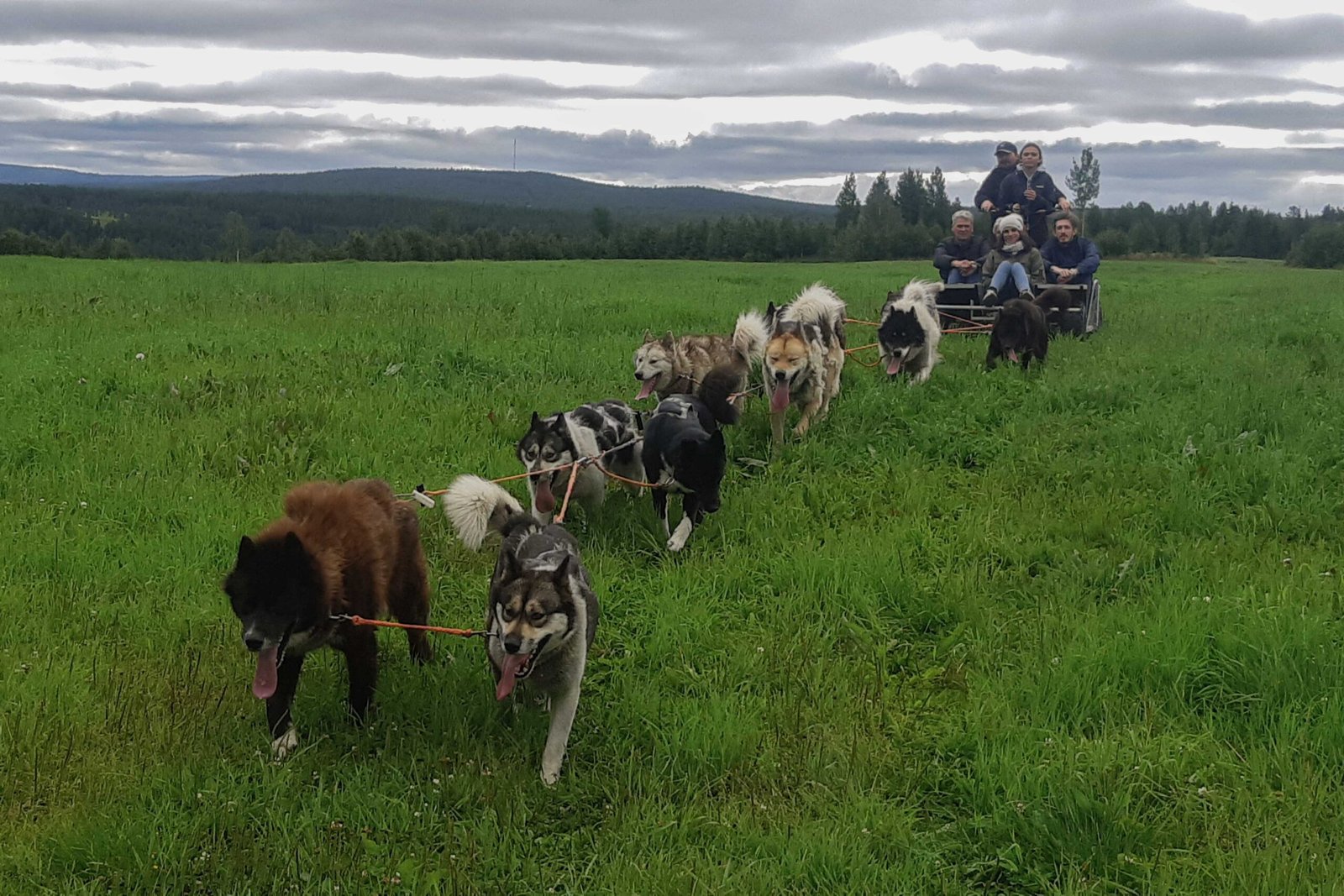 INCLUDED
Activity
Visit of a traditional reindeer farm (80€/adult)
Visit of Ranua Wildlife Park (120€/adult)
Bear-watching experience in a wilderness cabin (300€/adult)
Visit of an ethical Polar dog kennel with 30-60 min ride (140€/adult)
Accommodation 
1 night in the wilderness cabin 
Sleeping bags and equipment
Others Services
Personal guide
Hotel pick-up/drop-off (or airport transfer)
Meals as mentioned (B=breakfast, L=lunch, S=snack, D=dinner)
Transportation
All taxes & handling fee
NOT INCLUDED
Flight tickets
Gratuities
PLEASE NOTE
We recommend to book in advance, as availability is limited to small groups in Autumn seasons. The trip departs from Rovaniemi in the morning (around 9:00 AM) and returns to Rovaniemi the next day (around 2:00 PM).
A minimum of 2 adult participants is required for the trip to operate. The maximum capacity is 6 people for comfort reasons. For larger groups, please contact us and we can discuss a specific package.
Child rate applies up to 12 years old. Please note that the bear-watching experience, and all animal activities in general, require that participants remain as quiet as possible not to disturb local wildlife. We do not recommend to bring young children on this tour.
Animals in the Wildlife Park may be hiding, and not all of them are always visible. Likewise, the bear-watching hut is located in a special place with a large population of wild brown bears ; the observation of brown bears, and the number of them is not guaranteed. Usually there are around 90+% chances of observing the bears.
Please dress appropriately depending on the weather conditions.
CANCELLATION POLICY
We will charge a cancellation fee of 20% if booking is cancelled 31 days or more before departure;
We will charge a cancellation fee of 100% if booking is cancelled 30 days or less before departure.
HOW TO BOOK
Please send us a booking request. Our team will check availability for your dates and will send you a quote with payment instructions.
PAYMENT
Payment by bank transfer and credit card are accepted. Full payment is required to confirm the booking.

Explore a national park of Lapland with this great ski trek! Your outdoor guide will lead you on a 4-day expedition into the wild for a memorable Arctic adventure!
BOOK NOW

Here is our Autumn Holiday Activity Package! Lapland has a lot to offer in September so come and enjoy these once-in-a-lifetime experiences.
BOOK NOW

Enjoy a great Winter holiday package in Rovaniemi! It includes a program of winter activities and a large choice of hotels for all budgets.
BOOK NOW