Full Day Canoe Adventure in Lapland (ROVANIEMI)
Canoe down a peaceful river to explore the pure nature of Lapland. This all-day guided trip will allow you to get away from Rovaniemi city, and enjoy a memorable Arctic adventure.
Quick Info
Location: Rovaniemi
Duration : 7h
Start Times: 9:00
Price: from 100€/pers!!
Top Summer Experience!
Included
Canoe & safety equipment, qualified guide, fire & picnic, transfers, stories.
BEST PRICES IN TOWN!
ADULT
1-2 adult(s): 145€/adult

(

180€)
3-4 adult(s): 120€/adult
(
150€)
5-6 adult(s): 100€/adult
(125
€)
CHILD (4 – 14)
80€/child
(
100€)
All prices include VAT
A GREAT SUMMER ADVENTURE !
During this all-day guided trip on your own canoe, you will explore the never-ending landscapes of Lapland and their peaceful waters. Your certified guide will teach you how to use canoe, safety aspects and will lead you on the water. They will always be there to assist you if you need, and offer you as much of their stories and passion as they can!
The guide will take you to a starting point, away from Rovaniemi. After the first explanations and safety instructions, you will find yourself paddling down a beautiful river. Take your time to enjoy your surroundings and have a few breaks whenever you want to take pictures. Canoeing is indeed the perfect way to experience Lapland peacefulness : it allows you to connect with the beautiful arctic nature from a different perspective while enjoying some moderate exercise.
Halfway you will make a lunch break in a nice spot where your guide can prepare a delicious snack around the fire to regain strength before continueing your journey. This will be a great opportunity to learn how to build a fire in arctic conditions and ask all your questions about like in the Far North.
This unique canoe adventure is organized in very small groups for more comfort. The trip is easily adapted to the level of the group, but still requires a minimum of physical condition from the participants. The tour lasts around 7 hours including transportation, instructions and paddling time (around 6-10 km depending on the group level). For a shorter experience that is more adapted to beginners, please check our half-day canoeing tour.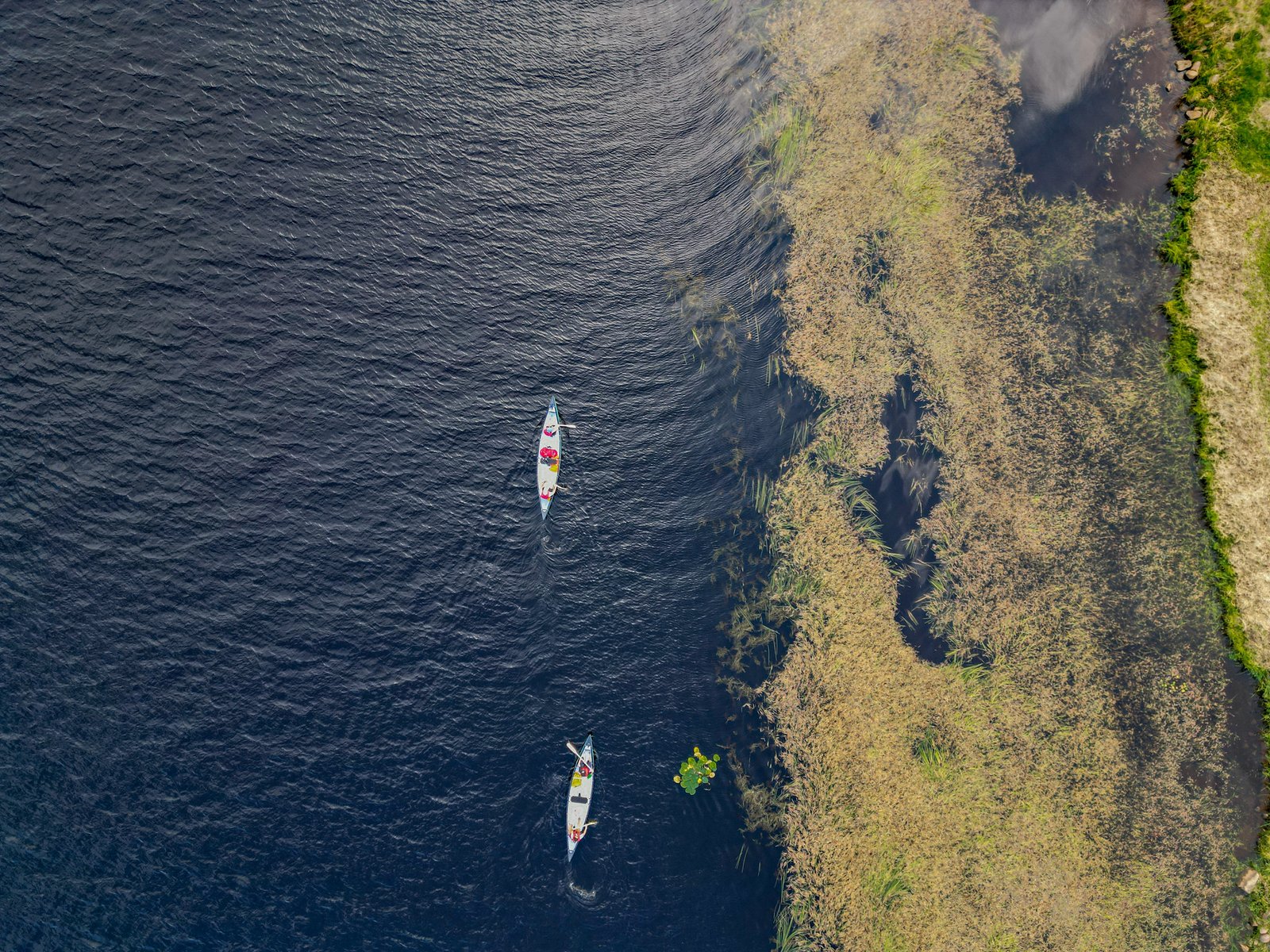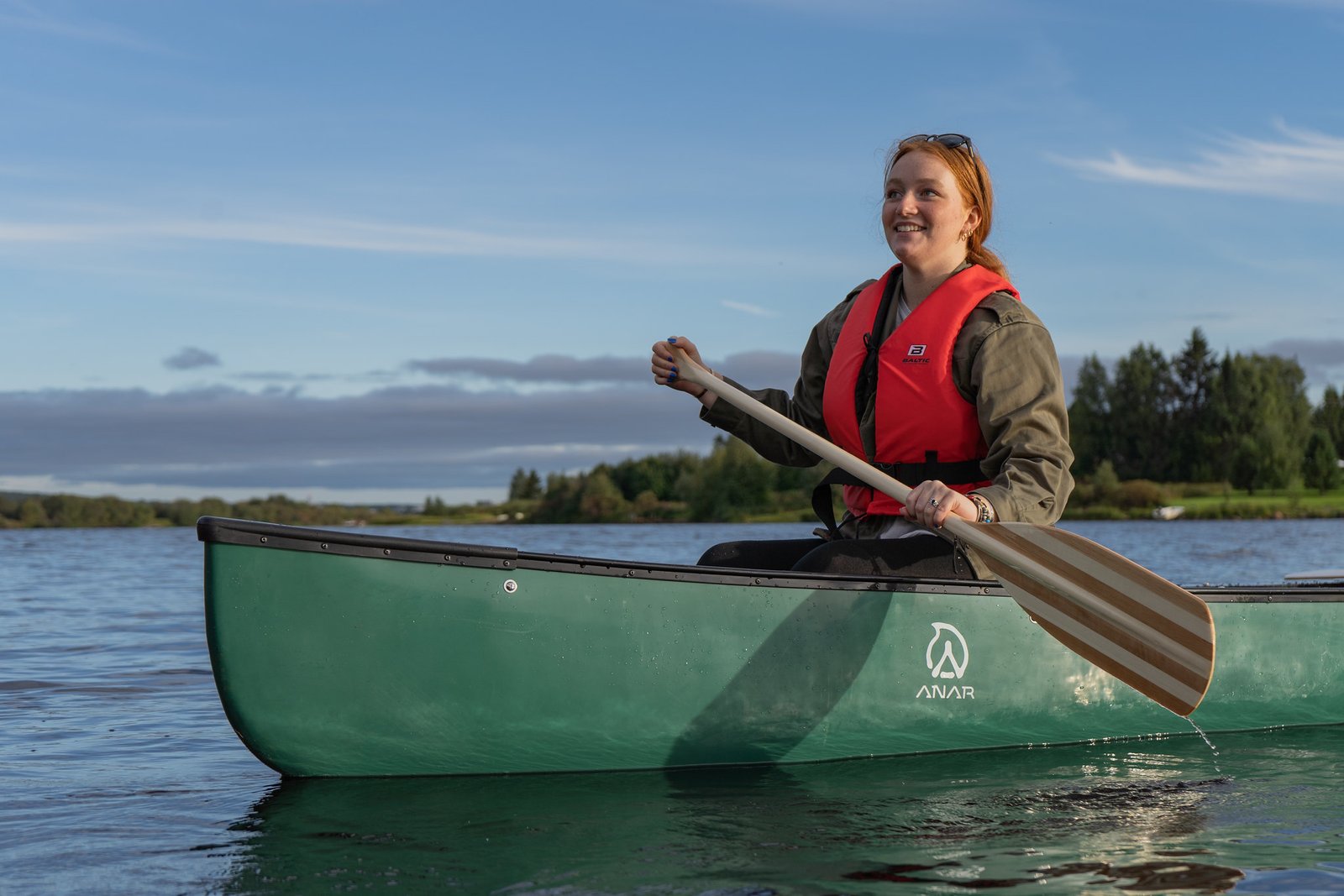 INCLUDED
Transportation from start & end

Own canoe & paddling equipment

Dry bags to keep your belongings dry

Safety equipment ("Life jackets") 

Barbecue snacks & hot drinks

All handling fees and taxes
NOT INCLUDED
Waterproof clothes (please bring your own or a change set) 

Participants who cannot swim should not take part in this adventure.
PLEASE NOTE
We recommend to book in advance, as availability may be limited in peak seasons.
A minimum of 2 paying adult participants is required for the trip to operate. We reserve the right to cancel the trip if the group is too small or because of bad weather conditions.
Participants will steer their own canoe ; one participant can be with the guide if they do not feel comfortable with paddling alone. Each canoe can accommodate 2 adults and one child. Groups are always in small groups in order to offer an intimate experience ; for larger groups, please contact us.
If you are a solo traveler, you are very welcome to join any departing trip at the standard price or we may organise the trip just for you at some extra costs (please contact us).
Child prices apply only to children under 14 years old. Children must be accompanied by one adult. The child rate only applies if the conditions of two paying adult participant is met.
Please dress appropriately according to the weather, with comfortable (preferably waterproof) clothes, hats/sunglasses and sunscreen.
The tour is adapted to the levels of the participants, even beginners, but we require that the participants have a minimum of physical conditions. This tour is not recommended for pregnant travelers or for people with back issues. Travelers who cannot swim should not take part in this adventure either.
This tour is not recommended for pregnant travelers or for people with back issues. We do not recommend for children under 10 years old to join as the trip either ; their participation is subject to our approval before booking the tour.
CANCELLATION POLICY
We will charge a cancellation fee of 10% if booking is cancelled 7 days or more before departure;
We will charge a cancellation fee of 50% if booking is cancelled between 7 days and 24h before departure.
We will charge a cancellation fee of 100% if booking is cancelled 24h or less before departure.
HOW TO BOOK
Select the number of participants, the date and time in the calendar below and follow the booking steps. Payment by credit or debit card.
CONTACT US
If you have also any question, feel free to ask and we'll be happy to answer you with as many details as possible.

A great animal tour for your summer / autumn holiday in Rovaniemi. It combines a reindeer farm visit, a visit of a husky kennel with 6km cart ride and lunch
BOOK NOW

Enjoy a relaxing night around the fire in the Arctic forests, listening to legends and tales of Finland. This story-telling experience will offer you an opportunity to learn more about
BOOK NOW

Find the Auroras with the best Northern Lights tour from Rovaniemi! With your aurora expert, chase and capture the Northern Lights (photos are included).
BOOK NOW