10 things to do in Rovaniemi in Autumn (2022)
Lapland is not just a pure winter white destination. We already mentioned in a previous blogpost that summer in the Far North is also worth the trip. But did we tell you about the in-between season? The Arctic autumn will amaze you with its colors, its beautiful ambient nostalgia, and the unsuspected experiences it offers. Still doubtful? Well then, here are 10 reasons to come to Rovaniemi, the capital of Finnish Lapland, during the autumn season. Let's go!
1. EXPERIENCE THE RUSKA COLORS
Lapland is said to have not four, but eight seasons. One of the most remarkable of them happens in September, and is called Ruska. Ruska is a word that literally describes the autumn colors, then by extension it gives its name to the period when those colors happen.
As soon as summer comes to an end, nature indeed adorns itself with delicate colors of auburn, brown and gold. Birches, heathers, blueberry plants transform the Arctic landscapes into a nostalgic fairyland. This is the perfect time to head into mosquito-free forests and enjoy a small hike or a long trek!
WE RECOMMEND: take a guided tour into Lapland nature during Ruska! You will not only enjoy the beautiful colors of the forests, but will also learn about local fauna and flora, how to survive in the Arctic and make a fire. 
2. OBSERVE THE NORTHERN LIGHTS
Northern Lights are back in autumn! From late August, the nights get dark enough to permit the observation of the first Northern lights in the Rovaniemi sky. In addition, September is one of the two best months to observe the auroras, especially due to the clear weather and the position of the Earth.
Autumn is then a great season for Northern Lights photography. The absence of ice allows beautiful reflections of the auroras in lakes and rivers. And without snow, the moonshine does not affect too much the ambient darkness. Perfect then, to take epic pictures!
WE RECOMMEND: You should definitely consider booking a proper Northern Lights hunt with photos. This will greatly increase your chance to observe the auroras, in addition to provide you with a great night experience (and beautiful pictures for memories!). 
3. SPOT THE MOOSE
Moose (or elks) are the most active from August until November. This is because autumn is the rut period, aka the mating season. Male moose roam the forests to find female(s), and they will not hesitate to use their massive antlers to ward off any competitor!
Autumn is also time when moose get a chance to be seen together, as a family. So if you spot one, you are very likely to find more!
WE RECOMMEND: finding moose require some knowledge about the region and certain skills. Contact us to arrange a guided tour from Rovaniemi. The moose safaris happen in the evening, as moose are very active at dusk, and our guide will take you to promising places and will tell you more about those animals.
4. VISIT RANUA WILDLIFE PARK
Want to see more than just the moose? Meet all the Arctic animals in Ranua Wildlife Park.
Located one hour away from Rovaniemi, the Ranua Wildlife Park is the northernmost wildlife park in the world. It consists of approximately 50 wild animal species and 200 individuals. In the park, it is possible to see polar bears, brown bears, reindeer, wolves, gluttons, lynxes, predatory birds, otters, wild boars, etc. 
The park is Lapland's leading tourist attraction for families and groups with children. In autumn, most of the animals are still active as temperatures are not too cold, giving you a chance to watch brown bears, otters, and other animals.
WE RECOMMEND: check our day trip to Ranua Wildlife Park, that includes transportation, guiding, entrance tickets and lunch in the restaurant. You won't regret it!

5. MEET SANTA CLAUS AND CROSS THE ARCTIC CIRCLE 
Rovaniemi is worldwide known as the official hometown of Santa Claus. His most-famous resident receives visitors all year round, and autumn is no exception!
You will probably be unsettled by the Christmas carols over the loudspeakers, and the eternal Christmas spirit skillfully nurtured throughout the year by shops and hotels. But even before the snowy season comes, the village of Santa Claus is worth a visit.
Besides meeting Santa Claus, you can cross the Arctic Circle, send letters with a special Arctic Circle postmark from the Post Office of Santa Claus (and receive them a couple of months later for Christmas!), find many restaurants, souvenir shops, and some activity providers.
WE RECOMMEND: don't book a crazily-expensive guided tour to Santa Claus Village! The entrance to the village is free of charge and city buses (bus n°8) regularly departs from/to city centre. The village is located 8km away from the city centre.
6. BREATHE, RELAX, YOGA!
Hike, breathe, feel the essence of the pure forest, reconnect with nature, feel the power of your surrounding…
Yoga is a great activity to reconnect with your soul and your body. Why not then doing it in the beautiful nature of Lapland? Experiencing yoga outdoors will give you a whole new world of sensations. The nature wakes up all the senses: the clear and pure air, sweetness of the leaves or berries. 
WE RECOMMEND: Combine yoga with a nature hike! There is nothing better to feel the healing power of Lapland pureness!
7. GO FOR A BERRY PICKING TRIP IN THE FORESTS
Lapland is full of berries, all of which are superfoods with surprising health properties. As autumn comes, you will find plenty of red lingonberries and juicy blueberries. If you are familiar with identifying fungi, then you'll probably be amazed by the amount of edible mushrooms you can collect as well!
And the best part of it? The summer mosquitoes are gone!
WE RECOMMEND: you don't know where to go to find berries? Just ask us, we will happily give you our tips or can even take you on a hike!
8. VISIT A REAL REINDEER FARM
Did you know that they are more reindeer than people spread across Lapland? Reindeer are indeed the most iconic animal here. In summer, you find them everywhere on the sides of the roads or in the forests near Rovaniemi.
Visiting an authentic reindeer farm is a worthful experience during your autumn holidays in Rovaniemi. Local reindeer herders will gladly share with you their inherited reindeer husbandry lifestyles while you feed the reindeers. 
WE RECOMMEND: Make sure to chose an authentic reindeer farm, as some tour operators would take you to some made-up tourist attractions. If you don't know where to go, feel free to contact us or check our Morning Visit in this authentic farm (link here)?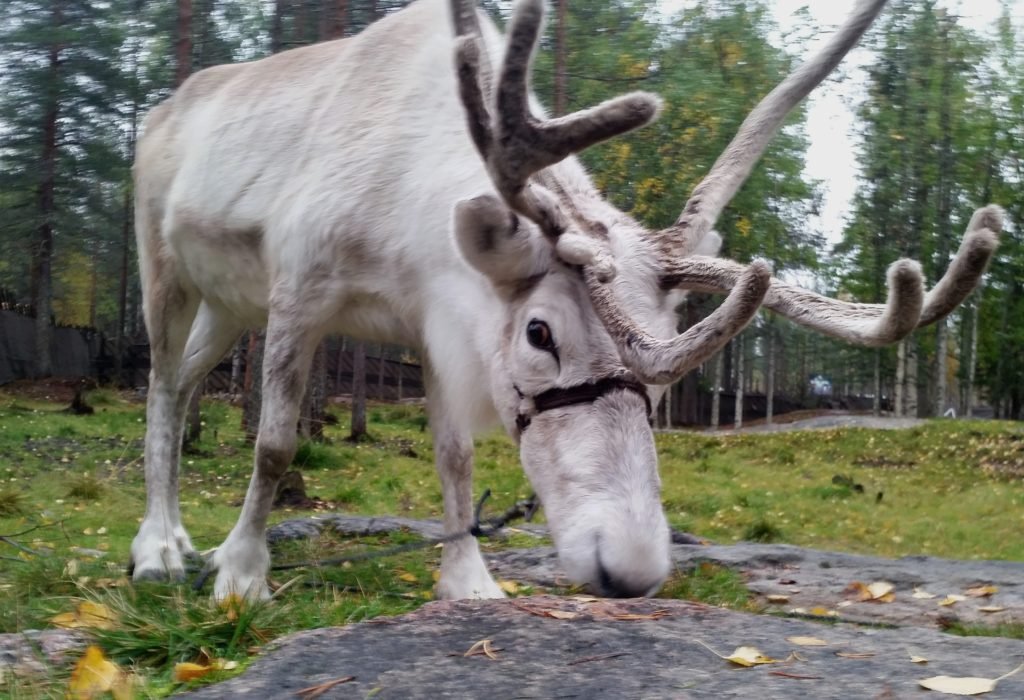 9. WALK WITH YOUR OWN HUSKY 
Husky sledding is a popular winter activity in Lapland, but it is obviously impossible to do in atumn as there is no snow yet. Most tour operators in Rovaniemi then offer to visit a husky kennel as an alternative. You can meet the dogs, take pictures, give many cuddles and learn from the mushers about how they train them for racing.
Unfortunately, the experience will mostly be reduced to spending time with the huskies within the fences of the kennel. Why not going for a walk with them instead?
WE RECOMMEND a  hike with your own husky! During this tour, you will freely walk in the forests with your own husky and the guide. This is a great experience to connect with the animal and the surrounding nature! And you support an ethical and responsible kennel near Rovaniemi!
10. RELAX IN FINNISH SAUNA
There is nothing more Finnish than a Finnish sauna! Sauna is part of the local culture in many aspects, and therefore a musy-do experience when coming to Lapland, no matter of the season! Steamy, traditional, wooden-smoked, lakeside or luxury, Rovaniemi offers plenty of options when it comes to sauna.
WE RECOMMEND: enjoy an evening in a traditinal wooden sauna floating on the Ounasjoki river. Jump in the cold water straight from the sauna pontoon! The sauna is located outside Rovaniemi (transportation included) with great nature view and privacy. 
That's it! We hope you enjoyed reading this blogpost.
If you have any question, feel free to contact us!
We will be super glad to help you plan your trip to Rovaniemi!
FULL LIST OF
OUR TOURS
WWW.NORDICODYSSEY.NET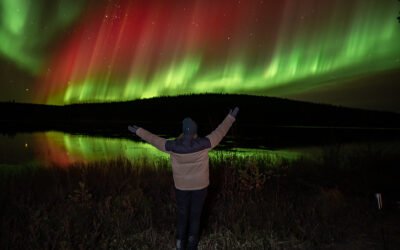 Mère Nature étant imprévisible, vous arriverez peut-être à Rovaniemi en automne avant les premières chutes de neige, alors que vous vous attendiez à vivre l'hiver blanc des cartes postales... Malheureusement, l'automne est toujours incertain quant à la quantité de...